Almost a year in the planning, the series finale round 6 of the Chain Reaction Cycles WA Gravity Enduro made its way to Balingup, Western Australia, to experience the highly anticipated trail design and construction envisioned early on by a team of volunteers lead by Devin Stafford and given the manicured touch by trail builder Paul Neve of Three Chillies Trail Design and Construction and it certainly didn't disappoint!
Monday, September 28 to Thursday, October 1 – course bunting and signage.
A huge effort by Devin and his crew, we were amazed at how well the course was setout incorporated all necessary A and B lines, directional arrows and bunting…it looked a treat and I was quickly getting itchy legs from all the Facebook posts along the way!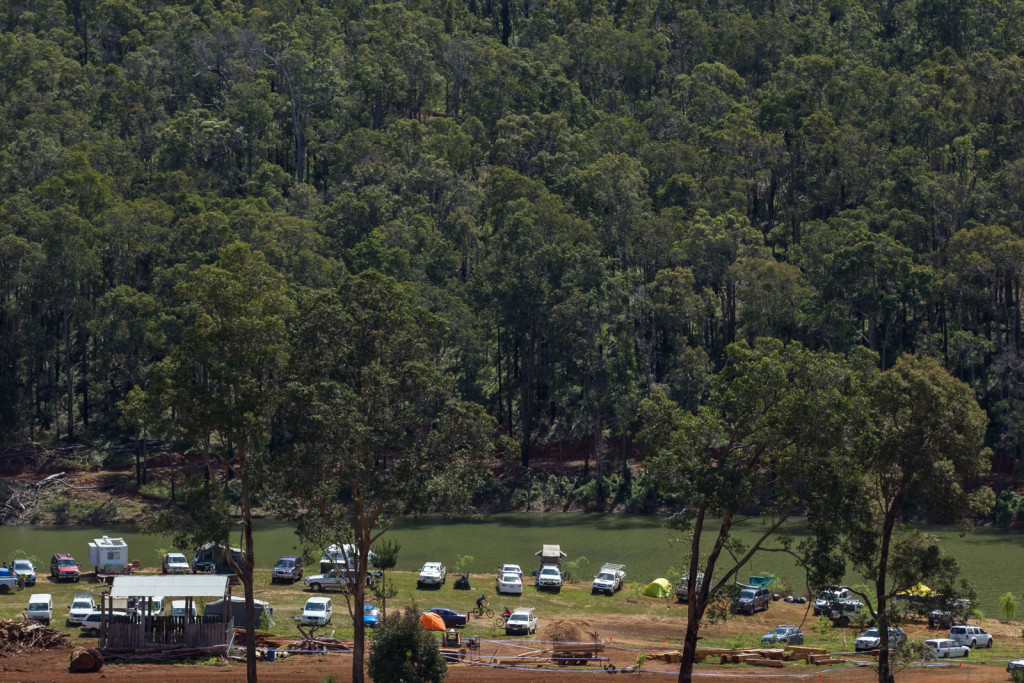 Friday, October 3 – bump in.
The trusty WAGE van wasn't going to make the distance with the huge amount of equipment needed for this round, so it was sidelined for a tougher Troopy and trailer carrying all the gear. Turning up on site, Devin, Shane, Bevan and Brydon helped setup the race village tent that became the epicentre of the weekend which was lined with black plastic to help reduce any glare for the setup of the plasma TV for the AFL Grand Final showing on Saturday. After a fight with the gusty conditions, it was time for a trail walk to finalise bunting, signage, start and finish gates and thankfully to get a few test runs in!
With sunlight diminishing, it was time to setup the satellite system and test the reception – 30minutes later and we were in business with HD satellite reception! Mounting the plasma was delicately done in the back of the Troopy and with the stage set, we were good to go for the AFL show… or so we thought… with winds packing a huge punch tearing the marquee and ripping out guide ropes, it became a long night into the early hours holding down the tent. With huge thanks to Matt, Joel and Neilson, we somehow survived the night and got to sleep with one eye open watching the tent sway a few metres at a time and still expected to fish it out of the dam in the morning.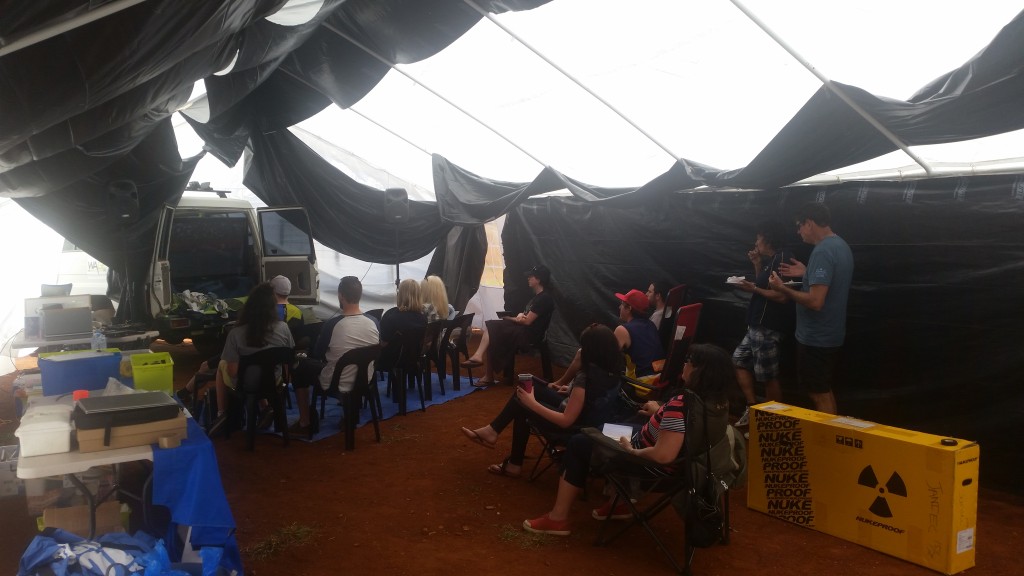 Saturday – race practice.
With St John Ambulance on-site from 11am, the practice session saw fair conditions but the gusty winds didn't disappear which made for an eventful practice session. With competitors arriving on site to pick the best camping spots, others decided to park their car, suit up and jump on the waiting shuttles for a lift to the trail head. Special thanks to Brydon and Jess for operating these shuttles for most of the day, which saw at least 120 competitors head up the hill and check out the amazing 5 stage enduro course that was on offer.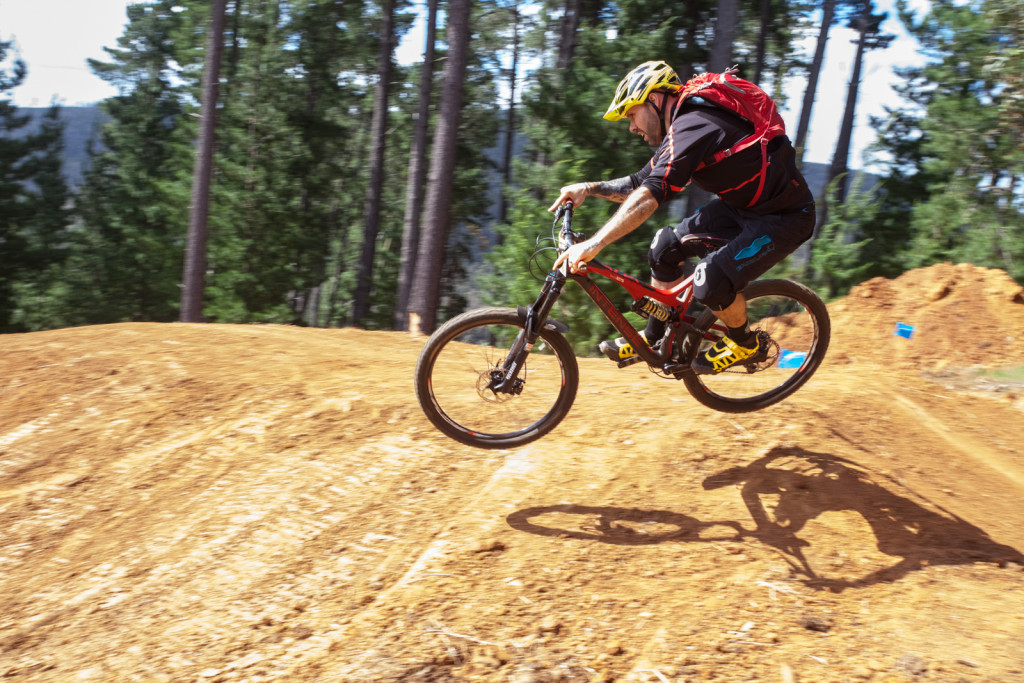 With some of Paul Neve's finest work on location, metre high berms running faster than footpaths railed riders into perfectly sculptured gap jumps, table tops and rocky sections through Pine and Bluegum plantations before spilling into open fields and again disappearing into natural vegetation. The trails encompassed so many different elements that it is now regarded as arguably the best trails in Western Australia!
A spectacular 4 jump sequence which was reminiscent of some of the worlds best bike parks, with riders seen whipping and seat grabbing and enjoying the amazingly comfortable jumps… that is until gusty conditions across the open field caused a few crashes and a broken collarbone for young Ryan who was very excited about bending his bars in the accident. Special thanks to Morgan and Matt who were on the scene very quickly and got the word back to the village that medical assistance was required.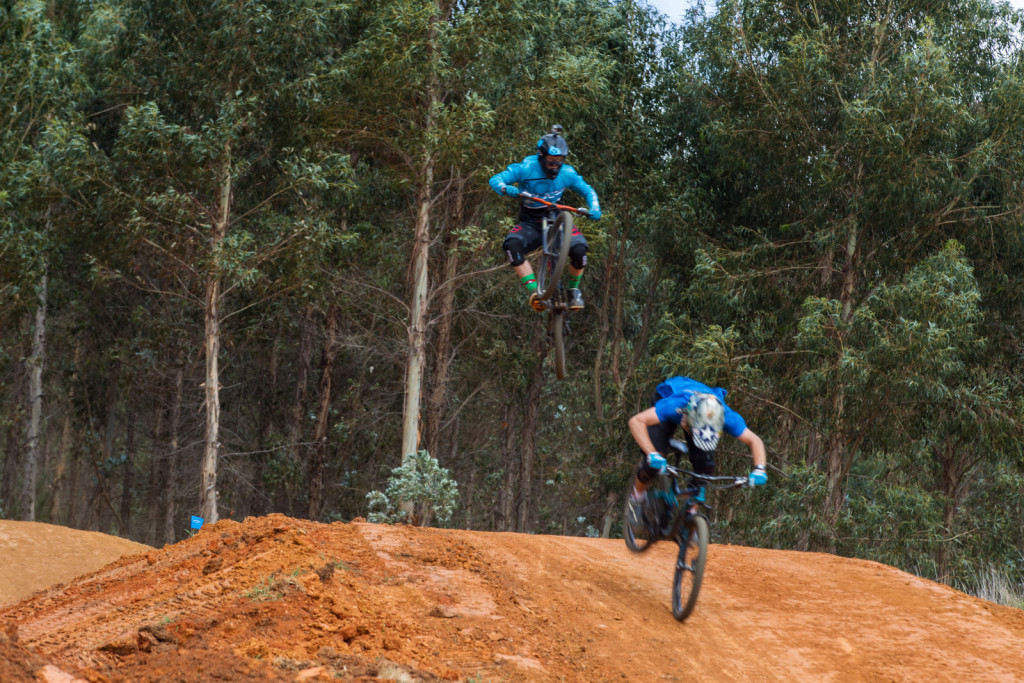 Some tough decisions then needed to be made on whether to close this exposed section of trail and later in the day after a weather check, it was decided that it was safest to leave these jumps out of the race which was the right decision considering the gusty conditions experience during the race on Sunday.
With the weather calming on Saturday night, the atmosphere in the camping area was electric and it was great to see the mountain bike community having a great time from the juniors, to families, single participants and seniors… well done to all for the energetic but respectful camping that took place.
Sunday – race day.
Prior to race briefing scheduled for 1030, over 200 competitors made the most of the calm conditions to get a last look at the 5 stage enduro course and get warm for the event. Shuttles in the waiting, riders were quickly whisked up the hill with the Elite Male and Elite Female hitting the course in its designated order giving them a clear run to post some very impressive times.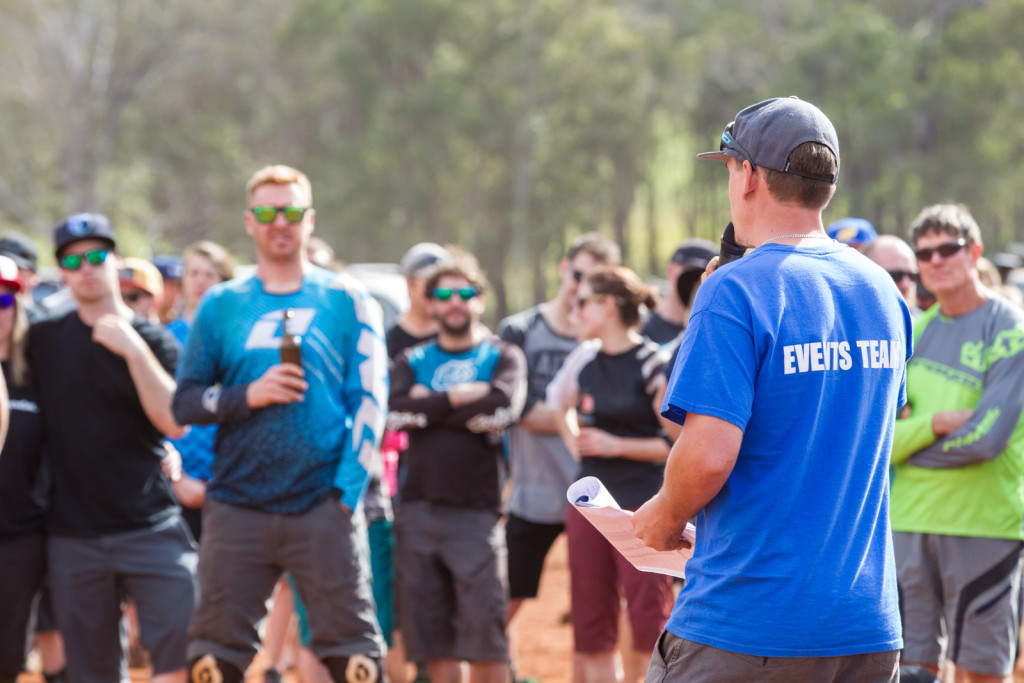 Stage 1 – Valley of Dreams. What a way to start the day's race for the Elite field… not far out of the gate, you are welcomed by WA's finest pea gravel before shaking your teeth over a man-made rock section before bombing down through off camber trails, whizzing alongside large vertical drops before heading in and out an open field quicker than you can say 'fullface.' A demanding first stage and certainly one that got you warm (or hot and sweaty). The stage had an average time of 00:03:59 with Deon BAKER, Jordan PROCHYRA and Blake PEARCE equalling the fastest time of this stage with 00:03:05.
Stage 2 – Edge of the World. For most riders, it was a matter of 'how much brake should I release?' Demanding your full attention, this raw stage saw competitors really digging into corners to find the ruts caused by competitors and the quicker rider certainly made the most of these features, with more twists and turns than a 50's barn dance. An average stage time of 00:03:20 was slow compared with Ryan LITTERICK squeezing in the fastest stage time with a 00:02:26!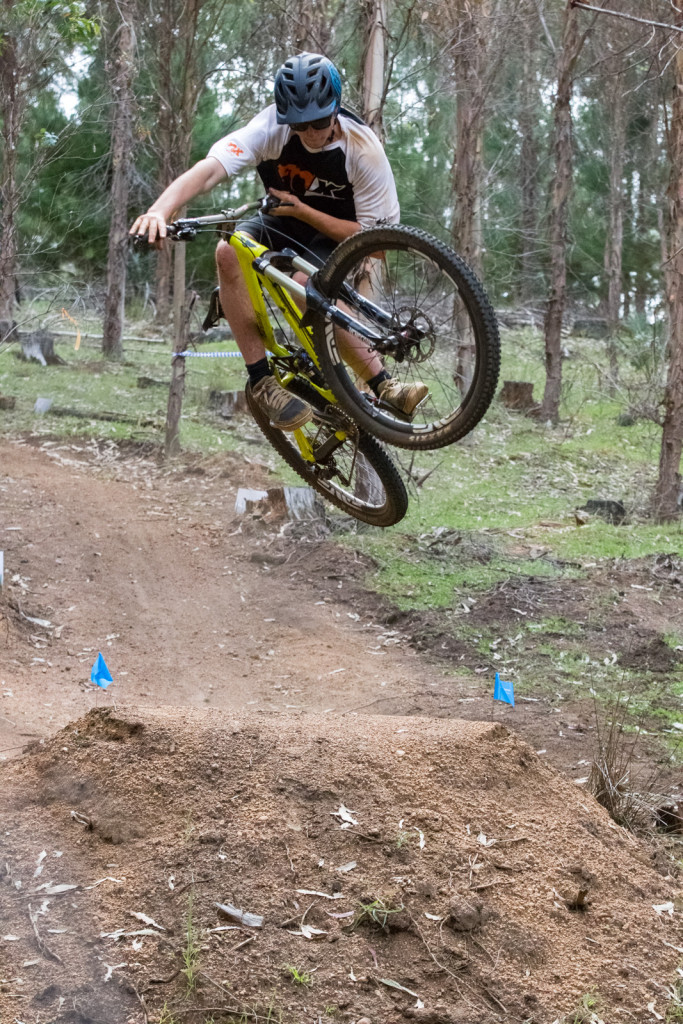 Stage 3 – Huggies B. Designed by Sam Hill, we knew 'Huggies' was not going to be your average enduro course – in fact, it wasn't even your average downhill course. If you had to find a way to get from the top of the hill to the bottom in the least amount of time while taking in every boulder, rocky outcrop and technical feature along the way, this was it. Hence, the birth of Huggies B! Still quite a raw trail through Bluegums, it was quite similiar to Stage 2 in terms of terrain and 'rawness' with both stages quite short and technical. The average descent time was 00:02:09 with Deon BAKER clocking in at 00:01:57.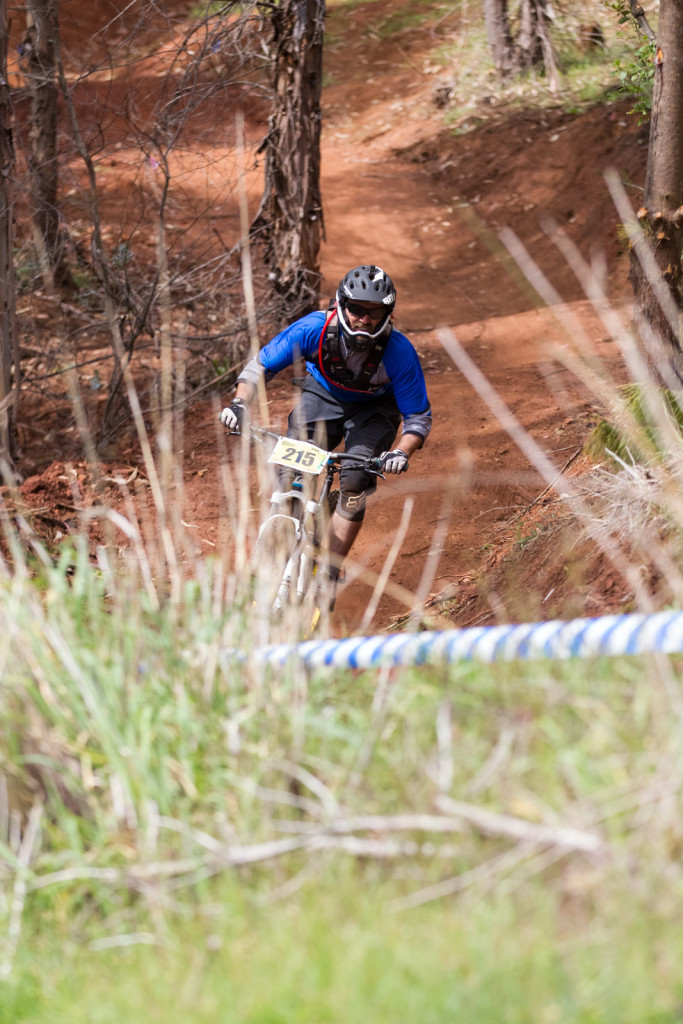 Stage 4 – Mr Enduro. If 'Gravity Enduro' was in the dictionary, a few photos from this trail would be the definition. Riders were spoiled with multiple gap jumps at the top end of the course before a long demanding descent taking in a myriad of berms, off camber sections, various vegetation types, flat to fast to twist and turn, this trail had everything! The average time of 00:07:01 saw  Jordan PROCHYRA clock the fastest time of 00:05:09, clear of anyone by 4 seconds.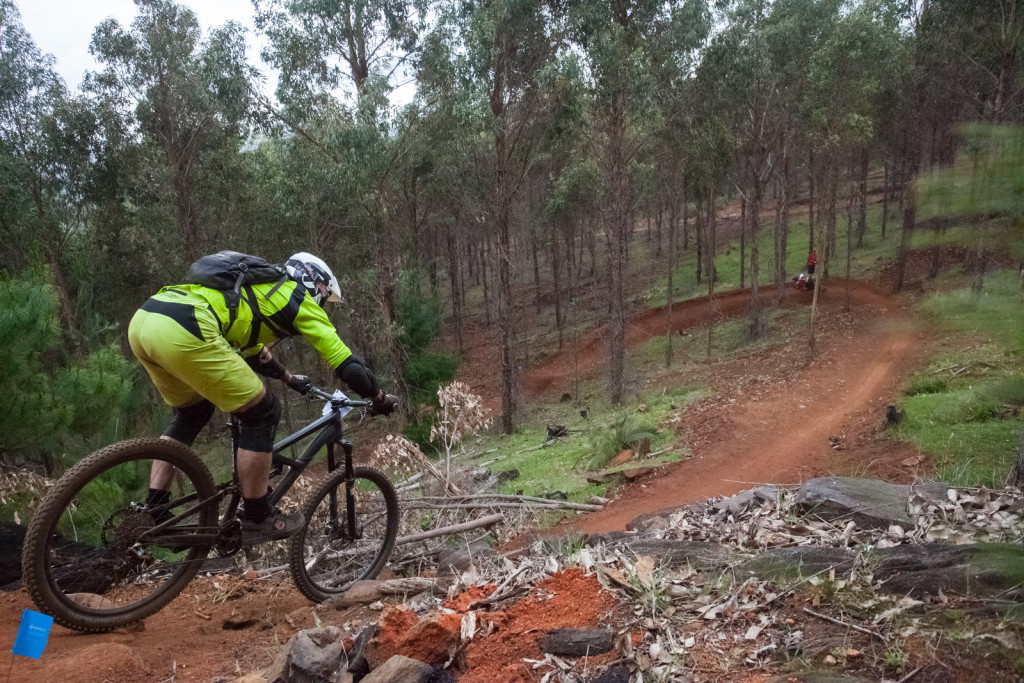 Stage 5 – Boxers Blast. Perhaps one of the most exhilarating stages, the final finished right in front of race village and was certainly one for the photographers. Again, spoiled with multiple double jumps up top, riders could chose to link together by jumping, rolling or pumping rolling doubles which made for some great fun for the riders before exiting the trees into the open field and having a 'blast' on some 50m long berms that left riders wanting more! An average stage length of 00:04:10 saw Sam RUBERY take the stage win at 00:03:18 and was the clear of anyone close by a massive 7 seconds.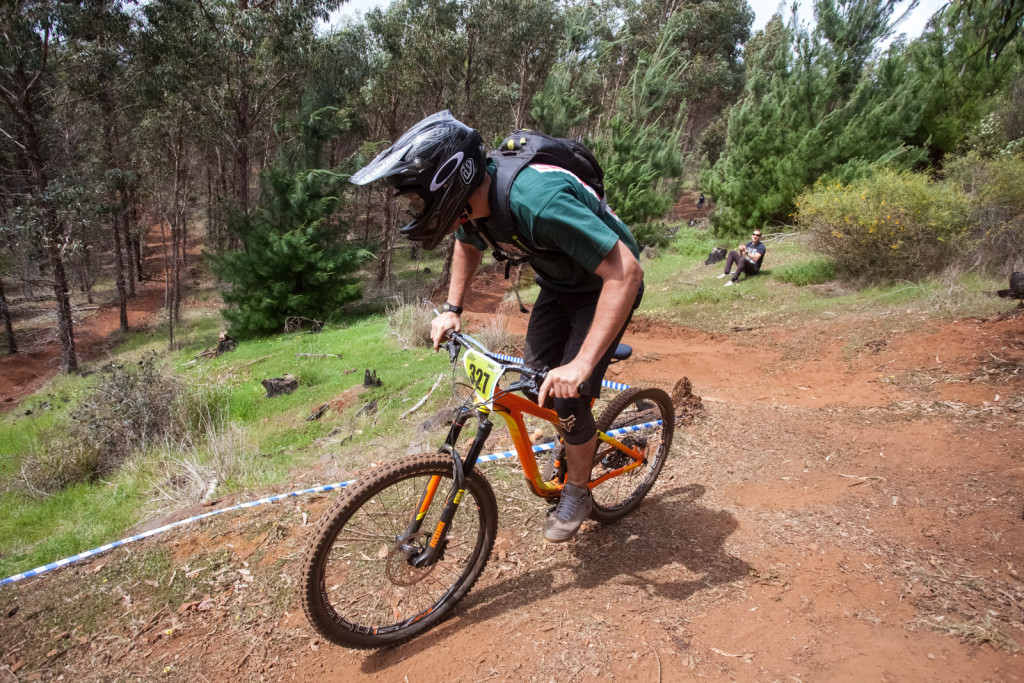 The overall average time was 00:21:09 and Deon BAKER posted the quickest overall time of the day with 00:16:07.
Click here for the round 6 results in full detail.
Without our sponsors and supporters, this event could not have happened, so huge thanks to:
Chain Reaction Cycles, High 5 Sports Nutrition, Hybrid Linings (Quality Internal / External Ceilings and Walls), Common Ground Trail Planning Design Construction, Rock n Roll Mountain Biking, Foothills Cycles, EMR Suspension Specialist, Prodigy Painting, Three Chillies Trail Design and Construction, IGA Beeliar, Lions Club, New Town Toyota and Kalamunda Toyota and Bootleg Brewery.
And a special huge thanks to the individuals that helped bring this event together:
The Eaton Family and the Stafford Family including Devin, Kevin, Bevan, Mark, Brydon, Boxer, Jess, Jo, Amy, Russ, Paulette, Joclyn, Steve, Andy, Trent, Terry, Peter, Johnno, Brian, Carolyn, Matt, Neilson and Joel, and to everyone who just chipping in any little way…it is very humbling to have so many people simply wanting to help any way they can.
Finally, thanks once again to our major sponsor Chain Reaction Cycles for their support throughout 2015, and we look forward to a big 2016!
Till then, enjoy the Christmas break and I hope santa fills your sacks with CRC enduro goodies!
Steve Janiec
Race Director
Photography courtesy Eerik Sandstrom, Matt Devlin Photography, Steve Janiec