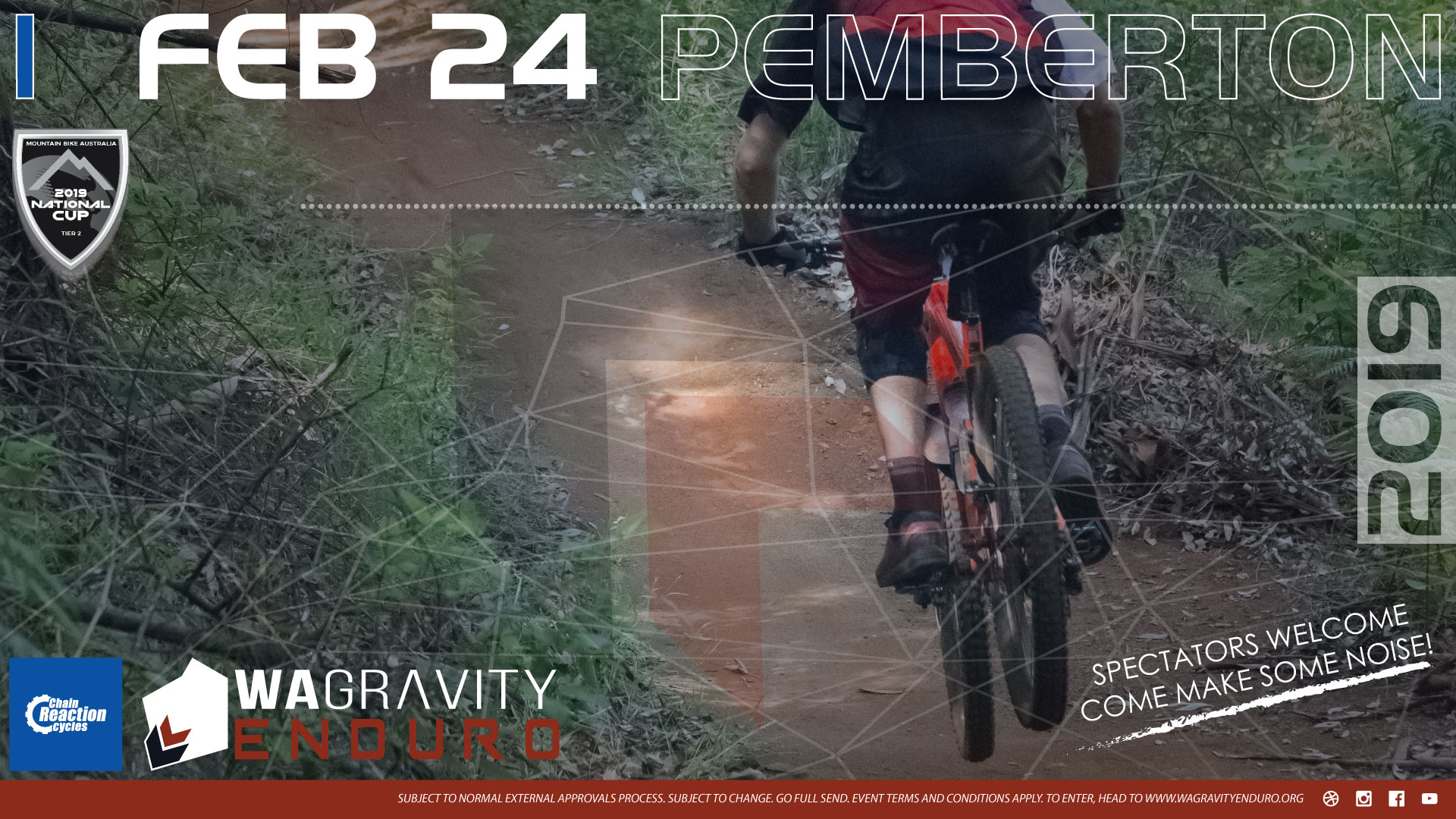 PEMBERTON
Kicking off 2019, we are seeking summer shelter in the cool Karri Forrest of Pemberton Mountain Bike Park. Being dry and loose at this time of year, we hope to bring you some new features which weren't available in Winter of 2018. Plenty of accommodation opportunities and swimming areas around to soak up the Pemby vibes.  
Race Date
Sunday, 24th Feb 2019
Practice – Sat, 23rd Feb

11am – 2pm
Race Location
Pemberton MTB Park
Pemberton, WA
Race Briefing
Whippets 8:15am
Main Event 10:15am
Race Start
Whippets 8:30am
Main Event 10:30am
Race Finish
Whippets 10:00am
Main Event 1:00pm
Presentations
Whippets when ready
Main Event 1:30pm
fAST FACTS
ENTRIES LIMITED TO 320 AND MAY SELL OUT PRIOR TO TIMERS EXPIRING.
DURING LATE REGISTRATION PERIOD, A $15 LATE FEE APPLIES AND LUNCH NOT CATERED FOR.
AVOID DISAPPOINTMENT AND REGISTER EARLY!
NEW COMPETITORS TO THIS SERIES CAN COLLECT RACEPLATE AT MORNING CHECKIN
PLEASE BRING YOUR RACEPLATE IF YOU ARE A RETURNING COMPETITOR TO THIS 2019 SERIES.
 WAGE WHIPPETS U13
Our young guns will be setting the pace with their racing to commence before the Main Event. If you are getting in some last minute practice, you must give way to racing Whippets. Failure to do so may result in injuries and a 5 minute time penalty will apply to Main Event competitors . Please move aside and cheer them on! Parents/guardians are welcome to shadow the Whippets and is encouraged for their confidence and safety. Whippets must return to the Centre of Gravity to return wristbands. Presentations will follow as soon as possible with certificates awarded to all and medals awarded to Top 3 competitors. Whippets light lunch is also provided when ready/where available.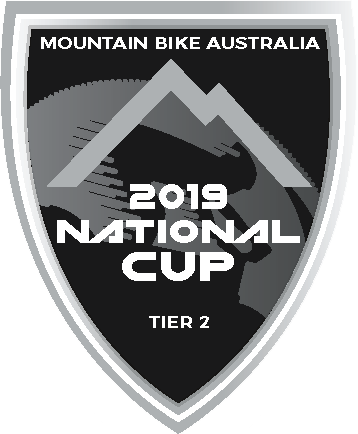 SANCTIONED mtba tier 2 event
Tier 2 – 1.00x National Cup Points earned for this event. WA Gravity Enduro has all 7 2019 events registered with the MTBA National Cup system allowing competitors to set their ranking against all Australian MTBA Recognised Events. 
Pemberton Mountain Bike Park
A picturesque mountain bike park with a heap of extra activities to be had during your visit, The Pemberton Mountain Bike Park is a jewel hidden beneath towering Karri Trees deep in the south-west of the State.
Keeping cool in the warmer summer months, Pemberton is a brilliant location with fast flowy trails and some rocky sections thrown in for good measure.
Accommodation is a short wheelie from the trails with the neighbouring Pemberton Caravan Park being upgraded with new toilets and camp facilities, 'glamping' options, camping and caravaning. Plus the Pemberton Town Centre is a short walk or ride with many other accommodation options, food and drink and other facilities available.
We look forward to kicking off 2019 at Pemberton!
Gravity Enduro Mountain Bike Race
Multi-stage race. Timed descents and untimed climbs
Sign-posted and bunted course
Don't cheat yourself or your mates – stay on track
St John Ambulance on-site
Professional Medical Assistance available
Toilets
Portable or connected nearby
Race Village
Great atmosphere, questions answered and supplies
Volunteers and Fund Raising
Perks for vollies and funds donated to the trails
Gift Vouchers and Prizes
Heaps of prizes ready to be won for all
Elite's and Professionals
Cold hard cash for the cream-of-the-crop
Professional Race Timing
We use the best Enduro World Series system
Hydration and Sustenance
Free water and free light meal with Prem. Registration
Frequently Asked Questions
How do I enter? Easy. Just click on the 'ENTER NOW' button located throughtout the website. This will take you to your registration portal. If you are new to the registration portal, a one-time profile will need to be filled out. Returning competitors simply enter their email address, select their event and arrive at the Race Village on race-day to collect your timing chip and raceplate.
How much does it cost? We strive to keep our entry fees as affordable as possible. Entry fees vary based on your category and start from only $29 for the Under 13's. Insurance selection and location can slightly vary the price, but we try to stay as consistent as possible.
Where is the course map? Gravity Enduro is all about riding the course with little to no knowledge of the course. This helps create a more level playing field and better tests your mountain biking skills. We usually release the course map on the Monday before the weekend's race.
Do I have to go to race briefing? Yes. Race briefing is mandatory and occurs at the race village 15 minutes before race start. It is essential that you get a full report on the course (and any potential changes), safety requirements and to ensure everyone starts the race from the same location.
Can I shuttle between stages?  No. Anyone caught doing so will be automatically disqualified.
I missed registration! We can accept late registration online and on the day plus a $15 surcharge. Places are limited and may not be possible if the event is sold out.
Can I get a refund? From the Monday at 9am before the race weekend, refunds, transfers to other competitors or credits are not possible. Before Monday 9am, yes, we can offer a full refund minus 10% administration fees. 
PLACES ARE LIMITED AND ENTRIES MAY CLOSE BEFORE THE SCHEDULED CLOSING TIMES WHEN FULL.