Premium Registrations (close Tue midnight before event)
Late Registrations (close Fri 9pm before event)
PLACES ARE LIMITED TO 320.

ENTRIES MAY CLOSE BEFORE THE SCHEDULED CLOSING TIMES WHEN CAPACITY REACHED.

Race Date
Sunday, 26th August 2018
Official Practice Sat, 25th August 2018

Race Briefing
Giant Whippets Sun 8:15am on Mt Brown
Main Event Sun 9:30am at York Carriage Diner
Race Start
Giant Whippets Sun 8:20am
Main Event Sun 9:45am
Race Finish
Giant Whippets Sun ~ 10:00am
Main Event Sun ~ 1:30pm
Presentations
Giant Whippets Sun at York Carriage Diner
Main Event Sun at York Carriage Diner ~2pm
Welcome to Round 6 of the 2018 WA Gravity Enduro Series!
This event is held in conjunction with Round 2 of the MTBA Gravity Enduro Cup

We are very excited to bring you our second new Enduro racing venue for 2018 – York! This location is about 1.5hrs drive north east of Perth and is a new location on the WA Gravity Enduro Calendar. We have been working closely with the Shire and the Community to ensure a fun, safe and exciting event. With the Race Village located on the doorstep on the York Town Centre, competitors will disembark on a casual 2km ride to the foothill of the trails and then make their ascent.
There are 6 stages on offer and we are also adding some spice with a 7th run for the Elite which will be a great vantage point for spectators. The trails offerings include a mixture of rough and raw section, rock drops, an urban feel with a section of concrete staircase and a flatout descent teasing you not to touch those brakes! There are spectacular views from Mt Brown and it will be an awesome vantage point for all.
The main access road (Pioneer Road) will have restricted access to ensure the safe movement of pedestrians and cyclists.
We continue to work very closely with the Shire of York, its Community and Environmental Stakeholders. At this time, please do not access the trails while we finalise course details and alignments.
Make the most of your trip and come to the Open Day on the 18th and 19th August. Stage alignments and bunting will be finalised giving you the best opportunity to discover these new trails on Mt Brown.
On Saturday the 25th August, practise will again be permitted.
On Sunday the 26th August, the main event is underway!
On Monday the 27th August, final packup will be complete. If you are in the area and would like to lend a hand with debunting to ensure we leave no trace, please email steve@wagravityenduro.org for a 25% discount to Round 7 finale at Serpentine!
We welcome you to this new Enduro Adventure at York! As usual, you shredders makes these events wonderful. Please maintain the excellent respect for the local residents and the town and make sure you hit the Bakery and local stores to show your support! This is a terrific opportunity to showcase Mountain Biking in the area and the awesome flow-on benefits for the Community.
NATIONAL GRAVITY ENDURO CUP EVENT MODIFICATIONS
As Round 6 of the Chain Reaction Cycles WA Gravity Enduro Event is run in conjunction with Round 2 of the MTBA National GE Cup, you will only be able to choose from the WA Gravity Enduro categories. We will then allocate you into the appropriate MTBA Category.
CATEGORIES
| | | |
| --- | --- | --- |
| WA Gravity Enduro | MTBA National GE Cup | Stages to complete |
| Male Elite | Elite Men | 1 2 3 4 5 6 7 |
| Female Elite | Elite Female | 1 2 3 4 5 6 7 |
| Male Expert (and if 19 – 29) | Expert Men | 1 2 3 4 5 6 7 |
| Male Expert (and if 30 – 39) | Masters 1&2 Men | 1 2 3 4 5 6 7 |
| Male Sport 19 – 39 | n/a | 1 2 3 4 5 6 |
| Female Sport 19 – 39 (and if 19 – 29) | Expert Women | 1 2 3 4 5 6 |
| Female Sport 19 – 39 (and if 30 – 39) | Masters 1&2 Women | 1 2 3 4 5 6 |
| Male Masters 40 – 49 | Masters 3&4 Men | 1 2 3 4 5 6 7 |
| Female Masters 40 – 49 | Masters 3&4 Women | 1 2 3 4 5 6 |
| Male Super Masters 50 – 59 | Masters 5&6 Men | 1 2 3 4 5 6 |
| Female Super Masters 50+ | Masters 5&6 Women | 1 2 3 4 5 |
| Male Grand Masters 60+ | Masters 7&8 Men | 1 2 3 4 5 6 |
| U19 | Junior | 1 2 3 4 5 6 7 |
| U17 | Under 17 | 1 2 3 4 5 6 |
| Male U15 | Under 15 Men | 1 2 3 4 5 6 |
| Female U15 | Under 15 Women | 1 2 3 4 5 |
| Whippets U13 | n/a | 4 6 1 |
| e-Bike Open | n/a | 1 2 3 4 5 6 |
updated Tuesday 21st August 2018 at midday
ADDITIONAL MANDATORY SAFETY EQUIPMENT
For the U15 and U17 categories only, please note the mandatory safety equipment.
In Under 15 and Under 17 competition, the following equipment is mandatory at all times while riding special stages:
a. Full-finger gloves must be worn
b. Elbow pads must be worn
c. Knee pads must be worn.
For more information regarding the MTBA Guidelines, please view the document here
Latest Event Information
22/08/2018 Competitor Start list now available. Please take a moment to review your WAGE and corresponding MTBA categories. If there are any discrepancies, email steve@wagravityenduro.org immediately.
21/08/2018 Rider and Event Brief now available

17/08/2018 Course Map Now Available! (high resolution available here)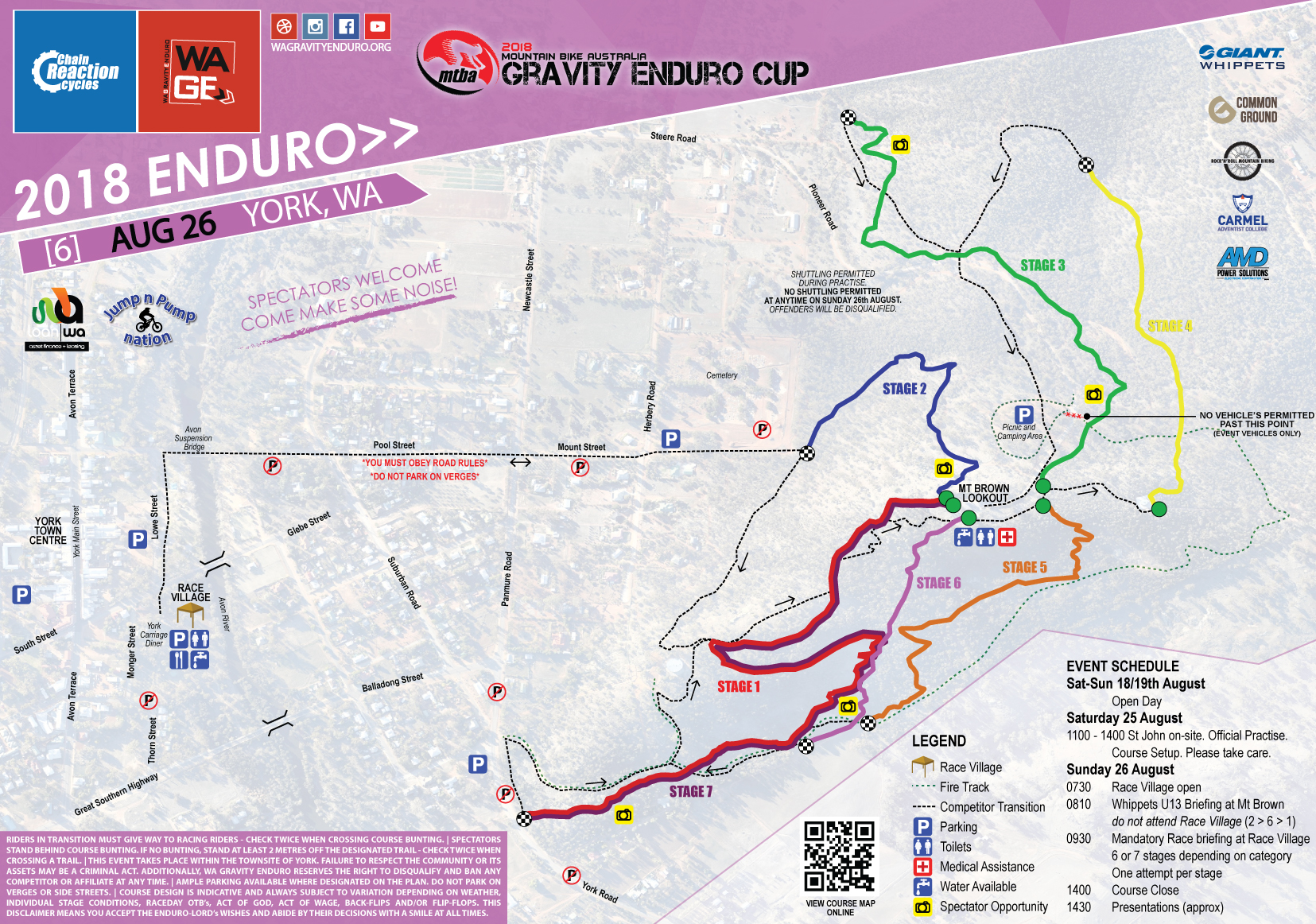 15/08/2018 Latest Newsletter #16 covering information about the race next weekend plus this weekend's Open Recreational Days
14/08/2018 Race Village will be located at the York Carriage Diner. A leisurely 2km liaison crossing the Avon River through quiet residential streets to the base of Mt Brown before you begin your ascent! Competitors MUST FOLLOW THE ROAD RULES or risk disqualification.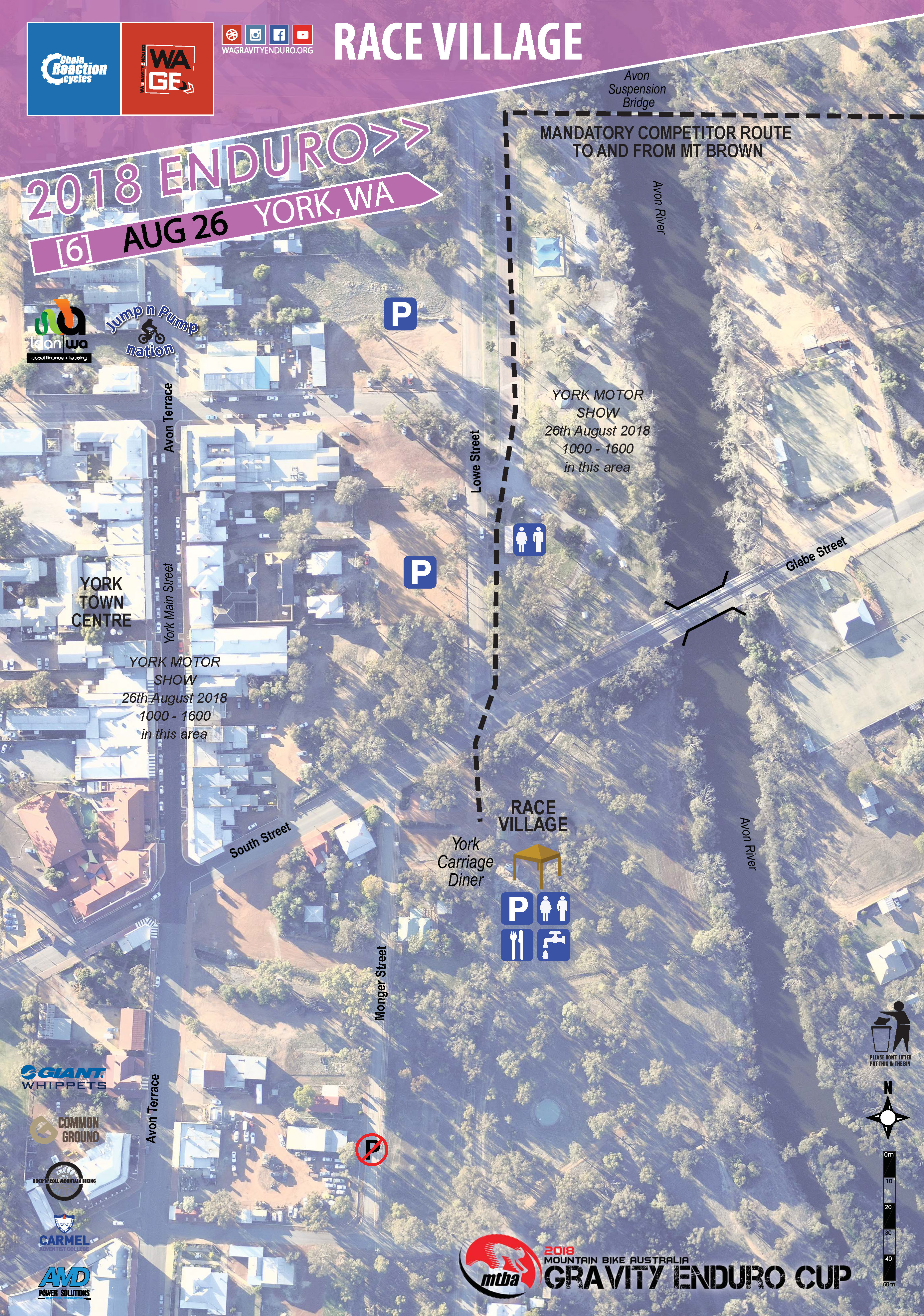 20/07/2018 Announcement! This event is now confirmed for Mt Brown York!

21/06/2018 Due to the continued unknown of external authorities surrounding the prescribed bushfire burn at Kalamunda, we have a couple of contingency plans. We can confirm other race venues within 1.5hrs drive of Perth are currently being finalised for approval to give us greater flexibility of venues. The final decision is expected to made made at the end of July. We apologise for the inconvenience.

09/04/2018 Due to the unknown timeframe of a prescribed bushfire burn on the Mt Gunjin trails, we are forced to switch the location of Kalamunda to the Goat Farm. As these trail networks are close to each other within the Perth Metropolitan area, we felt this was the best approach to switch these locations. However, we apologise for any inconvenience this may cause. We wanted to keep you all guessing in 2018 and this is our very-own curveball!
21/01/2018 No announcements
Giant Whippets U13
In 2018, Giant are sponsoring our littlest competitors at the event.
Initially, we planned to have the Whippets race on Saturday. However after careful review, they will now be racing Sunday morning. Whippets will be starting from the top of Mt Brown and will not be required to visit race village. SIAC's (wristbands) will be issued at the top of Mt Brown with a short briefing. At this stage, we envisage 3 enduro stages taking in a mixture of features for our young guns!
Course Map
When the time is right, the course map will be made available. We release the Course Map at a time to limit sneaky practice before the event to keep everyone on a level playing field. As usual, the Course Map is the intended race course, but is always subject to changing trail conditions, people flying over-the-bar's, Act's of God, Act's of WAGE and peagravel density (or lack there of).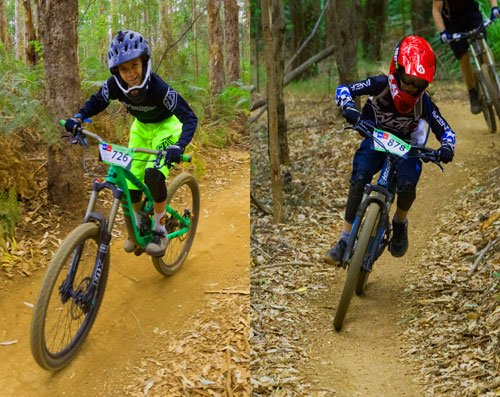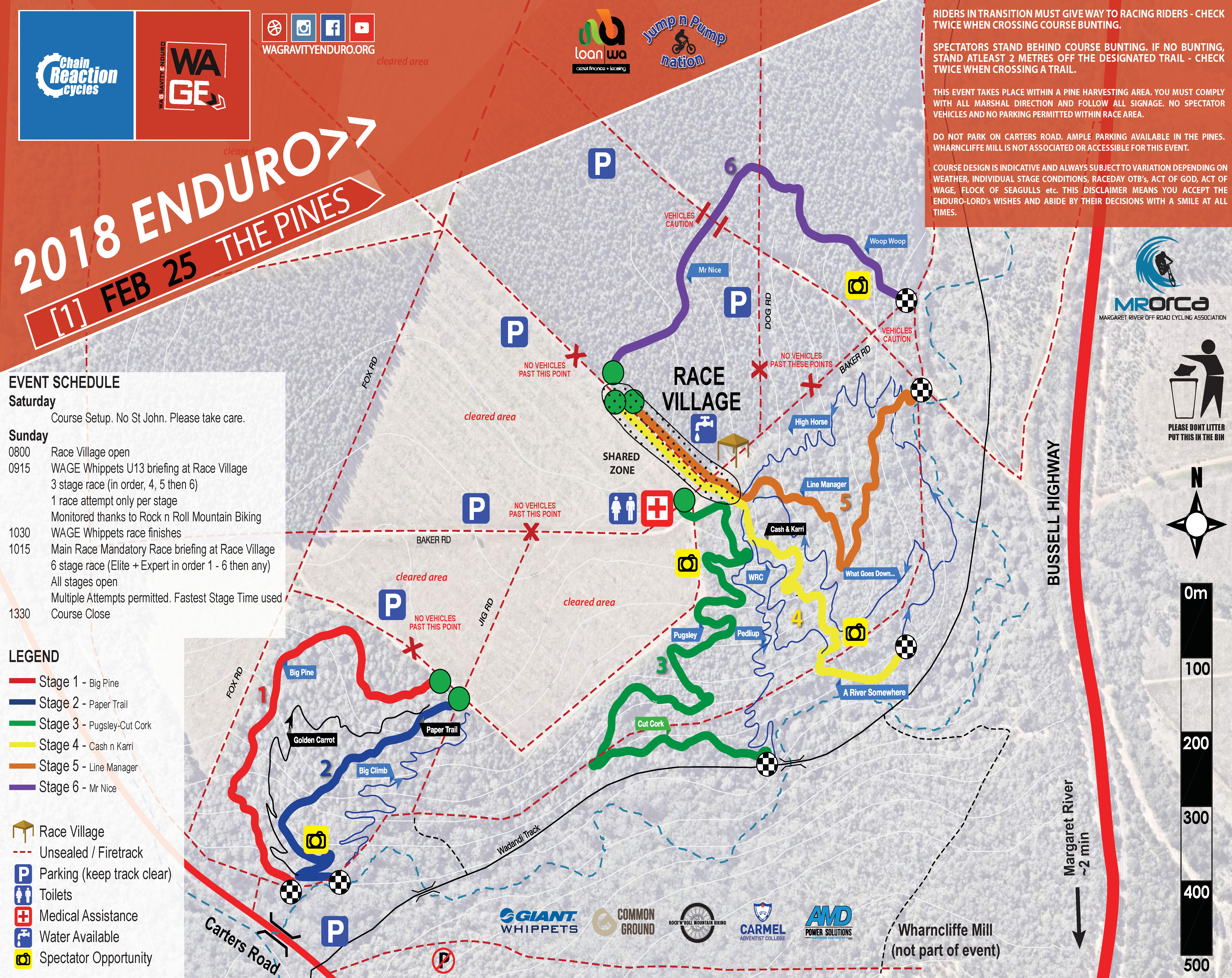 York, Western Australia

We are very excited to visit this new Enduro Location nestled on the doorstep of the York Townsite, just 1.5hours north-east of Perth. These raw trails will take us back to our Mountain Biking roots as we shred the fluffy single track trails of Mt Brown. With plenty of rocks, trees and scenic views, we are very excited to host this event in conjunction with the MTBA National GE Cup.
Gravity Enduro Mountain Bike Race
Multi-stage race. Timed descents and untimed climbs
Sign-posted and bunted course
Don't cheat yourself or your mates – stay on track
St John Ambulance on-site
Professional Medical Assistance available
Toilets
Portable or connected nearby
Race Village
Great atmosphere, questions answered and supplies
Volunteers and Fund Raising
Perks for vollies and funds donated to the trails
Gift Vouchers and Prizes
Heaps of prizes ready to be won for all
Elite's and Professionals
Cold hard cash for the cream-of-the-crop
Professional Race Timing
We use the best Enduro World Series system
Hydration and Sustenance
Free water and free light meal with Prem. Registration
Frequently Asked Questions
How do I enter? Easy. Just click on the 'ENTER NOW' button located throughtout the website. This will take you to your registration portal. If you are new to the registration portal, a one-time profile will need to be filled out. Returning competitors simply enter their email address, select their event and arrive at the Race Village on race-day to collect your timing chip and raceplate. How much does it cost? We keep our entry fees incredibly low. Entry fees vary based on your category but start from only $29 for the Under 13's. Insurance selection and location can slightly cary the price, but we try to stay as consistent as possible. Where is the course map? Gravity Enduro is all about riding the course with little to no knowledge of the course. This helps create a more level playing field and better tests your mountain biking skills. We usually release the course map on the Monday before the weekend's race. Do I have to go to race briefing? Yes. Race briefing is mandatory and occurs at the race village 15 minutes before race start. It is essential that you get a full report on the course (and any potential changes), safety requirements and to ensure everyone starts the race from the same location. Can I shuttle between stages?  No. Anyone caught doing so will be automatically disqualified. I missed registration! We can accept late registration online and on the day plus a $15 surcharge. Places are limited and may not be possible if the event is sold out. Can I get a refund? From the Monday at 9am before the race weekend, refunds, transfers to other competitors or credits are not possible. Before Monday 9am, yes, we can offer a full refund minus 10% administration fees. 
PLACES ARE LIMITED TO 320.

ENTRIES MAY CLOSE BEFORE THE SCHEDULED CLOSING TIMES WHEN CAPACITY REACHED.