Thankyou everyone for coming out and enjoring The Pines at Margaret River! It was a HUGE event with 350 competitors battling it out in some warm dusty conditions with plenty of smiles and tired legs! Race briefing to follow very soon!
Welcome to Round 1 of the 2018 WA Gravity Enduro Series!
We launch into 5 years of racing with a fun but challenging Enduro race at The Pines in Margaret River. Sheltered from the summer heat, The Pines boasts hard compact clay trails which will be rolling fast giving you an oppotunity to post some Personal Best times.
There will be 6 stages on offer and multiple attempts will be permitted. Your fastest time will be used for the overall results giving you the chance to mix up your strategy and see what works best!
Due to bookings, Wharncliffe Mill will not be the Race Village. The race village will be situated at the Trail Head in The Pines and tunes will be pumping!
Premium Registrations Close - Tue 20th Feb
Premium Registrations close Tuesday midnight
Personlised Race Plate
Food Option Available
Late Registrations Close - Fri 23rd Feb
Late Registrations close Friday at 9pm
Add $15
No personalised raceplate
No food option
Race Start - Sun 25th Feb
Race Day

Whippets from 9:10am
Main Event from 10:15am
Multiple Stage Attempts. Fastest Time used.
Race Date
Sunday, 25th February 2018
unofficial practice Sat, 24th
Race Briefing
Giant Whippets 9:00am
Main Event 10:15am
Race Start
Whippets 9:15am
Main Event 10:30am
Race Finish
Giant Whippets 10:30am
Main Event 1:30pm
Presentations
Wippets and Main Event
Estimated 2:15pm
Announcements
22/02/2018 The weekend is almost here!! Round 1 of the Chain Reaction Cycles WA Gravity Enduro Series 2018 will be underway this Sunday at The Pines in Margaret River. The Pines boasts compact fast trails with plenty of technical elements found on Paper Trail, some fast descending on Cash n Karri, pedal-a-plenty along Mr Nice and scenic towering trees along Big Pine.
Unlike previous years, the Race Village will be located in The Pines (not Wharncliffe Mill). There will be signage off Bussell Highway and Carters Road where you will easily find your way into The Pines. Please DRIVE SLOWLY and park on the verge of the firetracks to ensure clear access for vehicle movement and emergency services.
On Saturday, volunteers will be on-course finalising bunting and course signage. Please take the utmost of care if checking out the course.
…and raceday Sunday! The Race Village will be open from 8am where you can collect your raceplate and timing chip. You also must sign the additional waiver should you wish to wear open-face style helmet. However, we strongly encourage you to wear a fullface – especially if you have the equipment for your own safety.
At 9am, Giant Whippets U13 will have a race briefing for a 3-stage race supported by Rock n Roll Mountain Biking. There is a massive turnout of these youngsters which is super-exciting for the sport. Please take care of them and cheer them on!
At 10:15am, there is a mandatory race briefing for the Main Event before the race starts at 10:30am. The course will close at 1:30pm and you will be warmly welcomed by MRORCA (Margaret River Off-Road Cycling Association) with a delicious lunch (if selected during registration) and presentations will soon follow.
Please ensure you are fully resourceful! Don't forget your hydration, spares and equipment. Make sure your bike is in good working order and any bike lights have been removed (which could effect your timing).
We are on the look-out for a videographer to assist with capturing the race and future events. No editing is required and a paid role is considered based on experience. Please contact steve@wagravityenduro.org asap.
Additionally, we welcome volunteers! Discounted race entry and free lunch is provided. Simple tasks include course marshalling, debunting and packup and will greatly contribute to the smooth running of the event. MRORCA volunteers are generously providing their time which raises funds for their club through donations by WAGE. We also consider paid-roles should you wish to more heavily involved in various aspects of the event. Please contact steve@wagravityenduro.org
Now…this is the time where digital communication drifts away as we head to the course to get ready! Almost anything can be addressed at the event so don't stress 🙂 Spectators will have free reign to get noisy with the new WAGE cowbells so come and enjoy the day and Enduro Racing at The Pines in Margaret River!
21/02/2018 Competitor Start List. Please check! If there are any discrepancies, email steve@wagravityenduro.org immediately.
19/02/2018 Course Map Now Available (high resolution PDF here)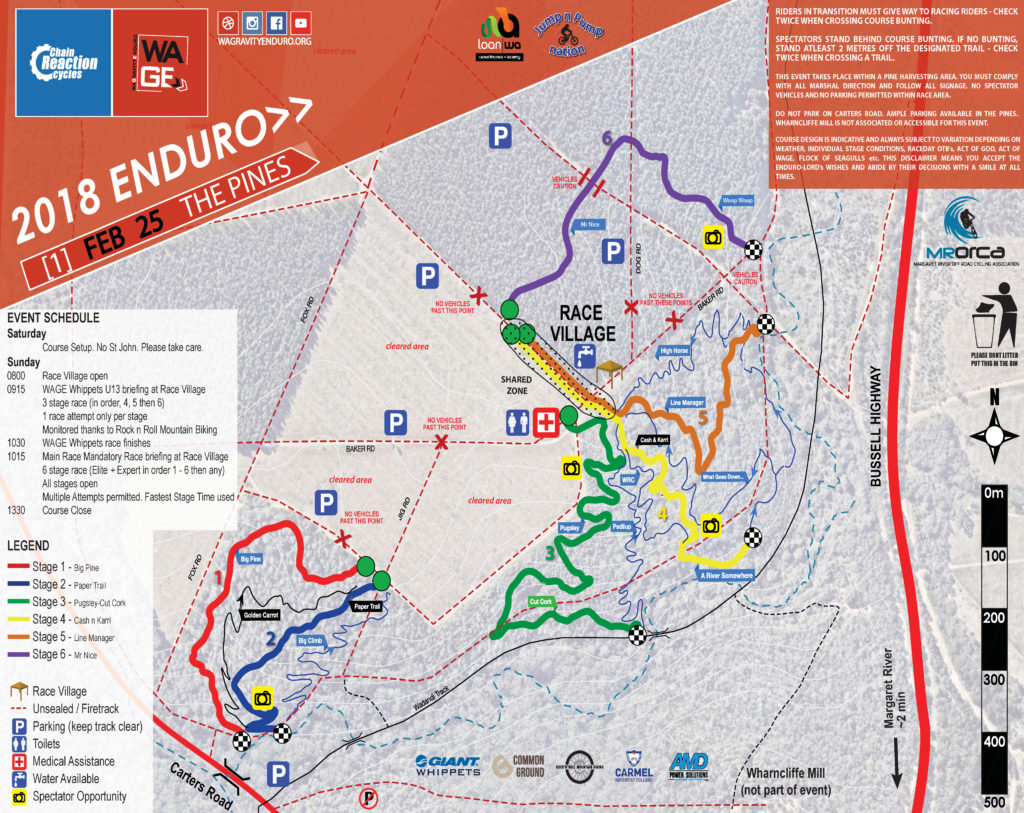 19/02/2018 Newsletter #1 available
13/02/2018 Open-face style helmets are now permitted, however, we strongly recommend full-face helmets – especially if you have this safety equipment. Competitors are responsible to determine their own level of safety equipment based on their own mountain biking capabilities and their racing experience. Competitors who chose open-face style helmets are required to sign this additional waiver made available at the Race Village.
24/01/2018 Registration are now open
16/01/2018 Registrations opening soon
Gravity Enduro Mountain Bike Race
Multi-stage race. Timed descents and untimed climbs
Sign-posted and bunted course
Don't cheat yourself or your mates – stay on track
St John Ambulance on-site
Professional Medical Assistance available
Toilets
Portable or connected nearby
Race Village
Great atmosphere, questions answered and supplies
Volunteers and Fund Raising
Perks for vollies and funds donated to the trails
Gift Vouchers and Prizes
Heaps of prizes ready to be won for all
Elite's and Professionals
Cold hard cash for the cream-of-the-crop
Professional Race Timing
We use the best Enduro World Series system
Hydration and Sustenance
Free water and free light meal for competitors
Frequently Asked Questions
How do I enter? Make sure you are logged in. When you are logged in, you will see additional information at the top of this page to enter. If you have not created a login profile, you must Signup first to WAGE (you only need to Signup once).
How much does it cost? We keep our entry fees incredibly low! Entry fees vary based on your category but start from only $29 for the Under 13's. Insurance selection and location can vary price.
Where is the course map? Gravity Enduro is all about riding the course with little to no knowledge of the course. This helps create a more level playing field and better tests your mountain biking skills. We usually release the course map on the Monday before the weekend's race.
Do I have to go to race briefing? Yes. Race briefing is mandatory and occurs at the race village 15 minutes before race start. It is essential that you get a full report on the course (and any potential changes), safety requirements and to ensure everyone starts the race from the same location.
Can I shuttle between stages? Absoloutley not. Anyone caught doing so will be automatically disqualified. On occasion, we run private shuttles and this would be the only exception.
I missed registration! We can accept late registration online and on the day plus a $15 surcharge.
Can I get a refund? From the Monday at 9am before the race weekend, refunds, transfers to other competitors or credits are not possible. Before Monday 9am, yes, we can offer a full refund minus 10% administration fees.