Saturday Practise 15th October 2022
Official Practise 0900 – 1600
– race village open
– marshals on course
– medical services available
Competitors are NOT PERMITTED to ride the course outside official practise.
Shuttles are not permitted anytime. Failure to comply is instant disqualification.
Sunday Racing 16th October 2022
Staggered starts from 8:15am
(see course map Monday for details)
– race village opens 7am
– marshals on course during racing
– medical services available during racing
Shuttles are not permitted anytime. Failure to comply is instant disqualification.
Very limited chalets and camping options are available which can be booked at
Evedon Lakeside Retreat – (08) 9726 3012. We also highly recommend booking a table early for dinner Friday and/or Saturday night.
Please note some very important information at this unique venue:
1) The event takes place on PRIVATE PROPERTY. Attempting to ride these trails at any other time apart from the race weekend is strictly prohibited. Trespassers will prosecuted to the full extent of the law, will be banned from attending WA Gravity Enduro events and their actions may jeopardise this event taking place in the future.
2) DO NOT CONTACT THE LANDOWNER to ride the trails at any other time. Due to Shire Zoning restrictions, it is not possible to ride these trails at any other time other than the event weekend.
3) EVERY PERSON MUST SIGN THE WAIVER as a condition of entry. It will be checked at the door. Riders, Spectators and Crew must sign the waiver.
4) COMPETITORS ONLY RIDING TRAILS. Spectators cannot ride trails.
5) Parking is limited. FOLLOW PARKING INSTRUCTIONS. Park closely to each other in order to get as many vehicles in as possible.
6) SHUTTLING IS NOT PERMITTED. Failure to comply is instant disqualification.
What makes this place amazing is the fact that we can only ride once a year! This puts everyone on a level playing field for some epic racing.
Plus, new trails! We have just about finished raking in a new trail called 'Blue Lagoon' which is a 'blue-style' track and very long (for us) at 1.6km
and aiming to get another one finished off called 'Tombstones'
Entries are limited and expected to sell-out.
EVEDON PARK
One of the best Enduro venues on the calendar and we are thrilled to be able to return to this gem nestled in the Dardanup hills, just 30min east of Bunbury.
With parking, chalets and camping available on-site, it was easy to feel at home as competitors cooled off in a large swimming dam, hit the restaurant or bar and just relaxed in the manicured gardens. Looking forward to returning to Evedon Park. The trails are tough, raw and exciting and their are plenty of opportunities for spectators to catch the thrills and spills. Plus, we are aiming to add 2 new trails to this venue!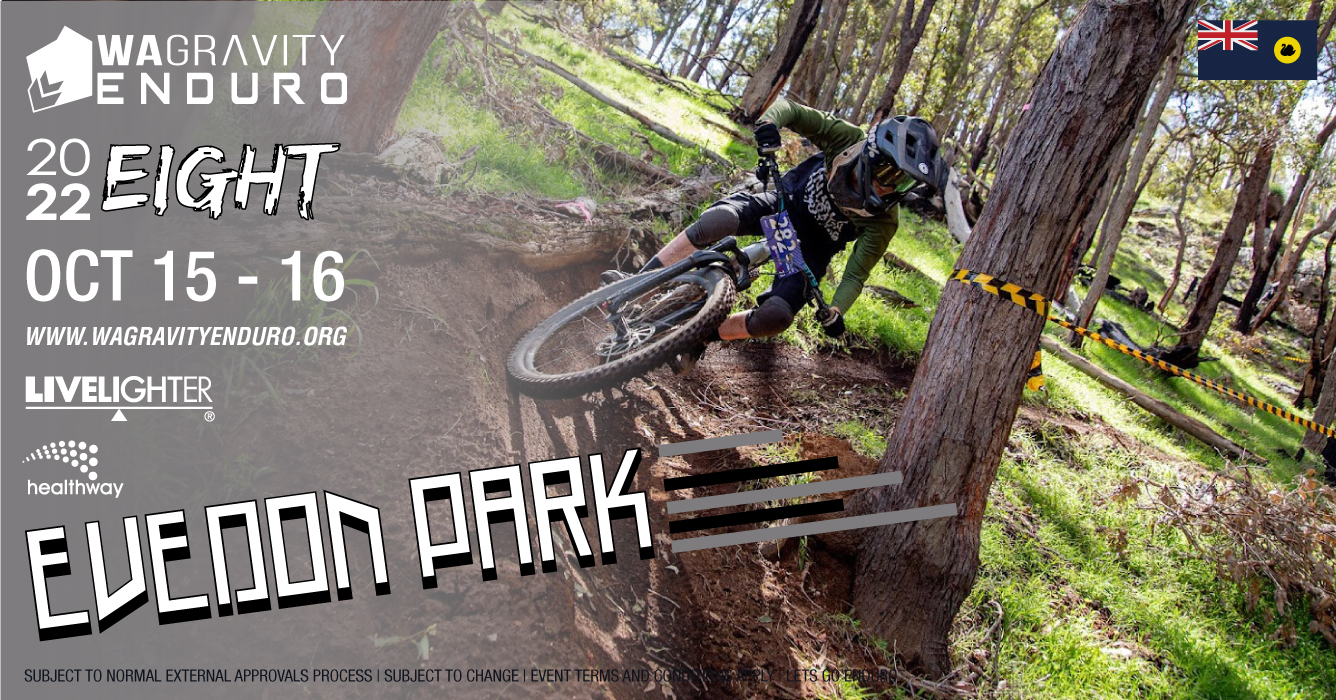 Course
These natural trails create an excellent Enduro course which include rock gardens, fast descents, multiple line choices and the signature 'creek' gap!
You're ONLY opportunity to ride these trails all-year! Please do not contact Evedon Park to ride at any other time as it is not permitted under the zoning legislation of the Park.
Trespassers will be prosecuted and not permitted to attend the event.
Please do not jeapardise the awesome opportunity to race these awesome trails where everyone is on a level playing field! 

Grading
Technical Ability – Advanced
Physical Rating – 3
This is the approximate Course Grade for the most difficult category (Full Enduro)
More information about Course Grading.
Accommodation
On-site chalets and limited caravan and camping options available. To book, please contact the Retreat at www.evedon.com.au or call 08 9726 3012
Parking
There is ample parking available with a short walk down the hill to the restaurant and race village. We do highly encourage car-pooling however and 4WD where possible. Depending on the weather, the grassed area can become wet and slippery.
Spectators
Spectators are welcome to walk up the side of trails but please ensure you are behind course bunting at all times and at least 2m off the trail when riders are descending. Look for Spectator points indicated on the Course Map for viewing opportunities. Always be aware of snakes and kangaroos, bring adequate hydration and wear good walking shoes. Please avoid making shortcuts through the bush and walk on the side of the trails where it is safe to do so. 
The bush is alive! Please do not trample vegetation and be aware of snakes and other wildlife.
Shuttles
Shuttling is not permitted Saturday or Sunday.
Categories and Pricing
We have a MASSIVE 26 categories available to ensure there is fun and competitive racing for all.
Pricing is generally the same all year, except some events offer shuttling options or food options (if available). Pricing generally ranges from $35 (inc GST) for the juniors to $80 (inc GST) for 19+.
Head to our Entryboss Entry Platform to see categories and final costs.
Where some of your entry fees go: 
Event License Fees to Auscycling for an insured and sanctioned event

Event License Fees to Local Governments

$1 from every competitor is added to our Enduro Pathway Program

$750 in cash prizes for our Men and Women Full Enduro 19+ competitors

$2,500 in WA Gravity Enduro gift vouchers to be won for podium placers, medals and trophies plus other delicious prizes

Certificates for our Whippet Competitors

Bunted and signposted course which typically takes several days to setup and cleanup

Sustenance and sweeteners for our amazing course marshals

Specialist paid positions ensuring consistency and professionalism in timing and event coordination
Official COVID Marshal ensuring our events are as COVID Safe as possible

Event Health Services during official practise and racing

Hire costs associated with toilets and water stations

Investment and use of the best Enduro Timing System in the world.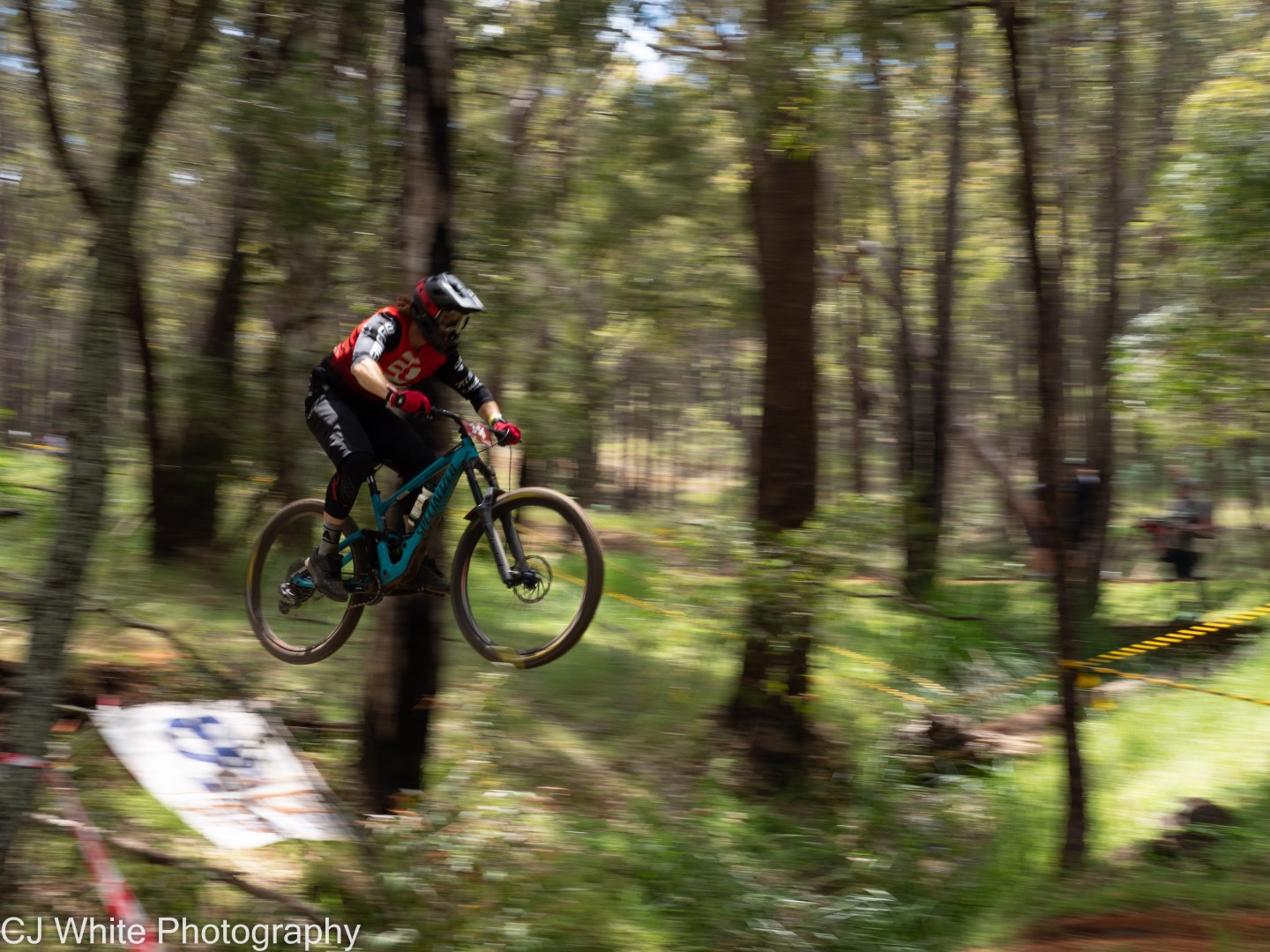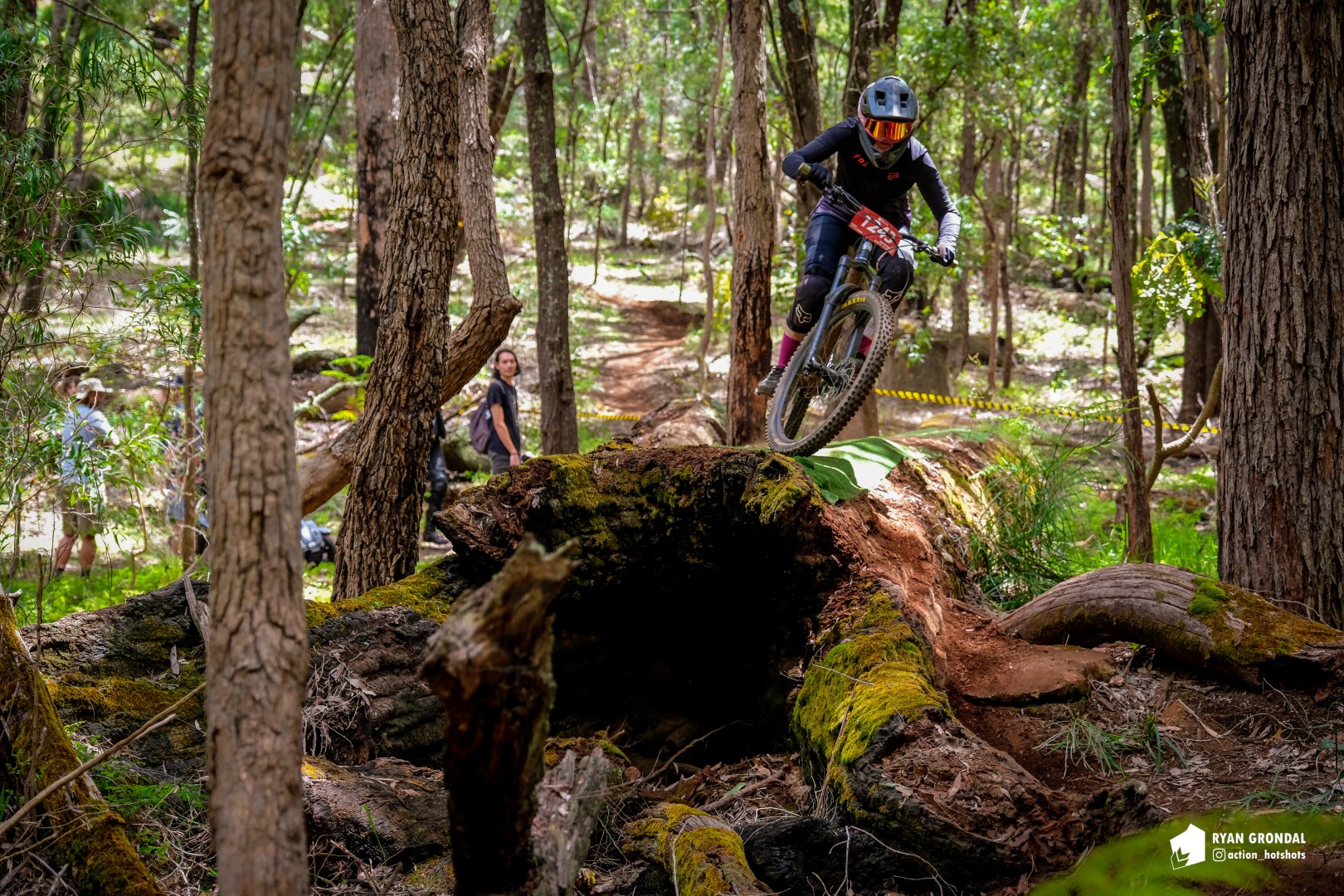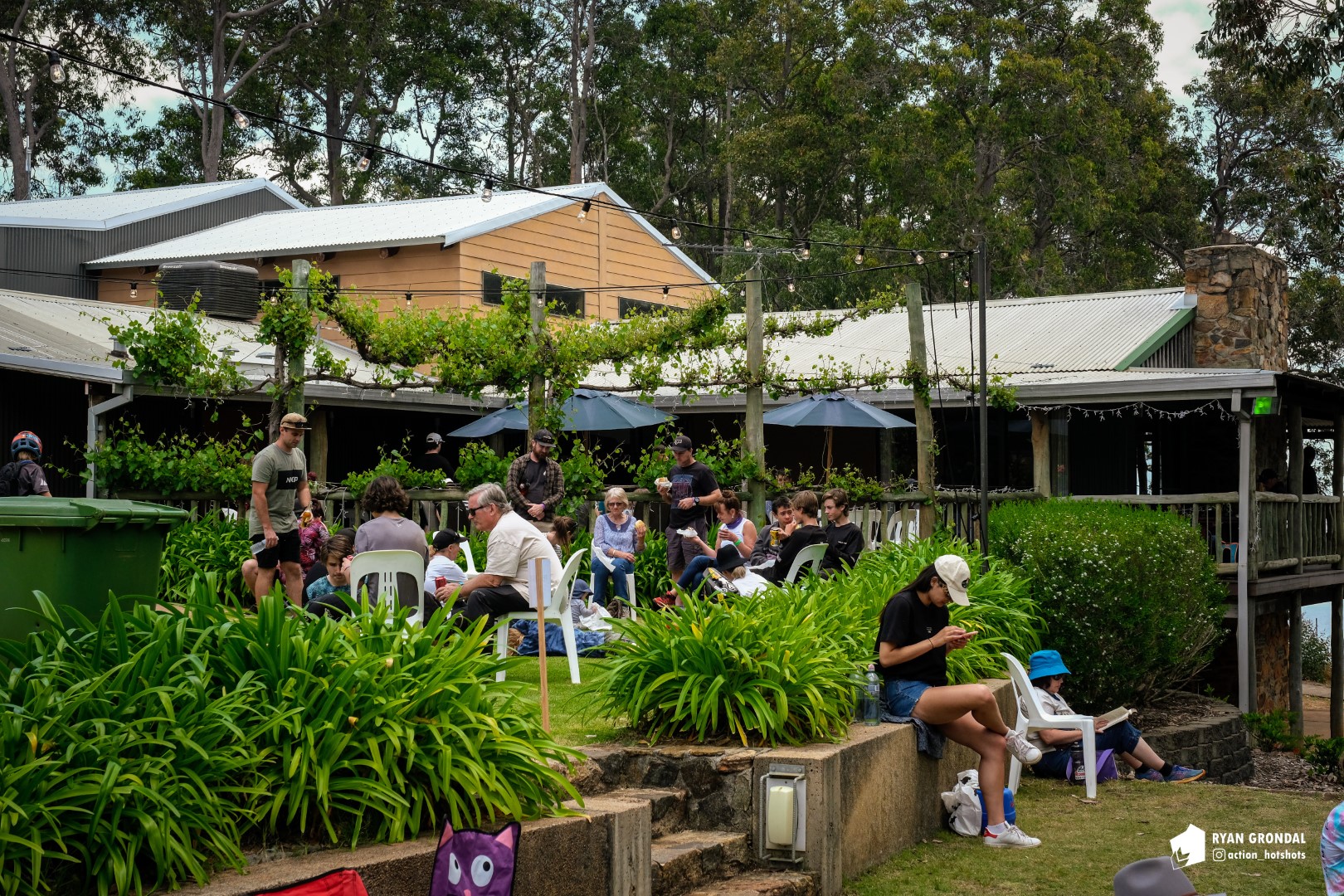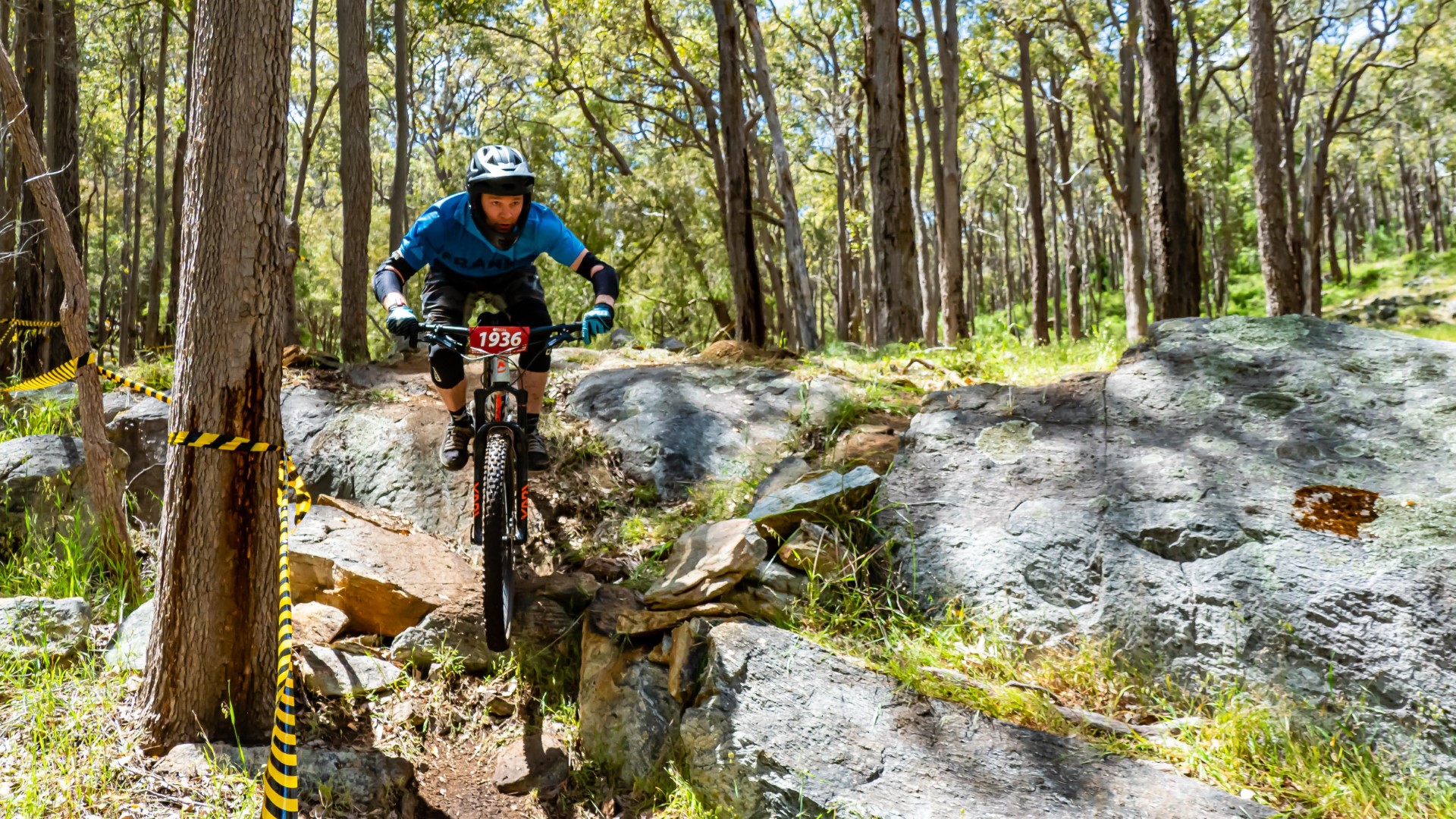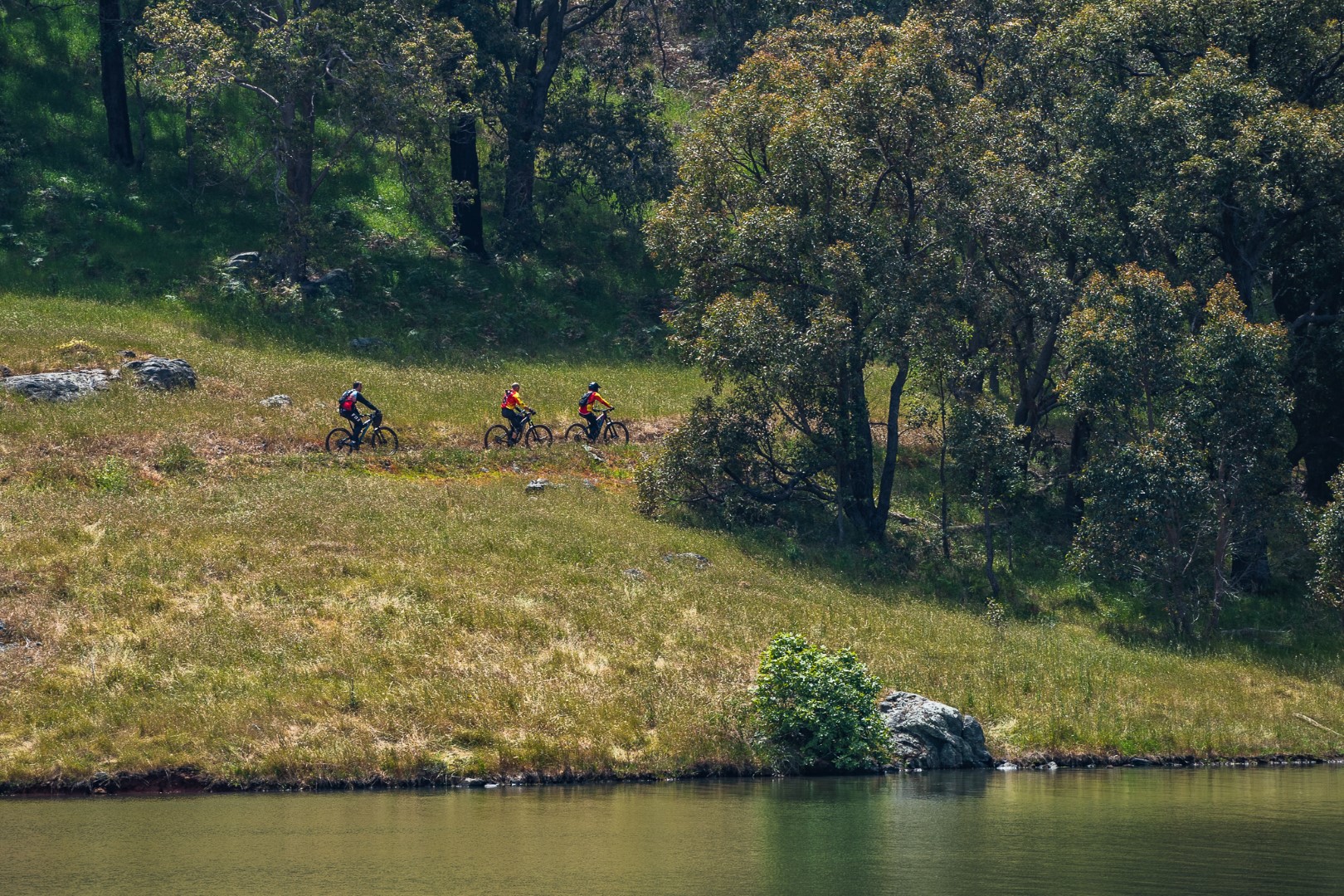 General Racing Rules
Full Face Helmets Mandatory
Auscycling Insurance Mandatory
No headphones, no singlets, no thongs
Mechanical's are a part of racing. Always proceed to finish the stage by taking your SIAC past the finish beacon. A competitor carrying another person's SIAC is instant disqualification.
Competitors stopping to assist an injured rider are permitted a stage re-attempt, but must confirm with a marshal.
A short grace period for returning SIAC's is permitted past the estimated course closure time with final cutoff or time penalties decided by the Chief Commissaire. A 5 min penalty is awarded to any competitor returning SIAC's after presentations begin.
Evedon Lakeside Retreat, Burekup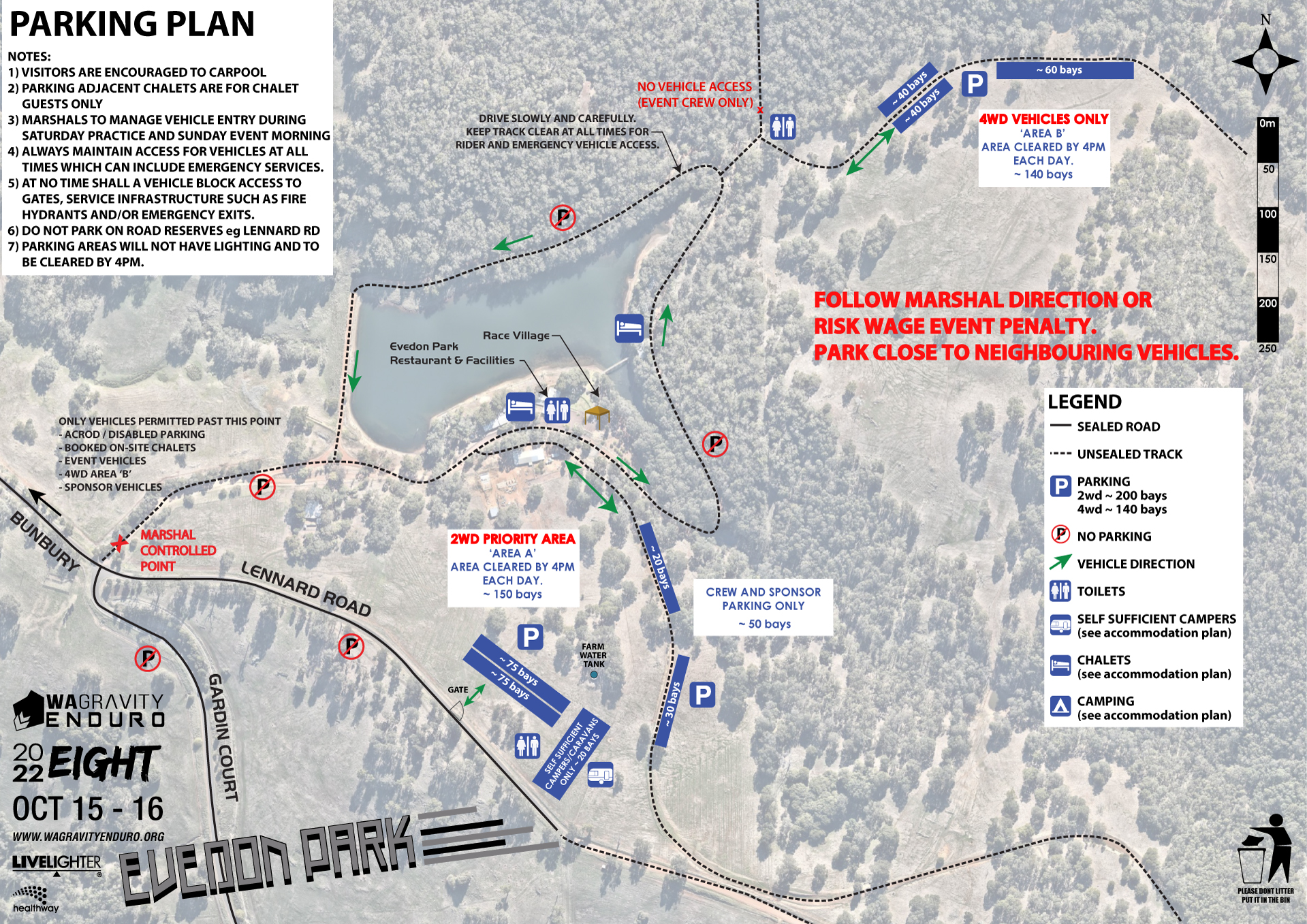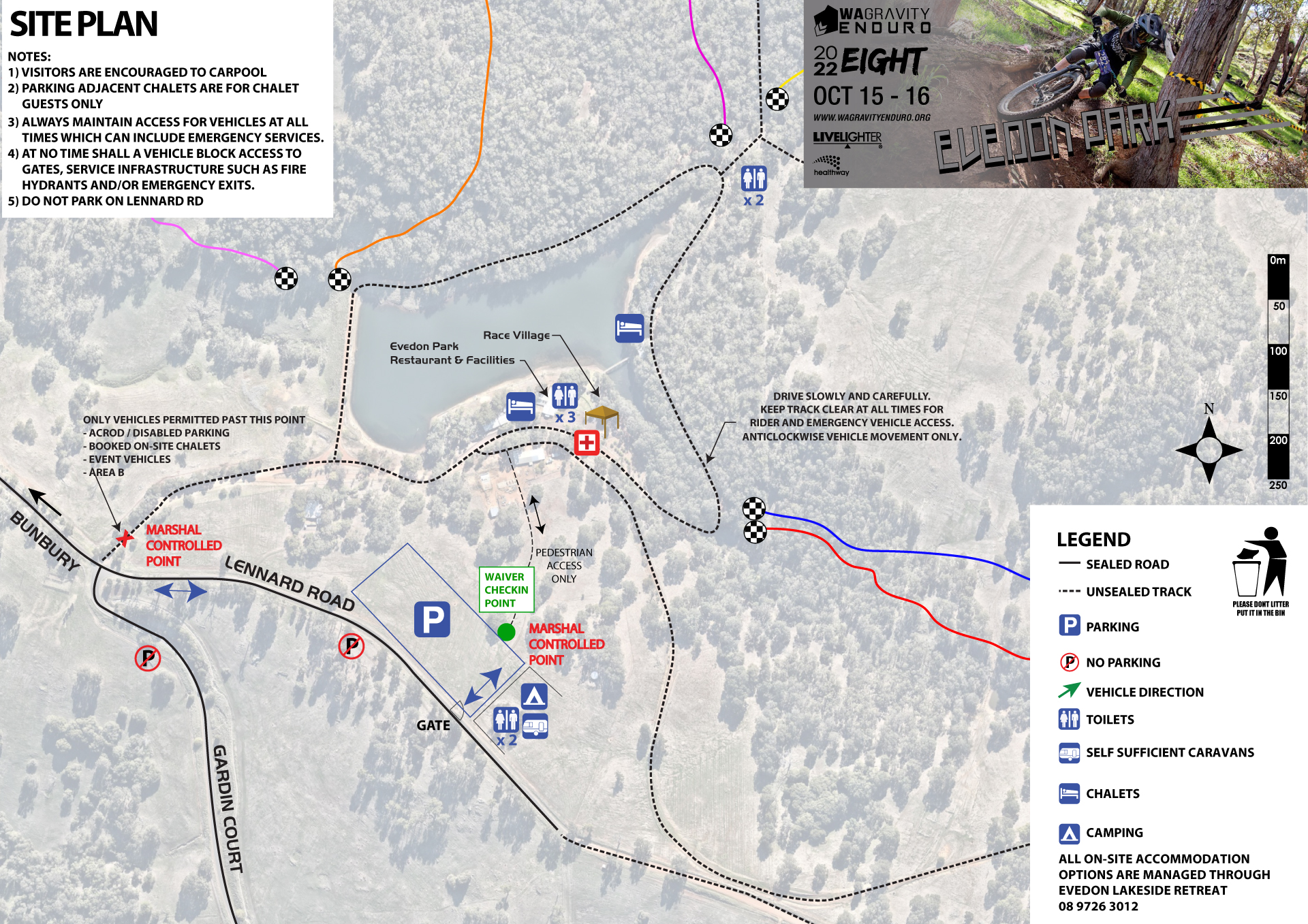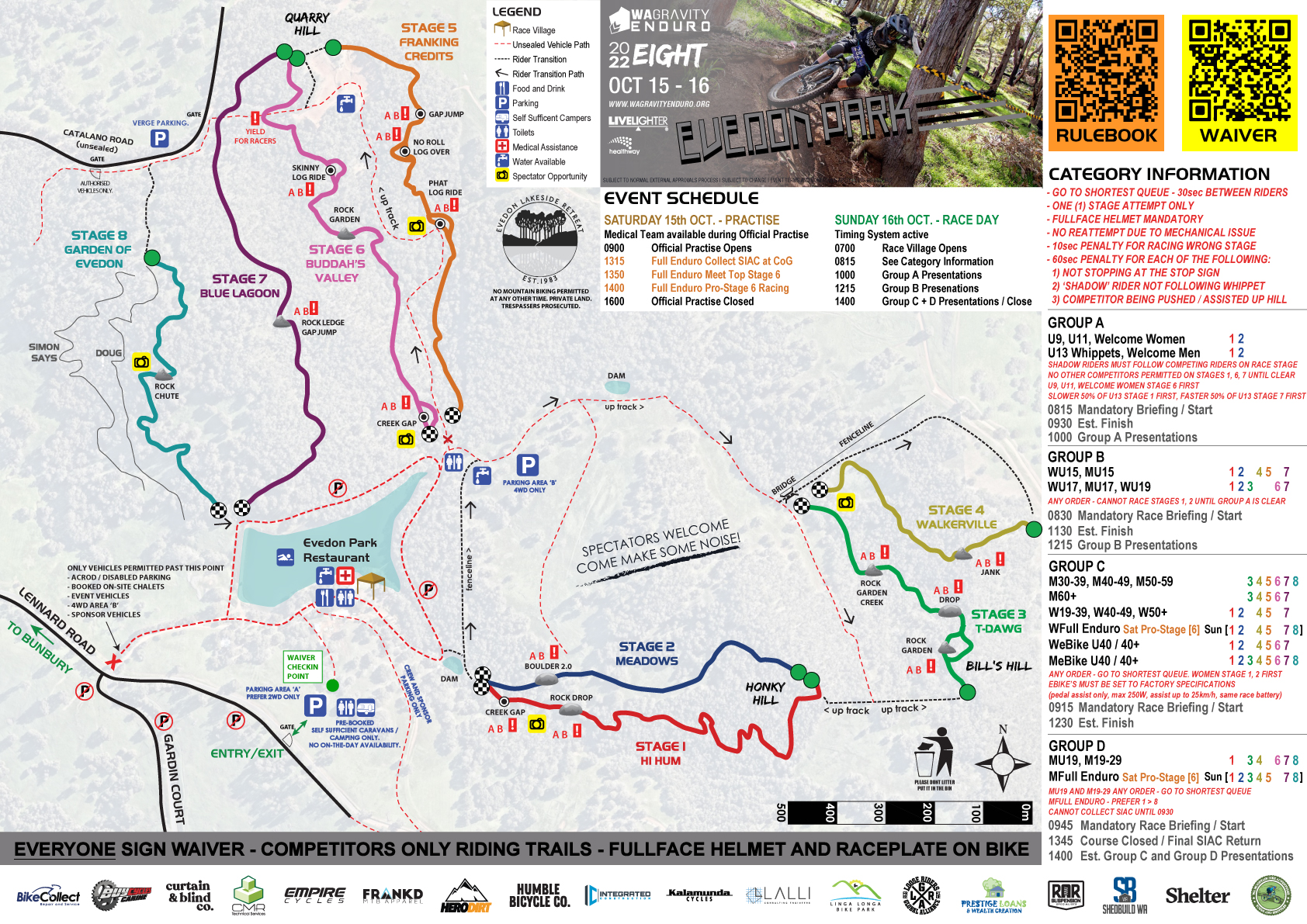 We aim to give you the Best Enduro Experience possible and work hard to provide the Best Value Event for your Money.
Organisation
Time required to bring together all facets of the Event.
Advertising
Facebook advertising, video reels and highlights, maps, website design, signage, Instagram feeds, YouTube clips take time and fees.
Sign-posted and Bunted Course
Arriving early to setup the course. This usually involves multiple people over hours or days ensuring bunting, signage and timing equipment are in place for easy navigation and fair racing.
Event Health Services
Your Entry Fee covers St John Ambulance Services being on-site for both Saturday and Sunday. We typically employ 4 x Technicians and engage with St John months in advance
Toilets
Typically, our Events exceed the venue existing facilities. Regional Services are engaged months in advance to deliver toilets. Hire costs continue to grow as Waste Management Fees continue to increase.
Race Village
It takes time to design the Race Village to enable our awesome Sponsors to arrive and setup in suitable locations to suite their needs. Careful attention to Parking, Pedestrians and Riders is needed for the safe and accessible movement of all attendees and event crew.
Applications and Insurances
Typically, several Stakeholders need to be engaged months in advance of any Event. We liaise with Local Governments, State Departments, Auscycling, Local Residents and Trail Custodians to act in the best interests of all parties while balancing a safe and exciting experience for our Community. Fees are required for Insurance and Event Applications.
Prizes, Gift Vouchers, Subsidies
At every Series round, we move $1 of your Entry Fee into our Enduro Pathway Program, donate $5 of your Entry Fee to Public Trails, offer more than $2,500 in Event Gift Vouchers to podium winners and offer $750 to our Elite Men and Women winners. We offer free entries to our Marshals, pay for professional services including multiple Photographers and Videographers and assist with fuel, food and accommodation costs for our Crew.
World's Best Timing System
Our Timing System is considered the World's Best as used at the Enduro World Series. Yearly licensing, hardware and software upgrades are continuous. Additionally, we send our timing bands back to Germany as required for battery replacements at considerable expense.
Continued Development
Once the essential Event costs are accounted for, we continue to research new ways to improve Results, Live Broadcasts, Mobile Phone Apps, data presentation, website development, manage existing equipment and improve our systems with the aim for a better experience for Competitors, Spectators and our Crew.