Round 3
Three Chillies Farm
Chain Reaction Cycles WA Gravity Enduro Series 2016
31/05/2016
Course map now available
(PDF version available here)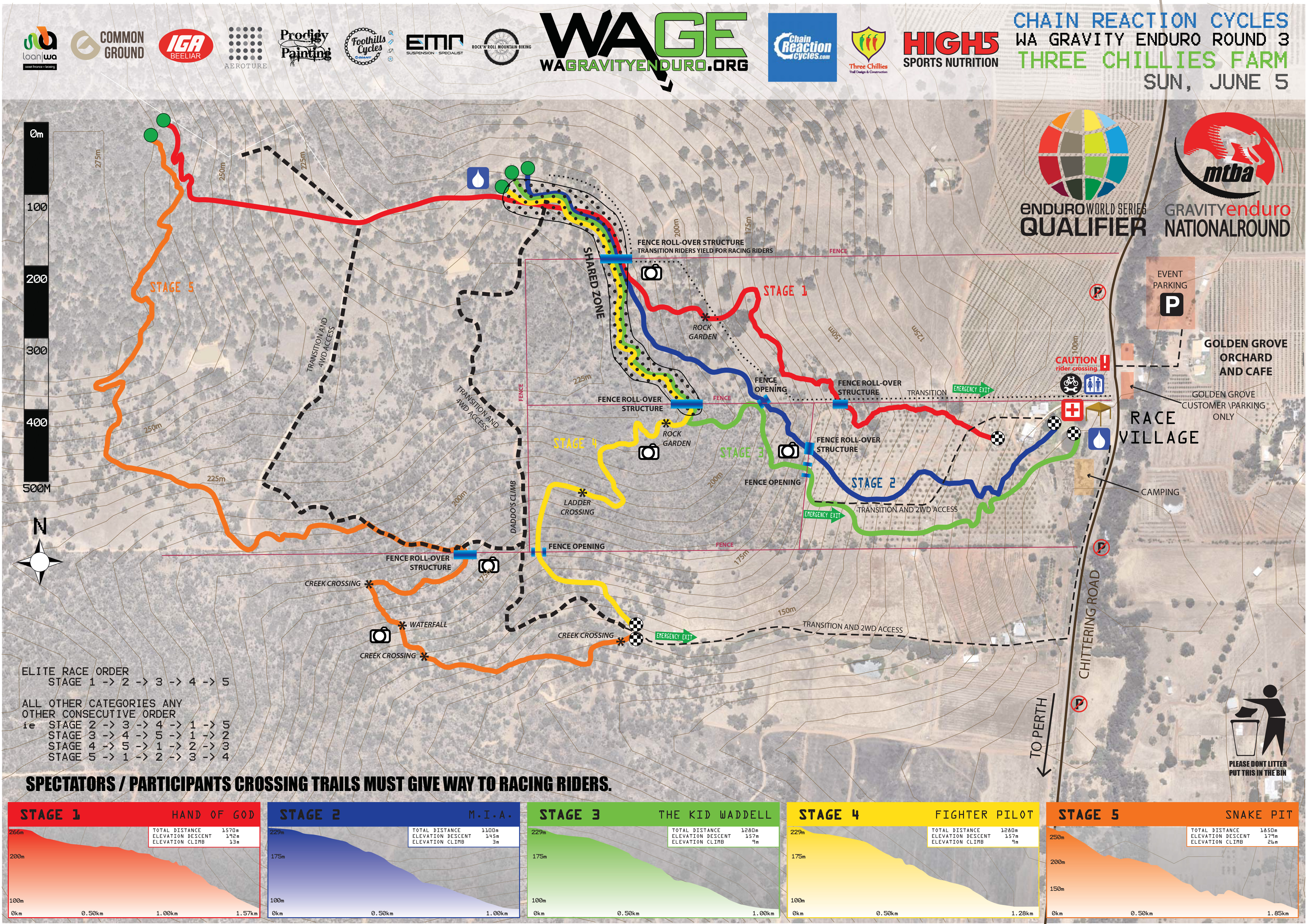 16/05/2016
NEWSLETTER #4 ERROR Newsletter #4 incorrectly states that open-face helmets are mandatory. This should read: Full-face helmets are mandatory. Apologies for the error.   SUNDAY RACE-BRIEFING TIME CHANGE We anticipate 5 challenging and extremely fun stages on race-day and to make sure that everyone can experience the course and get through it in a reasonable time for presentations, we are starting race briefing at 9:15am. It might be a cool start, but trust us – by the time you reach the top, you'll be warm. 0700 – 0900 – course is open for riding practise (please take care as people may be walking and marshals inspecting) 0915 – you MUST be at the race village for race briefing to begin at 9:15am. 0930 – Official Race Commence
04/05/2016
ROUND 3 WEEKEND INFORMATION Saturday, 4th June 2016 0800 – 1100 – course is open for walking inspection only 1100 – 1600 – course is open for riding practise Sunday, 5th June 2016 0800 – 1000 – course is open for riding practise (please take care as people may be walking and marshals inspecting) 1000 – you MUST be at the race village for race briefing to begin at 1015. 1030 – Official Race Start
04/04/2016
Registrations are now open. Note the following:
If you select a WAGE category being U15 or U19, you will automatically be placed in the MTBA Junior's Category.
If you select a WAGE category being Elite, you will automatically be placed in the MTBA Elite Category and eligible for MTBA prize money.
If you select a WAGE category other than the above, you will automatically be placed in the MTBA Masters Category.
MTBA racing categories only include:
Junior Male
Junior Female
Elite Male (eligible for MTBA prize money)
Elite Female (eligible for MTBA prize money)
Masters Male
Masters Female
04/04/2016
Due to the nature of this event, we regret to inform that the WAGE Wippets U13's cannot enter this round, but you are welcome to spectate and marshal! We look forward to the Wippets racing again on July 17th at The Pines in Margaret River.
06/03/2016
Full-face helmets will be mandatory for this race as instructed by Mountain Bike Australia (MTBA)
Race Date
Sundary, 5th June 2016
Estimated Presentations
4:00pm
The Western Australian round (3) of the 2016 MTBA National Gravity Enduro Series will take place at Three Chillies Farm, Chittering which will showcase new trail design and construction by the 'godfather' of Mountain Biking in WA – Paul Neve. The scene will be set with sweeping views from the highest elevation in the WA Gravity Enduro Series and will also showcase a party atmosphere in the campgrounds as we celebrate 10 years of Three Chillies design and trail building. Points will be awarded for Round 3 of the WAGE Series and Round 3 of the MTBA National Series. NOTE: Three Chillies Farm is on PRIVATE PROPERTY. Trespassers will be dealt with to the full extent of the law. Do not trespass for legal reasons and because it jeopardises any potential future mountain bike event.
Competitors hosted since 2014
Gravity Enduro Mountain Bike Race
Descents are timed – climbs are untimed
Sign-posted and bunted
Don't cheat yourself or your mates – stay on track
St John Ambulance on-site
Please thank these amazing volunteers
Toilets
Either on-site or portable delivered
Pumping race village atmosphere
Meet here to sign in, for race briefing, food, drink and presentations
Saturday Night Camping
Camping is permitted on Saturday at the farm for $10 per person.
Volunteers!
Here to keep you safe and ensure a fair race. Give 'em a high5!
Chain Reaction Cycles gift vouchers
For 1st, 2nd and 3rd place winners plus spot prizes
Cold hard cash for Elite
WA Gravity Enduro giving back to our Elite competitors
Food for competitors
Usually some un-hearty sustenance!
Free hydration at the race village
Thanks to High 5 Sports Nutrition
Licensed Bar
Pending approval, a liquor license area will be established.
Frequently Asked Questions
Where is the course map?
Gravity Enduro is all about riding the course with little to know knowledge of the course. This helps create a more level playing field and better tests your mountain biking skills. We usually release the course map on the Monday before the weekend's race.
Do I have to go to race briefing?
Yes. Race briefing is mandatory and occurs at the race village 15 minutes before race start. It is essential that you get a full report on the course (and any potential changes), safety requirements and to ensure everyone starts the race from the same location.
Are shuttles permitted?
SHUTTLES ARE NOT PERMITTED AT ANY TIME from race briefing until the tag-off of your final stage. Any one caught will be disqualified.
How does the timing system work?
You are given a wrist band that you must wear on your right wrist. You will see a 'timing box' at the start gate and finish gate of each stage. 'Tag-on' and 'tag-off' at these timing boxes using your wrist band – similar to the Transperth Train service tagging system. Your tag records and stores the time on each timing box. We collect these up at the conclusion of the race and run it through our custom software to generate your race times. To ensure no additional fees, return your wristband after the race. Lost wristbands will incur a $15 fee.
Can I get a refund or transfer an entry?
Less than 7 days from event – no. Refunds or transfers to other competitors or other races are not possible. Injury with a doctors note will be considered. We have booked in all necessary equipment based on your race entry at this stage. More than 7 days from event – yes. We will refund your entry (minus 10% administration fees and charges).
I missed the cut-off time to enter!
Due to additional administration duties, a $10 surcharge is applicable for competitors who register after the cut-off time until the Friday @ 6pm before the race. Depending on the event, race day registrations may be possible and may incur a $15 late fee. Contact steve@wagravityenduro.org as soon as possible.