Round 4
The Pines – Margaret River
Chain Reaction Cycles WA Gravity Enduro Series 2016
15/07/2016
The time has come for Round 4 of the CHAIN REACTION CYCLES WA GRAVITY ENDURO at The Pines this Sunday!
The weather is looking quite favourable with showers about Saturday, then a break and increasing again Sunday afternoon. Rain window or not, its sure to be a lot of fun and may add an element we haven't had since the downpours of October 2014?!
The Pines are open to the public for normal riding. We will be out on course bunting and signposting and should be done around 3pm. Please take care when out on course.
Entry to Wharncliffe Mill is for guests and competitor drop-off only. Heaps of parking available on the edge of the firetracks inside The Pines.
To kick things off, the race village will be waking a little later than usual on Sunday at 9:30am to allow for guests to use the areas at Wharncliffe Mill before we rush the place!
1000 WAGE Wippets U13 Briefing and race start
Wippets will be racing Stage 1, 2 and 3 only and are permitted to have multiple attempts. Parents/guardians are welcome to ride with their Wippets. Wippets are permitted to shuttle from Wharncliffe Mill to Stage 1, but no shuttling permitted during the race.
1015 Main Event Race Briefing
Race Briefing is MANDATORY. Anyone spotted out on course will be disqualified. Essential safety, race information and trail detailed information will be briefed at this time.
5 Stage Gravity Enduro Racing! Multiple attempts permitted (max of 6 per stage). You MUST tag-on and then tag-off for any stage attempt. Failure to do this will corrupt your times. There are no category orderings for this round – head to any stage without a queue!
Swap your wristband for a Hot Dog! All wristbands must be returned in any case.
All timing modules are removed and taken back to race village for processing.
1400 (2pm) Presentation (approx)
Anyone available to help de-bunt will receive half price entry to Round 5 at the Goat Farm!
Please bring your raceplates if you have raced with us before and bring any and all wristbands you may have – even from 2015! Wristbands lost in 2016 attract a $15 fee.
At this time, the communications will go quiet as we will be busy transforming The Pines into our next gravity enduro course… see you Sunday for ENDURO!
11/07/2016
Click here for high-resolution Course Map
NOTE: Big Pine is subject to change. Due to the recent work on this trail, it may need some time to 'bed' and become more compact. We do not want to risk damaging the amazing work that has gone into this trail. Pending weather conditions this week, a decision will be made on race-day if an alternative stage will be used.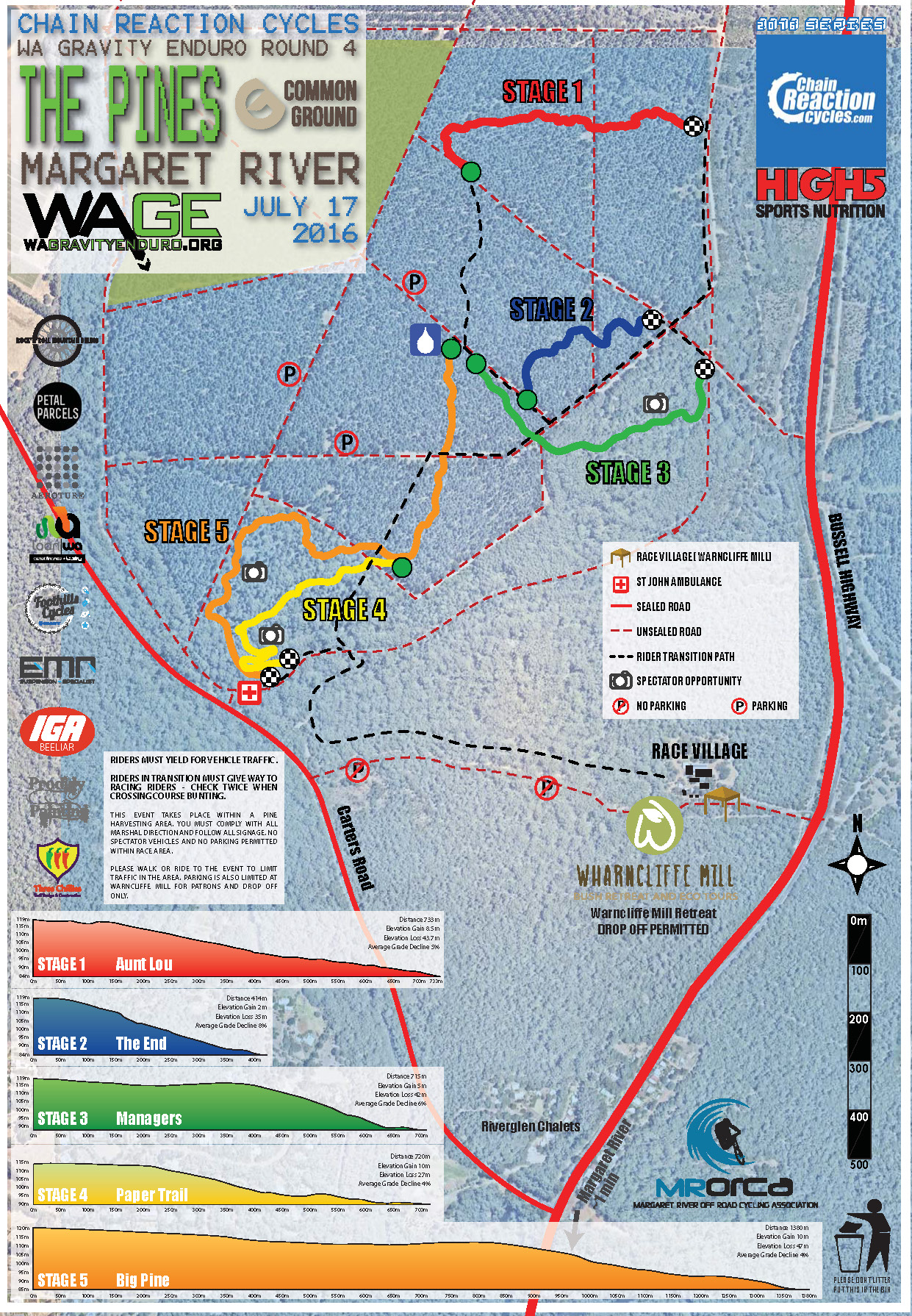 26/06/2016
Open face helmets permitted! Thanks to MTBA, we can now confirm that open-face style helmets are permitted for Margaret River.
BUT, only as a condition if you agree with the following waiver. If you do not agree with the following waiver, full-face helmets are mandatory.
Additional Rider Liability Waiver Information for WA Gravity Enduro Round 4 – Margaret River, 17th July 2016
WA Gravity Enduro strives to implement the necessary insurance conditions to promote and prioritise safe mountain bike racing for all volunteers, marshals, organisers, spectators and competitors to the best of our ability and to reflect this, WA Gravity Enduro must now enforce full-face helmets as an extra level of safety for our competitors when racing in the Gravity Enduro format. In addition to the MTBA Event Waiver found here and the WA Gravity Enduro Terms and Conditions found here, competitors are permitted to wear their Australian Standards open-face style helmet when competing in the Gravity Enduro race format for Round 4 of the WA Gravity Enduro 2016 Series in Margaret River on the 17th July 2016 only. Competitors who choose this level of safety equipment do so at their own risk as their Mountain Bike Australia insurance cover may not apply if an injury occurs as a result of facial, neck, spinal damage or similar injury. Competitors must determine their own level of safety equipment based on their own assessed level of mountain biking skill and experience in racing. At no time can Mountain Bike Australia, WA Gravity Enduro, sponsor, supporter, competitor, volunteer, marshal, organiser, spectator or any other affiliated person or entity be sued for damages as a result of injury if a competitor chooses to wear an open-face style helmet for Round 4 of the WA Gravity Enduro 2016 Series in Margaret River on the 17th July 2016.
16/06/2016
The Margaret River Off Road Cycling Association (MRORCA) are hosting the 'Margs Dirty Film Festival' on Saturday 16th July at Wharncliffe Mill from 5pm with a bar opening and woodfired pizza available for purchase!
Visit https://mrorca.org.au/margs-dirty-film-festival for further details on viewing and submitting your own video! Video submissions close Thursday 30th June 2016 at 5pm! All proceeds go to MRORCA.
06/03/2016
It is possible that Mountain Bike Australia (MTBA) will allow competitors to race Pemberton will an open face helmet. Please stay tuned for further updates.
'The Pines' in Margaret River has undergone a major transformation over recent years with logging nearby. However, MRORCA and DPAW have done an amazing job working side-by-side to construct new trails in the area that will surely test your skill level and your fitness!

Due to the shorter nature of these trails, we have incorporated a different racing format where multiple attempts are permitted, and your fastest time is used for the overall placing calculations. CAUTION – you must tag-on and you must tag-off on each attempt. Failure to tag will cause your stage time to be corrupted.

Pedal, pedal, pedal!
$ donations raised since 2014
Competitors hosted since 2014
Gravity Enduro Mountain Bike Race
Descents are timed – climbs are untimed

Sign-posted and bunted
Don't cheat yourself or your mates – stay on track
St John Ambulance on-site
Please thank these amazing volunteers
Toilets
Either on-site or portable delivered
Pumping race village atmosphere
Meet here to sign in, for race briefing, food, drink and presentations
Parking
We ensure areas of adequate parking nearby, but car-pooling is best
Volunteers!
Here to keep you safe and ensure a fair race. Give 'em a high5!
Chain Reaction Cycles gift vouchers
For 1st, 2nd and 3rd place winners plus spot prizes
Cold hard cash for Elite
WA Gravity Enduro giving back to our Elite competitors
Food for competitors
Usually some un-hearty sustenance!
Free hydration at the race village
Thanks to High 5 Sports Nutrition
Giving back
We donate back to local trails as an appreciation of local volunteers
Frequently Asked Questions
Where is the course map?
Gravity Enduro is all about riding the course with little to know knowledge of the course. This helps create a more level playing field and better tests your mountain biking skills. We usually release the course map on the Monday before the weekend's race.
Do I have to go to race briefing?
Yes. Race briefing is mandatory and occurs at the race village 15 minutes before race start. It is essential that you get a full report on the course (and any potential changes), safety requirements and to ensure everyone starts the race from the same location.
Are shuttles permitted?
SHUTTLES ARE NOT PERMITTED AT ANY TIME from race briefing until the tag-off of your final stage. Any one caught will be disqualified.
How does the timing system work?
You are given a wrist band that you must wear on your right wrist. You will see a 'timing box' at the start gate and finish gate of each stage. 'Tag-on' and 'tag-off' at these timing boxes using your wrist band – similar to the Transperth Train service tagging system. Your tag records and stores the time on each timing box. We collect these up at the conclusion of the race and run it through our custom software to generate your race times.
To ensure no additional fees, return your wristband after the race. Lost wristbands will incur a $15 fee.
Can I get a refund or transfer an entry?
Less than 7 days from event – no. Refunds or transfers to other competitors or other races are not possible. Injury with a doctors note will be considered. We have booked in all necessary equipment based on your race entry at this stage.
More than 7 days from event – yes. We will refund your entry (minus 10% administration fees and charges).
I missed the cut-off time to enter!
Due to additional administration duties, a $10 surcharge is applicable for competitors who register after the cut-off time until the Friday @ 6pm before the race. Depending on the event, race day registrations may be possible and may incur a $15 late fee. Contact steve@wagravityenduro.org as soon as possible.