Some behind the scene riders
Our Story
Gravity Enduro first hit our Perth hills back in 2013 with the official opening of the Kalamunda Trail Network. The Western Australian Mountain Bike Association (WAMBA) through dedicated volunteers organised a gravity enduro event to open the trails with Sam Hill, multiple world cup downhill Mountain Bike Champion, busting through the ribbon to start the race. After the feedback we received like 'we want more!' WA Gravity Enduro was formed separately from WAMBA to be an independent racing promotion organisation in late 2013 to prepare for a 2014 series. With ridiculous amounts of hard work, big learning curves and successful events we continue to grow, test new ideas, new riding locations, promote mountain biking in Western Australia and create exciting racing experiences for competitors and spectators, all while driving tourism in the south-west.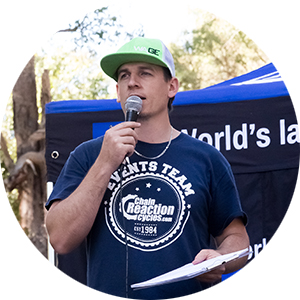 Steve
Race Director
Steve enjoys the challenge of organising multiple events at various locations throughout WA. Steve works with various government agencies and private entities to promote mountain biking in Western Australia through continuous expansion into new locations, establishing new trails and allocates event proceeds to established mountain bike clubs and trail networks. Steve's experience with the West Australian Mountain Biking Association (WAMBA) as a committee member prior to creating WA Gravity Enduro ensures a vision of trail sustainability, professionalism and growth of the sport.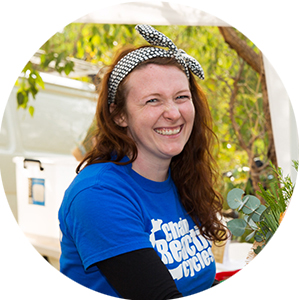 Amy
Race Village Coordinator
Amy has the unique ability to stay cool and calm when the heat is on. Being a part of the team from the beginning, Amy knows most competitors and gets real enjoyment in ensuring riders technical requirements are met before a race commences. She has an amazing eye for detail and keeps the operation running smoothly. When things are under control, you will find Amy at the nearest timing gate marshaling and madly ringing the bells making some noise!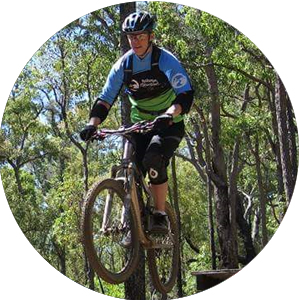 Russ
Commissaire
Russ has been with WA Gravity Enduro since the early days. He has continually enhanced his own knowledge of technical regulations around XC and GE disciplines and takes the lead role in ensuring our races follow MTBA regulations to ensure safe and fair racing. It's not all paperwork for Russ – he will always be working hard behind the scenes assisting with Race Village setup and packup and course preparation. He also prepares large events including the Kalamunda Classic and is a tireless volunteer with the Kalamunda Collective Mountain Bike Club. Russ's dedication to WA Mountain Biking is truly inspiring.
The list of volunteers who have stepped in to help – whether small or large – is countless over the years, from close friends, to family members to spectators and riders just wanting to lend a hand when needed! The whole mountain biking riding Community is close-knit and very supportive of each other – which is why we love doing what we do! Here are just some of the people who have lent a hand over the years….