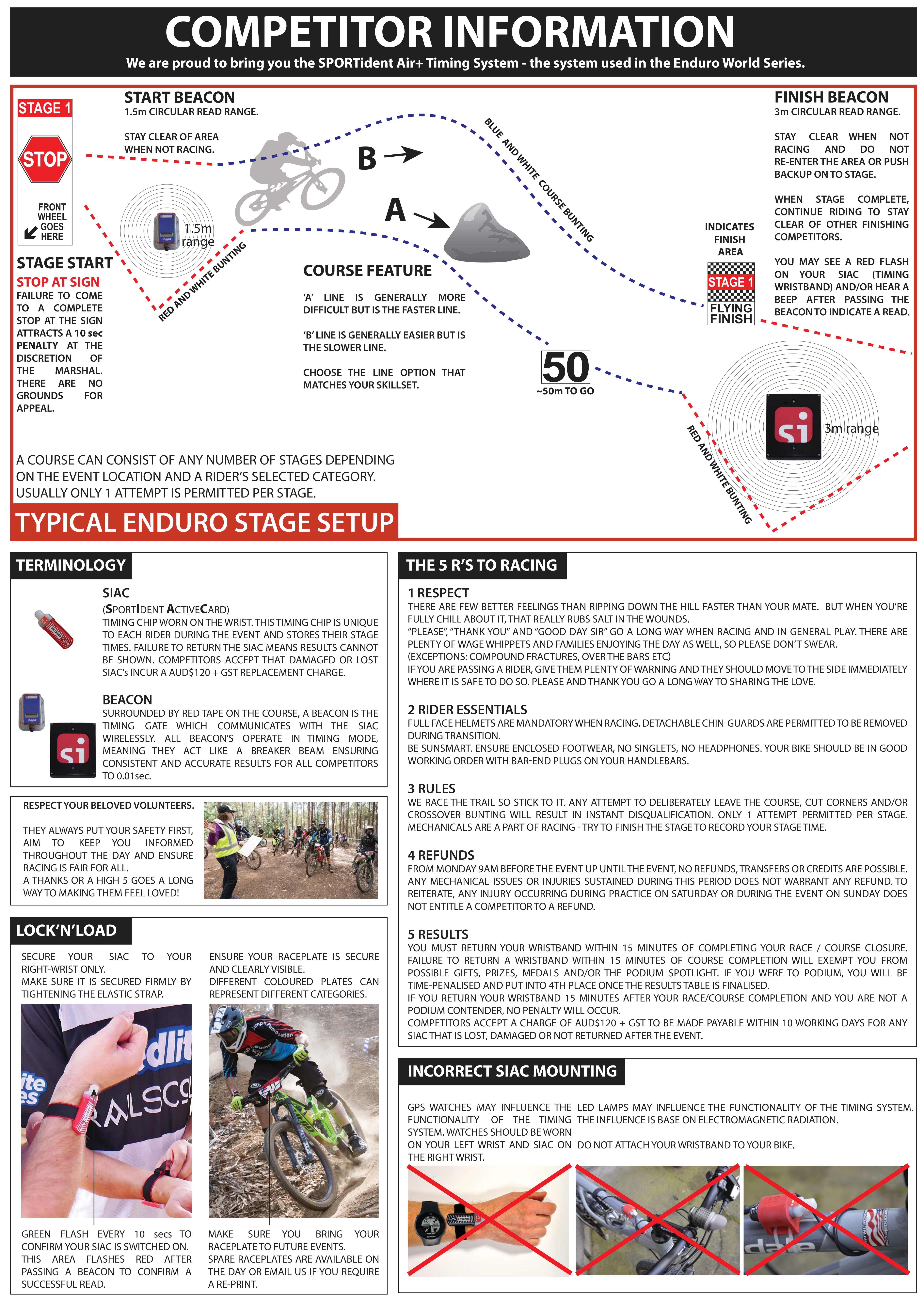 General Rules
Gravity Enduro is a relaxed race format for the weekend warrior, but rules are in place to keep people safe and to keep competitors on a level playing field. The most important rules to abide by include:
only 1 (one) attempt permitted on each stage (unless explicitly mentioned otherwise at race briefing)
the lowest overall time after completing every stage is deemed the winner
you must wear a fullface helmet at all times. Detachable  chin-guards can be removed in transition.
you can only use one bike during the event and equipment cannot be replaced. The race director has the discretion to prohibit unsafe or unsuitable bikes.
if you suffer a mechanical, try and complete the stage to enable you to log a time. If the problem is fixed, you can continue to finish the other stages if they are open. Mechanical problems at any time during the race does not entitle you to re-attempt the stage.
you may only ride each stage once in the arranged order as instructed by the Race Director during race briefing
if you are caught deliberating leaving the trail, you will be instantly disqualified from the event and not permitted to enter the following event.
if a rider behind you has given ample time and catch you on the stage, you must move aside. 

if you want to overtake a rider, clearly and politely let the rider in front know – 'rider when ready' is a good approach
if you are being overtaken, move over immediately where it is safe to do so
please and thank you go a long way!
Don't forget the essentials

We aim to hold diverse racing experience at each course, but usually the race course consists of the following:
New competitors at each race will receive their raceplate. If you are a returning competitor in the same series, please bring your raceplate! We do stock some blank plates but it is always easier and cheaper (and looks better!) if you can bring your existing raceplate
Water bottle and/or Camelbak
Spare tube and tyre changing levers, pump and/or compressed air
Essential tools normally a multi-tool with allen keys and screw drivers
Your full-face helmet and other highly recommended or mandatory racing equipment
Nutrition! Energy bars, gels or your normal go to snack during the race
The Race Course
We aim to hold diverse racing experience at each course, but usually the race course consists of the following:
timed descents on technical trails with options of 'A' lines and 'B' lines allowing different skilled competitors to compete on the same stage

'A' line is usually more difficult but the quickest path
'B' line may direct a rider around a technical trail feature and is usually the slower, although easier path.
These options will be clearly marked on the course before a technical feature – proceed with caution if you are unsure of the course

short uphill or short flat sections
generally un-timed climbs, or a generous time cap. Dawdling, stopping for food or visiting your car is no excuse for a slow course completion time. If you run into any problems, notify a marshal immediately.
riders usually queue at the stage starting area with a marshal advising you when to race. A 30second timer indicates a suitable gap between competitors.
the race course is usually made up of 4 to 7 stages and depending on the event, can range from 10-25mins of race time and/or 15-25kms.
The Rider
Mandatory
Full-Face Helmet (helmets with detachable chin guard are permitted) Head to our Helmets Specifications page for further details.
Closed footwear
No singlets
No earphones
Insurance (day insurance can be purchased online through our system, or is covered through your yearly MTBA membership) www.mtba.asn.au
Recommended
Full-fingered gloves
Kneepads and elbowpads
Sunscreen
Protective eyewear
Long sleeve jersey 
Competitive and Inclusive Racing
Male U13 (Whippets)


Male U15

Male U17

Male U19

Male Sport 19 – 39

Male Expert 19 – 39


Male Elite

Male Masters 40 – 49

Male Super Masters 50 – 59


Male Grand Masters 60+

Male eBike Open
Female U13 (Whippets)


Female U15

Female U17

Female U19

Female Sport 19 – 39


Female Elite

Female Masters 40 – 49

Female Super Masters 50+

Female eBike Open
Age categories are based on your age at 31st December. i.e. a competitor who is 16 and turns 17 on the 1st November will race the U19 category for the series.
In the spirit of competition, we expect the vast majority of competitors to self-seed correctly and appropriately.
Elite, Expert and Sport are self-seeding and are generally governed by the following criteria:
If you made a podium position 2 or more times in the previous series, you should move up a category. 
Elite competitors rank themselves as advanced riders
Expert competitors rank themselves as intermediate riders
Sport competitors rank themselves as novice or 'weekend warriors'
There will of course be exceptions and outliers and we encourage anyone who suspects a competitor deliberately 'tanking' to contact steve@wagravityenduro.org.
NEVER directly contact a person you consider to be racing outside their category – especially if you do not know a competitor. Always contact us first and we can decide on the best course of action after liaising with all parties.
If in doubt of your category selection, move up a category – you will be surprised at how much you can improve competing with and learning from competitors slightly above your skillset.
Timing System
We now utilise the Enduro World Series timing standard Sportident Timing System.
During Race Village opening before the event briefing, please make yourself known at the Race Village Trailer aka 'Centre of Gravity (COG)' to check-in, receive your raceplate and your timing wristband. These wristbands are your unique ID for the race and store your race data.
You must return your wristband within 15minutes of completing your race/course closure.
Failure to return a wristband within 15minutes of course completion jeapordises your potential podium position and you will be exempt from presentations including gifts and/or prizes. If you were to podium, you will be time-penalised and put into 4th place once the results table is finalised.
If you return your wristband after 15minutes of your race/course completion and you are not a podium placer, no penalty will occur.
Additionally, failure to return a wristband, damaged or lost a wristband, you accept a charge based on their retail value of $120 + GST to be made payable within 10 working days.
Emergencies
Riders must assist injured competitors or seek help. Riders who assist can repeat the stage at the discretion of the marshal and race director.
Race Director reserves the right to halt or cancel the event in case of emergency, adverse weather conditions or unforeseen circumstances. Every effort will be made to postpone the race to another venue or time. WA Gravity Enduro cannot be held responsible for any loss relating to a modified event.
we work with local authorities prior to the race to ensure a Risk Management Plan and Emergency Evacuation Plan. Please follow any instruction by authorized personnel.
*Although every effort will be made to contact all competitors, WAGE reserves the right to make changes to the rules at any given time without notice