Rider Categories
We have revised the categories for 2018, to make racing more competitive and to be as inclusive as possible.
Giant Whippets Male U13

Male U15

Male U17

Male U19

Male Sport

Male Expert

Male Elite

Male Masters 40 – 49

Male Super Masters 50+

Giant Whippets FemaleU13

Female U19

Female Sport

Female Elite

Female Masters 40 – 49

Female Super Masters 50+
Age categories are based on your age at 31st December 2018.
In the spirit of competition, we expect the vast majority of competitors to self-seed correctly and appropriately.
Elite, Expert and Spot are self-seeding and are generally governed by the following criteria:
If you made a podium position 2 or more times in 2017, you should move up a category. 
Elite competitors rank themselves as advanced riders
Expert competitors rank themselves as intermediate riders
Sport competitors rank themselves as novice or 'weekend warriors' just out to participate.
There will of course be exceptions and outliers and we encourage anyone who suspects a competitor deliberately 'tanking' to contact steve@wagravityenduro.org. DO NOT contact a person you consider them to be racing outside their category – especially if you do not know a competitor.
In the spirit of competition, we expect the vast majority of competitors to self-seed correctly and appropraitely. If in doubt, move up a category – you will be surprised at how much you can improve competing with and learning from competitors slightly above your skillset.
---
General Rules
Gravity Enduro is a relaxed race format for the weekend warrior, but rules are in place to keep people safe and to keep competitors on a level playing field. The most important rules to abide by include:
only 1 (one) attempt permitted on each stage
the lowest overall time after completing every stage is deemed the winner
you must wear a fullface helmet at all times. Detachable  chin-guards can be removed in transition.
you can only use one bike with a maximum of 29″ wheels and it must be in a safe working order with bar ends and working brakes all-round. The race director has the discretion to prohibit unsafe or unsuitable bikes.
if you suffer a mechanical, try and complete the stage to enable you to log a time. If the problem is fixed, you can continue to finish the other stages if they are open. Mechanical problems at any time during the race does not entitle you to re-attempt the stage.
you may only ride each stage once in the arranged order as instructed by the Race Director during race briefing
if you are caught deliberating leaving the trail, you will be instantly disqualified from the stage.
only pass a rider where safe:

if you want to overtake a rider, clearly and politely let the rider in front know – 'rider when ready' is a good approach
if you are being overtaken, move over immediately where it is safe to do so
please and thank you go a long way!
---
The Race Course
We aim to hold diverse racing experience at each course, but usually the race course consists of the following:
timed descents on technical trails with options of 'A' lines and 'B' lines allowing different skilled competitors to compete on the same stage

'A' line is usually more difficult but the quickest path
'B' line may direct a rider around a technical trail feature and is usually the slower, although easier path.
These options will be clearly marked on the course before a technical feature – proceed with caution if you are unsure of the course

short uphill or short flat sections
generally un-timed climbs, or a generous time cap. Dawdling, stopping for food or visiting your car is no excuse for a slow course completion time. If you run into any problems, notify a marshal immediately.
riders usually queue at the stage starting area with a marshal advising you when to race. A 30second timer indicates a suitable gap between competitors.
the race course is usually made up of 4, 5 or 6 stages and depending on the event, can range from 10-25mins of race time and/or 15-25kms.
---
The Bike
Mandatory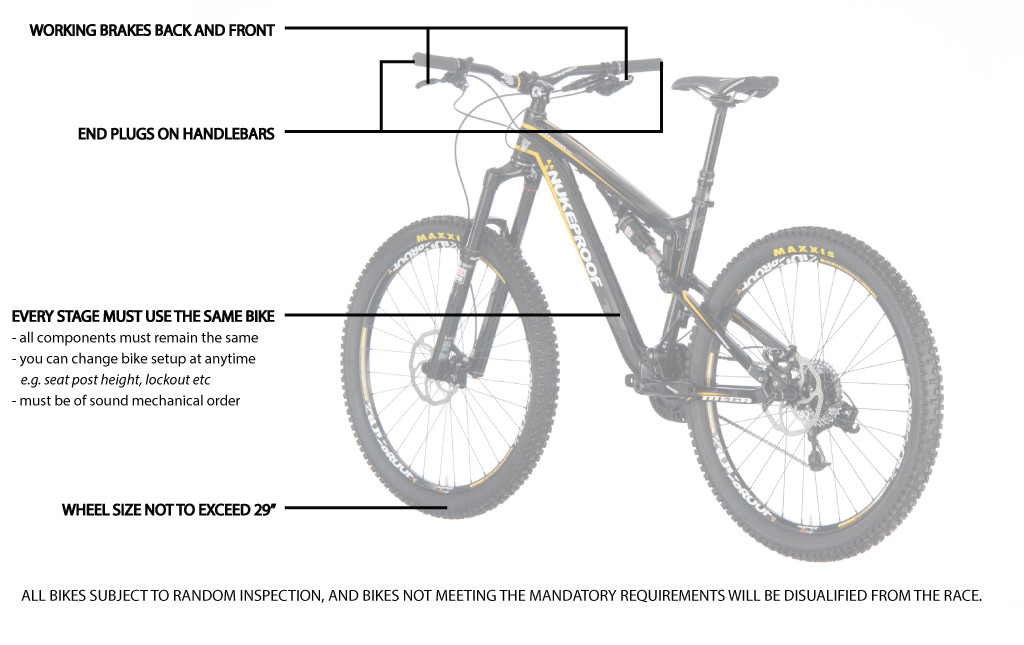 ---
The Rider
Mandatory
Full-Face Helmet (helmets with detachable chin guard are permitted) Head to our Helmets Specifications page for further details.
Closed footwear
No singlets
No earphones
Insurance (day insurance can be purchased online through our system, or is covered through your yearly MTBA membership) www.mtba.asn.au
Recommended
Full-fingered gloves
Kneepads and elbowpads
Sunscreen
Protective eyewear
Long sleeve jersey 
---
Timing System
We have developed our our custom-built timing system for Gravity Enduro racing in WA. We aimed to create a system that was simple to use, affordable, weather-proof and recognisable. Each rider is allocated a personal RFID (Radio Frequency Identification) bracelet to 'tag on' at the start of a stage and 'tag off' at the end of a stage. It is the riders responsibility to perform the tag and every start and finish gate.
If you have caught a bus, train or ferry in Perth, you will have come across the Transperth SmartRider Card. This card is used to log the time a person 'tag's on' and 'tag's off' at particular locations. Just like this system, each timing gate stores the time when your RFID bracelet registers at the location.
Important notes about the system:
a successful read will trigger a beep and light and is best done placing your wrist a centimetre from the face of the timing gate.
the start gates have a light that will turn on after 30 seconds, to let the rider know adequate time is now between the previous rider, and you can tag-on. If you tag-on accidentally while the light is off, just go! The system takes the first tag always, and subsequent tags on the same timing gate are void.
the start gate tag-on must be performed in a stationary position. Riding past the timing gate may not register and may cause you to tag slower.
put your bracelet on your right wrist as the timing gates will be on the right side of the track.
you must slow down (and practically stop) to tag-off at the finish. Riding past the timing gate will not register.
just like the Transperth SmartRider System, hold your wrist at the timing module for a moment until the beep is triggered.
stages must be completed from their start to their finish. Any missed tag-on or tag-off results in a DNF for the stage, which means a total race time cannot be calculated, meaning a round DNF.
punching, hitting or riding over the timing gates doesn't make the timing system work any better! It will not be tolerated and will result in instant disqualification.
Watch this video for a little more action:
---
Emergencies
riders must assist injured competitors or seek help. Riders who assist can repeat the stage at the discretion of the marshal and race director.
race director reserves the right to halt or cancel the event in case of emergency, adverse weather conditions or unforeseen circumstances. Every effort will be made to postpone the race to another venue or time. WA Gravity Enduro cannot be held responsible for any loss relating to a modified event.
we work with local authorities prior to the race to ensure a Risk Management Plan and Emergency Evacuation Plan. Please follow any instruction by authorized personnel.
*Although every effort will be made to contact all competitors, WAGE reserves the right to make changes to the rules at any given time without notice*