Premium Registrations (close Tue midnight before event)
Late Registrations (close Fri 9pm before event)
Enter the code ENDURO for a 30% discount!
PLACES ARE LIMITED TO 320. ENTRIES MAY CLOSE BEFORE THE SCHEDULED CLOSING TIMES WHEN CAPACITY REACHED.
BEFORE ENTERING, PLEASE FILL OUT THE FORM BELOW FOR CATERING PURPOSES.
<iframe src="https://docs.google.com/forms/d/e/1FAIpQLSdxCW7W8LdqbzMBTVzl6ACqXf-aLzjzX9jJRxZpq1ad-QvCnA/viewform?embedded=true" width="700" height="520" frameborder="0" marginheight="0" marginwidth="0">Loading...</iframe>
Welcome to Round 5 of the 2018 WA Gravity Enduro Series!
We won't keep you hanging for too long as we understand that accommodation and planning needs to be done…but isn't the excitement of the unknown kinda fun?… 
Rest assured, another fun gravity enduro event which will be open to all levels of fitness and riding ability. This will be a nice mid-year cooldown before we ramp up into two gnarly events to cap off another huge series.
ACCOUNCEMENT! Round 5 of the WA Gravity Enduro Series will be located on the Meelup trails of Dunsborough! With the Race Village at the Dunsborough and District Golf Course, competitors will embark on a fun multiple-attempt gravity enduro course racing 5 special-stages. With elevation and technical trails comparable to Margaret River, this new gravity enduro location should have a great social buzz on the track and back at the race village.
Race Date
Sunday, 29th July 2018
Official practice Sat, 28th July
Race Location
Dunsborough
Dunsborough Golf Course
Race Briefing
Giant Whippets Sun 8:10am
Main Event Sun 10:00am / and online
Race Start
Giant Whippets Sun 8:15am
Main Event from Sun 10:15am
Race Finish
Giant Whippets Sun 9:45am
Main Event Sun 1:00pm
Presentations
Giant Whippets following race
Main Event Sun 1:30pm
Latest Event Information
25/07/2018 Competitor Start List now available. If there are any discrepancies, email steve@wagravityenduro.org
22/07/2018 Course Map now available (high resolution available here)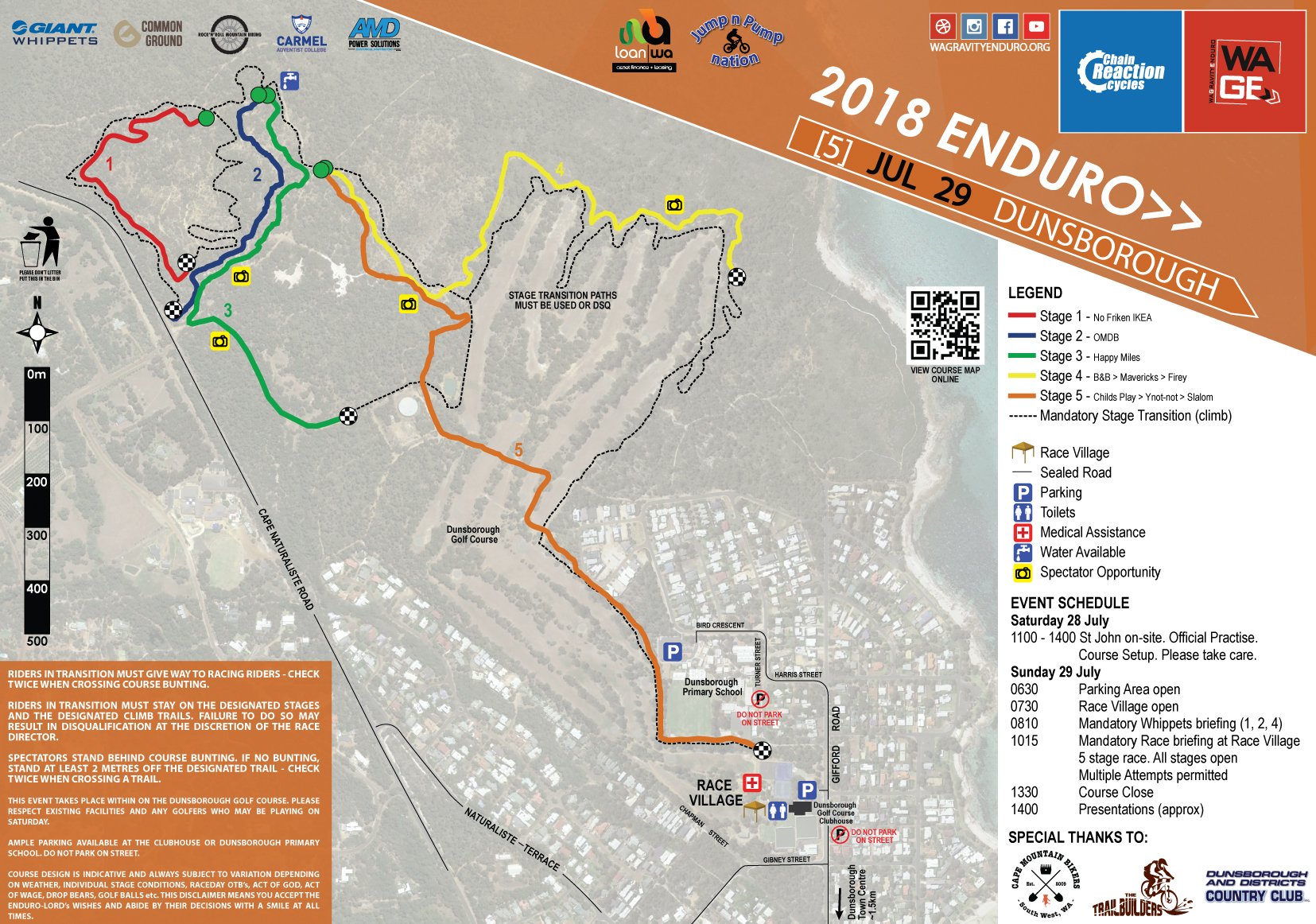 21/07/2018 Location Map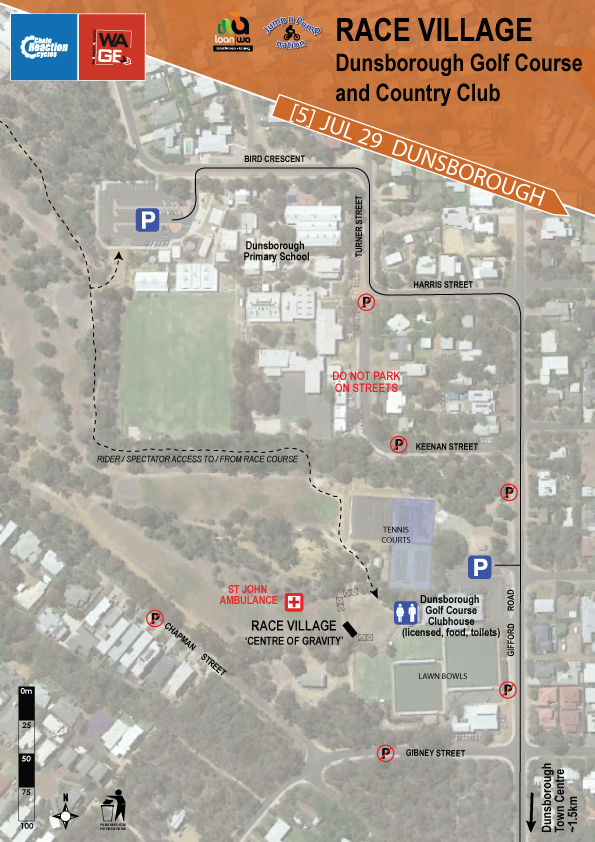 19/06/2018 We want to support the local Dunsborough Golf Course and help build and support their mountain bike trail network. As such, we will not be providing a meal at this event – please head to the Club House and make a purchase!
10/04/2018 Course location released! Round 5 of the WA Gravity Enduro Series will be located on the Meelup trails of Dunsborough! This trail network has recently undgone some significant upgrades that to the team at Kalamunda Mountain Bike Collective. Plenty of jumps, rock gardens, a bridge crossover, some fast raw descending and some fast open field racing will be an enjoyable mix of trail for all. And yes – there will be some pedalling but with the Race Village at the Dunsborough and Districts Golf Course, there is plenty of frothy choices available to replenish after the event!
21/01/2018 No announcements
Giant Whippets U13
In 2018, Giant are sponsoring our littlest competitors at the event.
The U13's will be racing 3 stages independent of the Main Event on Sunday. Competitors will be required to complete the course in the designated order under their own power. Presentations will commence approximately 30mins after the final competitor has finished his/her final stage. Thanks to Rock n Roll Mountain Biking, our U13's will be well-looked after by professional Mountain Biking leaders.
Course Map
When the time is right, the course map will be made available. We release the Course Map at a time to limit sneaky practice before the event to keep everyone on a level playing field. For events at private locations, we will release as soon as possible. For events in public MTB areas, we usually release the Course Map on the Monday before the event weekend.
As usual, the Course Map is the intended race course, but is always subject to changing trail conditions, people flying over-the-bar's, Act's of God, Act's of WAGE and peagravel density (or lack there of).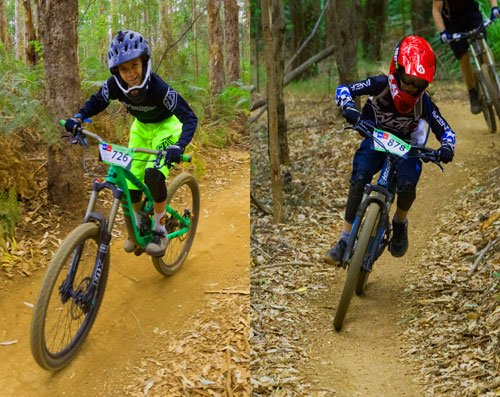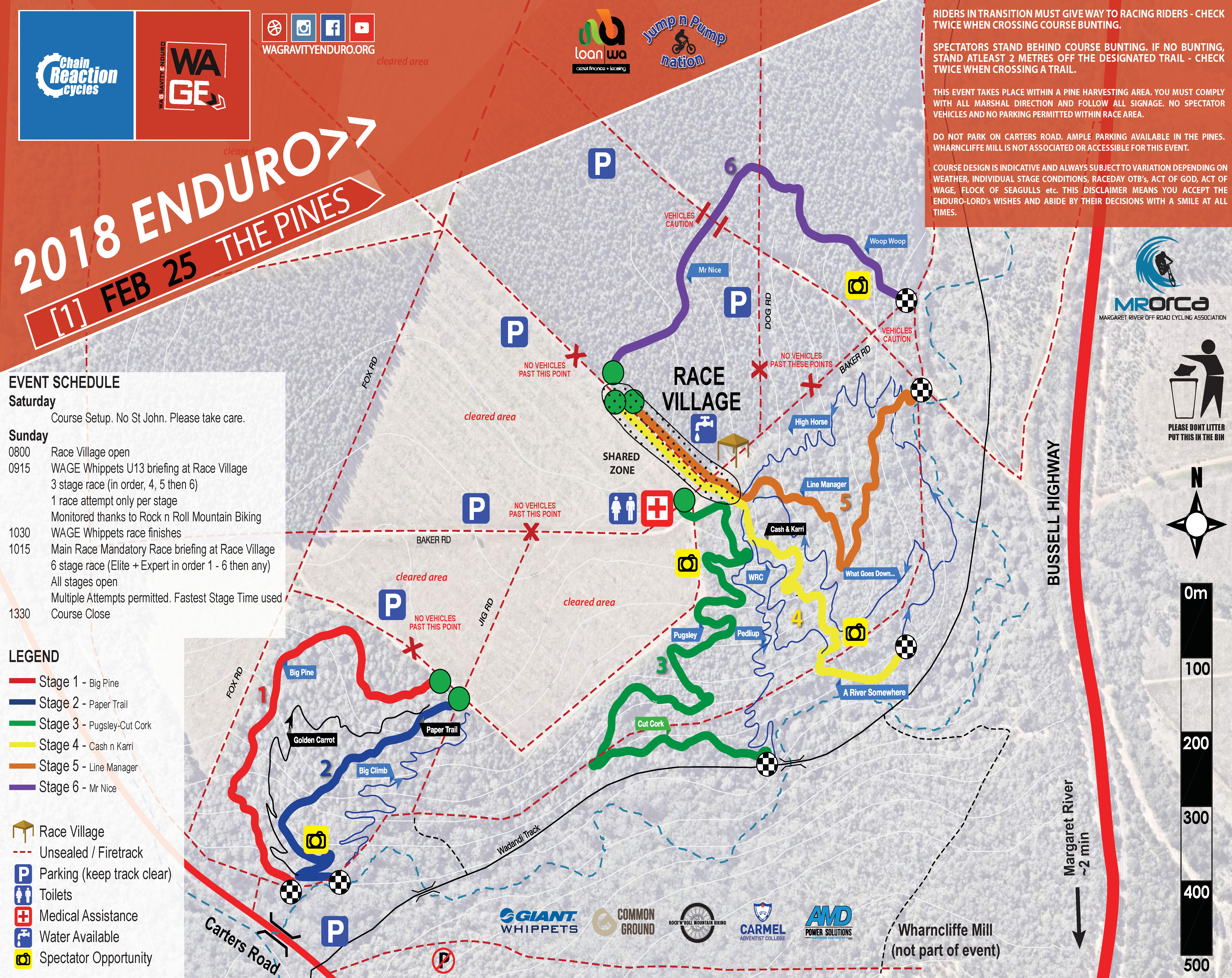 Dunsborough

A brand new race location for WA Gravity Enduro, these trails are well suited to the weekend warriors out to hone their skills, but is also an excellent trail network for anyone wishing to get a taste of what Gravity Enduro is all about. Multiple attempts will be permitted in a fixed time window.
We are very excited to take you to a completely new venue and experience the recent trail upgrades completed in the area.
With the Race Village located at the Dunsborough and Districts Golf Course, there will be ample food and drink choices available and will make for a great social atmosphere as we finish off the day and presentations.
We look forward to seeing you there!
Gravity Enduro Mountain Bike Race
Multi-stage race. Timed descents and untimed climbs
Sign-posted and bunted course
Don't cheat yourself or your mates – stay on track
St John Ambulance on-site
Professional Medical Assistance available
Toilets
Portable or connected nearby
Race Village
Great atmosphere, questions answered and supplies
Volunteers and Fund Raising
Perks for vollies and funds donated to the trails
Gift Vouchers and Prizes
Heaps of prizes ready to be won for all
Elite's and Professionals
Cold hard cash for the cream-of-the-crop
Professional Race Timing
We use the best Enduro World Series system
Hydration and Sustenance
Free water and free light meal with Prem. Registration
Frequently Asked Questions
How do I enter? Easy. Just click on the 'ENTER NOW' button located throughtout the website. This will take you to your registration portal. If you are new to the registration portal, a one-time profile will need to be filled out. Returning competitors simply enter their email address, select their event and arrive at the Race Village on race-day to collect your timing chip and raceplate.
How much does it cost? We keep our entry fees incredibly low. Entry fees vary based on your category but start from only $29 for the Under 13's. Insurance selection and location can slightly cary the price, but we try to stay as consistent as possible.
Where is the course map? Gravity Enduro is all about riding the course with little to no knowledge of the course. This helps create a more level playing field and better tests your mountain biking skills. We usually release the course map on the Monday before the weekend's race.
Do I have to go to race briefing? Yes. Race briefing is mandatory and occurs at the race village 15 minutes before race start. It is essential that you get a full report on the course (and any potential changes), safety requirements and to ensure everyone starts the race from the same location.
Can I shuttle between stages?  No. Anyone caught doing so will be automatically disqualified.
I missed registration! We can accept late registration online and on the day plus a $15 surcharge. Places are limited and may not be possible if the event is sold out.
Can I get a refund? From the Monday at 9am before the race weekend, refunds, transfers to other competitors or credits are not possible. Before Monday 9am, yes, we can offer a full refund minus 10% administration fees. 
PLACES ARE LIMITED TO 320  (exc. Giant Whippets U13).
ENTRIES MAY CLOSE BEFORE THE SCHEDULED CLOSING TIMES WHEN CAPACITY REACHED.