Round 2
Pemberton Mountain Bike Park
Chain Reaction Cycles WA Gravity Enduro Series 2016
11/04/2016
Course map now available for this weekend!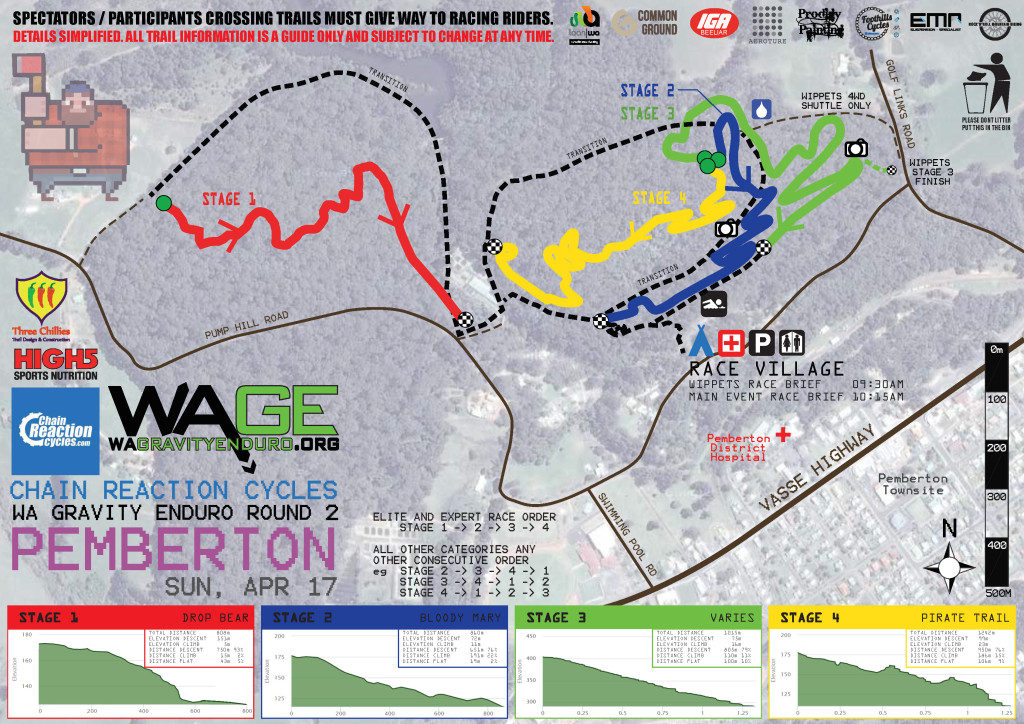 30/03/2016
Open face helmets permitted! Thanks to MTBA, we can now confirm that open-face style helmets are permitted for Pemberton.
BUT
, only as a condition if you agree with the following waiver. If you do not agree with the following waiver, full-face helmets are mandatory.
Additional Rider Liability Waiver Information for WA Gravity Enduro Round 2 – Pemberton, 17th April 2016
WA Gravity Enduro strives to implement the necessary insurance conditions to promote and prioritise safe mountain bike racing for all volunteers, marshals, organisers, spectators and competitors to the best of our ability and to reflect this, WA Gravity Enduro must now enforce full-face helmets as an extra level of safety for our competitors when racing in the Gravity Enduro format. In addition to the MTBA Event Waiver
found here
and the WA Gravity Enduro Terms and Conditions
found here,
competitors are permitted to wear their Australian Standards open-face style helmet when competing in the Gravity Enduro race format for Round 2 of the WA Gravity Enduro 2016 Series in Pemberton on the 17
th
April 2016 only. Competitors who choose this level of safety equipment do so at their own risk as their Mountain Bike Australia insurance cover may not apply if an injury occurs as a result of facial, neck, spinal damage or similar injury. Competitors must determine their own level of safety equipment based on their own assessed level of mountain biking skill and experience in racing. At no time can Mountain Bike Australia, WA Gravity Enduro, sponsor, supporter, competitor, volunteer, marshal, organiser, spectator or any other affiliated person or entity be sued for damages as a result of injury if a competitor chooses to wear an open-face style helmet for Round 2 of the WA Gravity Enduro 2016 Series in Pemberton on the 17
th
April 2016.
21/03/2016
Registrations are open! Firstly, register your details to create your profile and login. Then, simply enter the event on this page.
06/03/2016
It is possible that Mountain Bike Australia (MTBA) will allow competitors to race Pemberton will an open face helmet. Please stay tuned for further updates.
01/03/2016
No updates at this time
Race Date
Sunday, 17th April 2016
Estimated Presentations
2:00pm
Pemberton is one of the most picturesque courses on the WA Gravity Enduro calendar. Weaving through majestic Marri Trees, competitors are presented with loamy sticky soil in the cooler to wetter months but it can dry out significantly in the summer. In 2015, fire threatened the cancellation to Round 1 with the large Northcliffe fires threatening Pemberton Townsite. Fortunately, the race proceeded which saw some of the worlds best riders compete. Sam Hill, Mike Jones, Deon Baker, Chris Kovarik, Jordan Prochyra, Claire Buchar and Claire Garcia-Webb battled it out in the Elite categories with Sam Hill and Claire Buchar winning Male and Female Elite categories respectively. Hosting Pemberton in mid-April 2016 could see some more welcomed cooler weather and fast racing. It is always considered a great weekend trip and we look forward to the WAGE Warriors battling it out!
$ donations raised since 2014
Competitors hosted since 2014
Gravity Enduro Mountain Bike Race
Descents are timed – climbs are untimed
Sign-posted and bunted
Don't cheat yourself or your mates – stay on track
St John Ambulance on-site
Please thank these amazing volunteers
Toilets
Either on-site or portable delivered
Pumping race village atmosphere
Meet here to sign in, for race briefing, food, drink and presentations
Parking
We ensure areas of adequate parking nearby, but car-pooling is best
Volunteers!
Here to keep you safe and ensure a fair race. Give 'em a high5!
Chain Reaction Cycles gift vouchers
For 1st, 2nd and 3rd place winners plus spot prizes
Cold hard cash for Elite
WA Gravity Enduro giving back to our Elite competitors
Food for competitors
Usually some un-hearty sustenance!
Free hydration at the race village
Thanks to High 5 Sports Nutrition
Giving back
We donate back to local trails as an appreciation of local volunteers
Frequently Asked Questions
Where is the course map?
Gravity Enduro is all about riding the course with little to know knowledge of the course. This helps create a more level playing field and better tests your mountain biking skills. We usually release the course map on the Monday before the weekend's race.
Do I have to go to race briefing?
Yes. Race briefing is mandatory and occurs at the race village 15 minutes before race start. It is essential that you get a full report on the course (and any potential changes), safety requirements and to ensure everyone starts the race from the same location.
Are shuttles permitted?
SHUTTLES ARE NOT PERMITTED AT ANY TIME from race briefing until the tag-off of your final stage. Any one caught will be disqualified.
How does the timing system work?
You are given a wrist band that you must wear on your right wrist. You will see a 'timing box' at the start gate and finish gate of each stage. 'Tag-on' and 'tag-off' at these timing boxes using your wrist band – similar to the Transperth Train service tagging system. Your tag records and stores the time on each timing box. We collect these up at the conclusion of the race and run it through our custom software to generate your race times. To ensure no additional fees, return your wristband after the race. Lost wristbands will incur a $15 fee.
Can I get a refund or transfer an entry?
Less than 7 days from event – no. Refunds or transfers to other competitors or other races are not possible. Injury with a doctors note will be considered. We have booked in all necessary equipment based on your race entry at this stage. More than 7 days from event – yes. We will refund your entry (minus 10% administration fees and charges).
I missed the cut-off time to enter!
Due to additional administration duties, a $10 surcharge is applicable for competitors who register after the cut-off time until the Friday @ 6pm before the race. Depending on the event, race day registrations may be possible and may incur a $15 late fee. Contact steve@wagravityenduro.org as soon as possible.