Start List
| WAGE ID | FIRST NAME | SURNAME | CATEGORY | SATURDAY SHUTTLE | SUNDAY SHUTTLE | GRAVITY AIRBAG | PUMP TRACK SHOOTOUT |
| --- | --- | --- | --- | --- | --- | --- | --- |
| ric.rut.090369 | Richard | Rutley | Men 50 - 59 (Super Masters) | Saturday 8:30am | Sunday Shuttle | | |
| dyl.rut.030206 | Dylan | Rutley | Men U17 | Saturday 8:30am | Sunday Shuttle | | |
| stu.way.171282 | Stuart | Way | Men 40 - 49 (Masters) | | | Keen to send | |
| cli.bar.120780 | Clint | Barker | Men eBike 40+ | | Sunday Shuttle | | |
| jon.man.210586 | Jon | Manton | Men 30 - 39 (Warriors) | Saturday 11:30am | Sunday Shuttle | | |
| dan.hoe.210492 | Dan | Hoey | Men 30 - 39 (Warriors) | Saturday 8:30am | Sunday Shuttle | | |
| ste.jak.240488 | Stephanie | Jakovich | Women 19 - 39 (Warriors) | Saturday 8:30am | Sunday Shuttle | | |
| dyl.cam.270308 | Dylan | Campbell | Men U15 | Saturday 8:30am | Sunday Shuttle | Keen to send | |
| lac.bir.020109 | Lachlan | Bird | Men U15 | Saturday 8:30am | Sunday Shuttle | Keen to send | |
| fra.de .140382 | Fransua | De Wit | Men 40 - 49 (Masters) | | Sunday Shuttle | | |
| lou.wri.100808 | Louis | Wright | Men U15 | Saturday 8:30am | Sunday Shuttle | Keen to send | |
| dal.mil.170969 | Dallas | Millward | Men 50 - 59 (Super Masters) | Saturday 8:30am | Sunday Shuttle | | |
| sam.gil.030606 | Sam | Gilkison | Men U17 | Saturday 8:30am | Sunday Shuttle | Keen to send | |
| kal.har.290109 | Kaleb | Hardy | Men U15 | Saturday 11:30am | Sunday Shuttle | | |
| the.mit.021268 | Theo | Mitchell | Men eBike 40+ | | | Keen to send | |
| bod.bra.160614 | Bodhi | Bradley | Men U9 (Whippets) | Saturday 8:30am | Sunday Shuttle | Keen to send | |
| kai.bra.291111 | Kai | Bradley | Men U13 (Whippets) | Saturday 8:30am | Sunday Shuttle | | |
| bla.par.210609 | Blake | Parker | Men U15 | Saturday 8:30am | Sunday Shuttle | | |
| pau.rob.250572 | Paul | Roberts | Men 50 - 59 (Super Masters) | Saturday 8:30am | Sunday Shuttle | Keen to send | |
| kai.rob.090609 | Kai | Roberts | Men U15 | Saturday 8:30am | Sunday Shuttle | Keen to send | Let's Race! |
| mat.sto.260390 | Matt | Stowers | Men 30 - 39 (Warriors) | Saturday 8:30am | Sunday Shuttle | Keen to send | |
| bea.sob.101011 | Beau | Sobey | Men U13 (Whippets) | Saturday 11:30am | Sunday Shuttle | Keen to send | |
| dwa.sob.240283 | Dwayne | Sobey | Men 30 - 39 (Warriors) | Saturday 11:30am | Sunday Shuttle | | |
| osc.bar.150405 | Oscar | Barrett | Men U19 | Saturday 11:30am | Sunday Shuttle | | |
| tra.way.260809 | Tramain | Way | Men U15 | | | | |
| cal.duf.270208 | Callum | Duff | Men U15 | Saturday 11:30am | Sunday Shuttle | Keen to send | Let's Race! |
| jay.har.010905 | Jayden | Hart Evans | Men U19 | Saturday 8:30am | Sunday Shuttle | | |
| den.pav.270207 | Denan | Pavlinovich | Men U17 | Saturday 11:30am | Sunday Shuttle | | Let's Race! |
| phi.mar.011084 | Phillip | Maroney | Men 30 - 39 (Warriors) | | Sunday Shuttle | Keen to send | |
| dyl.mar.240810 | Dylan | Maroney | Men U13 (Whippets) | | Sunday Shuttle | Keen to send | |
| wil.mcc.021209 | William | Mcclymont | Men U15 | | | | Let's Race! |
| pau.bla.141071 | Paul | Black | Men 50 - 59 (Super Masters) | | | | |
| jet.bla.230408 | Jett | Black | Men U15 | | Sunday Shuttle | | |
| way.de .120385 | Wayne | De Villiers | Men 30 - 39 (Warriors) | | Sunday Shuttle | | |
| mac.woo.130711 | Macklin | Woods | Men U13 (Whippets) | Saturday 11:30am | Sunday Shuttle | Keen to send | |
| bru.mul.270312 | Bruno | Mulqueen | Men U11 (Whippets) | Saturday 8:30am | Sunday Shuttle | Keen to send | Let's Race! |
| mah.mul.191110 | Mahe | Mulqueen | Men U13 (Whippets) | Saturday 8:30am | Sunday Shuttle | Keen to send | |
| mik.mul.130680 | Miki | Mulqueen | Men Welcome | Saturday 8:30am | Sunday Shuttle | | |
| gar.jac.220878 | Gareth | Jackson | Men 40 - 49 (Masters) | Saturday 8:30am | Sunday Shuttle | | |
| kob.dra.300307 | Koby | Drage-Edwards | Men U17 | Saturday 8:30am | Sunday Shuttle | Keen to send | |
| fin.dra.291208 | Finn | Drage-Edwards | Men U15 | Saturday 8:30am | Sunday Shuttle | Keen to send | |
| eri.ree.120289 | Eric | Rees | Men 30 - 39 (Warriors) | Saturday 11:30am | Sunday Shuttle | Keen to send | |
| ben.ric.040607 | Benji | Richardson | Men U17 | Saturday 8:30am | Sunday Shuttle | Keen to send | Let's Race! |
| ant.ric.110273 | Anthony | Richardson | Men 40 - 49 (Masters) | Saturday 8:30am | Sunday Shuttle | | |
| set.wea.120906 | Seth | Weadley | Men U17 | Saturday 8:30am | Sunday Shuttle | Keen to send | Let's Race! |
| cam.sch.170983 | Cameron | Schmid | Men 30 - 39 (Warriors) | | | | |
| ala.sch.281211 | Alayla | Schmid | Women U13 (Whippets) | | | | |
| fly.sch.070214 | Flynn | Schmid | Men U9 (Whippets) | | | | |
| ash.mor.300375 | Ashley | Morris | Men 40 - 49 (Masters) | Saturday 8:30am | Sunday Shuttle | | |
| taj.mur.270904 | Taj | Murphy | Men U19 | Saturday 8:30am | Sunday Shuttle | | |
| cal.hol.150508 | Callum | Holmes | Men U15 | | Sunday Shuttle | | |
| sco.hol.040675 | Scott | Holmes | Men 40 - 49 (Masters) | | Sunday Shuttle | | |
| mac.sta.171012 | Mackenzie | Stables | Men U11 (Whippets) | Saturday 8:30am | Sunday Shuttle | Keen to send | Let's Race! |
| mat.rea.140173 | Matt | Read | Men 40 - 49 (Masters) | Saturday 8:30am | Sunday Shuttle | | |
| jos.moo.170207 | Josh | Moore | Men U17 | Saturday 8:30am | Sunday Shuttle | Keen to send | Let's Race! |
| bel.moo.231208 | Bella | Moore | Women U15 | Saturday 8:30am | Sunday Shuttle | | |
| don.hud.091213 | Donovan | Hudson | Men U11 (Whippets) | | Sunday Shuttle | | |
| chl.col.301007 | Chloe | Collis | Women U17 | Saturday 8:30am | Sunday Shuttle | | Let's Race! |
| jer.col.100310 | Jeremy | Collis | Men U13 (Whippets) | Saturday 8:30am | Sunday Shuttle | Keen to send | Let's Race! |
| dar.har.070289 | Darren | Harms | Men 30 - 39 (Warriors) | Saturday 8:30am | Sunday Shuttle | | |
| nat.mar.120310 | Nate | Marchant | Men U13 (Whippets) | Saturday 8:30am | Sunday Shuttle | | |
| rod.mar.200384 | Roddy | Marchant | Men 30 - 39 (Warriors) | Saturday 8:30am | Sunday Shuttle | | |
| eth.mar.141008 | Ethan | Marchant | Men U15 | Saturday 8:30am | Sunday Shuttle | | |
| ril.smi.190907 | Riley | Smith | Men U17 | Saturday 8:30am | Sunday Shuttle | Keen to send | Let's Race! |
| tra.smi.090410 | Travis | Smith | Men U13 (Whippets) | Saturday 8:30am | Sunday Shuttle | Keen to send | Let's Race! |
| kal.atk.150807 | Kalan | Atkins | Men U17 | Saturday 8:30am | Sunday Shuttle | Keen to send | Let's Race! |
| loc.rid.160307 | Lochlain | Ride | Men U17 | Saturday 8:30am | Sunday Shuttle | | Let's Race! |
| reb.ste.140575 | Rebecca | Steele | Women 40 - 49 (Masters) | Saturday 8:30am | Sunday Shuttle | Keen to send | |
| taa.din.070907 | Taashi | Dingey | Men U17 | Saturday 8:30am | Sunday Shuttle | Keen to send | |
| sag.din.020911 | Sage | Dingey | Men U15 | Saturday 8:30am | Sunday Shuttle | Keen to send | |
| ror.cab.270209 | Rory | Cabiac | Men U15 | Saturday 8:30am | Sunday Shuttle | Keen to send | |
| mar.gra.280907 | Mark | Graham | Men U17 | Saturday 11:30am | Sunday Shuttle | Keen to send | |
| cod.bla.290608 | Cody | Blackwell | Men U15 | Saturday 8:30am | Sunday Shuttle | Keen to send | Let's Race! |
| fly.tho.240410 | Flynn | Thompson | Men U13 (Whippets) | Saturday 8:30am | Sunday Shuttle | | |
| loc.tho.121006 | Lochlan | Thompson | Men U17 | Saturday 8:30am | Sunday Shuttle | | Let's Race! |
| jon.nan.301185 | Jon | Nannen | Men 30 - 39 (Warriors) | Saturday 8:30am | Sunday Shuttle | | |
| con.wil.110608 | Connor | Wilding | Men U15 | Saturday 8:30am | Sunday Shuttle | | |
| coo.dun.210109 | Cooper | Dunlop | Men U15 | Saturday 8:30am | Sunday Shuttle | Keen to send | Let's Race! |
| zac.cic.300608 | Zac | Cicanese | Men U15 | Saturday 11:30am | Sunday Shuttle | Keen to send | |
| jam.has.120884 | Jamie | Haslam | Men 30 - 39 (Warriors) | Saturday 8:30am | Sunday Shuttle | Keen to send | Let's Race! |
| dyl.fer.160395 | Dylan | Fernihough | Men 19 - 29 (Weapons) | Saturday 8:30am | Sunday Shuttle | | |
| jam.fox.260608 | Jamie | Fox | Men U15 | Saturday 8:30am | Sunday Shuttle | | |
| wil.cla.230605 | Wilson | Clarke | Men U19 | Saturday 11:30am | Sunday Shuttle | | |
| noe.ben.241180 | Noel | Bennell | Men 40 - 49 (Masters) | | Sunday Shuttle | | |
| owe.hil.220708 | Owen | Hill | Men U15 | | Sunday Shuttle | Keen to send | |
| sam.pla.270491 | Sam | Plant | Men 30 - 39 (Warriors) | Saturday 8:30am | Sunday Shuttle | | Let's Race! |
| har.lem.201011 | Harlen | Lemmey | Men U13 (Whippets) | Saturday 11:30am | Sunday Shuttle | Keen to send | |
| mat.wil.250583 | Matt | Wilson | Men 30 - 39 (Warriors) | | Sunday Shuttle | | |
| jax.dal.290711 | Jaxon | Dalgleish | Men U13 (Whippets) | Saturday 11:30am | Sunday Shuttle | | |
| arc.dal.100713 | Archie | Dalgleish | Men U11 (Whippets) | Saturday 11:30am | Sunday Shuttle | | |
| bro.wil.240908 | Brock | Williamson | Men U15 | Saturday 8:30am | Sunday Shuttle | | |
| luk.tow.011210 | Luke | Towns | Men U13 (Whippets) | Saturday 11:30am | Sunday Shuttle | Keen to send | |
| phi.tow.260779 | Phil | Towns | Men 40 - 49 (Masters) | Saturday 11:30am | Sunday Shuttle | | |
| cha.tow.150708 | Chase | Towns | Men U15 | Saturday 11:30am | Sunday Shuttle | Keen to send | |
| mat.lam.100608 | Mathew | Lamp | Men U15 | Saturday 11:30am | Sunday Shuttle | Keen to send | |
| jac.cha.040606 | Jack | Challis | Men U17 | Saturday 8:30am | Sunday Shuttle | | |
| arc.win.260707 | Archie | Winter | Men U17 | Saturday 11:30am | Sunday Shuttle | Keen to send | Let's Race! |
| tob.win.140510 | Toby | Winter | Men U13 (Whippets) | Saturday 11:30am | Sunday Shuttle | Keen to send | Let's Race! |
| owe.wri.300412 | Owen | Wright | Men U11 (Whippets) | Saturday 8:30am | Sunday Shuttle | Keen to send | |
| jay.wri.260181 | Jay | Wright | Men 40 - 49 (Masters) | Saturday 8:30am | | | |
| lac.pik.050313 | Lachlan | Pike | Men U11 (Whippets) | | Sunday Shuttle | Keen to send | |
| byr.pik.020710 | Byron | Pike | Men U13 (Whippets) | | Sunday Shuttle | | |
| alf.cot.240206 | Alfie | Cotter | Men U17 | Saturday 8:30am | Sunday Shuttle | | |
| ben.kin.091005 | Ben | King | Men U19 | Saturday 8:30am | Sunday Shuttle | | |
| jas.dow.140704 | Jason | Dowie | Men U19 | Saturday 8:30am | Sunday Shuttle | | |
| bai.chr.170504 | Bailey | Christie | Men U19 | Saturday 11:30am | Sunday Shuttle | | |
| chi.eva.220306 | Chiara | Evans | Women U17 | Saturday 8:30am | Sunday Shuttle | Keen to send | |
| rob.eva.170273 | Rob | Evans | Men 40 - 49 (Masters) | Saturday 8:30am | Sunday Shuttle | Keen to send | |
| jak.pat.090806 | Jake | Paterson | Men U17 | Saturday 8:30am | Sunday Shuttle | | |
| ril.wat.051007 | Riley | Watters | Men U17 | Saturday 11:30am | Sunday Shuttle | Keen to send | |
| nat.hyd.290414 | Nate | Hyde | Men U9 (Whippets) | Saturday 11:30am | Sunday Shuttle | | |
| aus.hyd.050285 | Austin | Hyde | Men eBike U40 | Saturday 11:30am | Sunday Shuttle | | |
| wil.lam.261110 | William | Lamp | Men U13 (Whippets) | Saturday 11:30am | | Keen to send | |
| yas.lam.281077 | Yasmin | Lamp | Women 40 - 49 (Masters) | Saturday 11:30am | | | |
| jos.mal.100694 | Josh | Male | Men 19 - 29 (Weapons) | Saturday 8:30am | Sunday Shuttle | | |
| set.hur.230508 | Seth | Hurley | Men U15 | Saturday 8:30am | Sunday Shuttle | | Let's Race! |
| ang.nic.040507 | Angus | Nichols | Men U17 | Saturday 11:30am | Sunday Shuttle | Keen to send | |
| tyl.law.171006 | Tyler | Lawson | Men U17 | Saturday 8:30am | Sunday Shuttle | Keen to send | Let's Race! |
| ril.gib.230807 | Riley | Gibbs | Men U17 | Saturday 8:30am | Sunday Shuttle | Keen to send | Let's Race! |
| bla.gib.040509 | Blake | Gibbs | Men U15 | Saturday 8:30am | Sunday Shuttle | Keen to send | Let's Race! |
| way.rog.050784 | Wayne | Rogers | Men (Full Enduro 19+) | | | Keen to send | |
| ric.wra.100777 | Richard | Wragg | Men 40 - 49 (Masters) | | Sunday Shuttle | | |
| cha.de .201083 | Charles | De Silva | Men 30 - 39 (Warriors) | | Sunday Shuttle | Keen to send | |
| luk.sim.300707 | Luke | Sims | Men U17 | Saturday 11:30am | Sunday Shuttle | Keen to send | Let's Race! |
| cai.dav.010689 | Caitlin | Davidovic | Women 19 - 39 (Warriors) | Saturday 8:30am | Sunday Shuttle | | |
| tra.duf.230408 | Travis | Duffield | Men U15 | | Sunday Shuttle | | |
| bea.sei.031105 | Beau | Seisun | Men U19 | Saturday 8:30am | Sunday Shuttle | Keen to send | Let's Race! |
| bod.haw.180510 | Bodhi | Hawkins | Men U13 (Whippets) | | Sunday Shuttle | Keen to send | |
| lio.byr.030109 | Lionel | Byrne Colclough | Men U15 | Saturday 11:30am | Sunday Shuttle | | |
| joh.bra.210684 | John | Bradley | Men eBike U40 | Saturday 8:30am | Sunday Shuttle | | |
| roh.mar.120384 | Rohan | Martin | Men 30 - 39 (Warriors) | Saturday 8:30am | Sunday Shuttle | Keen to send | |
| cal.cha.290309 | Callum | Chansbury | Men U15 | Saturday 8:30am | Sunday Shuttle | | |
| ada.dur.110284 | Adam | Durnin | Men 30 - 39 (Warriors) | Saturday 8:30am | | | |
| rog.kem.080310 | Rogan | Kemp | Men U13 (Whippets) | | Sunday Shuttle | Keen to send | |
| jon.kir.151082 | Jonathan | Kirk | Men 40 - 49 (Masters) | Saturday 8:30am | Sunday Shuttle | | |
| jus.sal.080970 | Justin | Salter | Men 50 - 59 (Super Masters) | | Sunday Shuttle | Keen to send | |
| bra.ski.220672 | Bradley | Skinner | Men 50 - 59 (Super Masters) | Saturday 8:30am | Sunday Shuttle | | |
| luc.boc.100209 | Lucas | Bochtler | Men U15 | Saturday 11:30am | Sunday Shuttle | Keen to send | |
| fin.wat.020807 | Finn | Watson | Men U17 | | Sunday Shuttle | | |
| lou.mcl.300510 | Louis | Mclean | Men U13 (Whippets) | Saturday 8:30am | Sunday Shuttle | Keen to send | Let's Race! |
| cam.mcl.090107 | Campbell | Mclean | Men U17 | Saturday 8:30am | Sunday Shuttle | | |
| ree.mcl.050769 | Reece | Mclean | Men 50 - 59 (Super Masters) | Saturday 8:30am | Sunday Shuttle | | |
| jan.mcl.311271 | Jane | Mclean | Women 50+ (Super Masters) | Saturday 8:30am | | | |
| tom.for.260606 | Tom | Forrest | Men U17 | Saturday 8:30am | | Keen to send | |
| har.o'd.180306 | Harper | O'Donnell | Men U17 | Saturday 8:30am | Sunday Shuttle | | Let's Race! |
| abb.o'd.100907 | Abbey | O'Donnell | Women U17 | Saturday 8:30am | Sunday Shuttle | | Let's Race! |
| mar.o'd.251109 | Marcey | O'Donnell | Women U15 | Saturday 8:30am | Sunday Shuttle | | Let's Race! |
| ian.dan.170868 | Ian | Daniel | Men 50 - 59 (Super Masters) | | | | |
| car.wil.250367 | Carol | Willcocks-Daniel | Women eBike 40+ | | | | |
| noa.mye.160310 | Noah | Myers | Men U13 (Whippets) | Saturday 11:30am | Sunday Shuttle | | Let's Race! |
| dav.mye.270467 | David | Myers | Men Welcome | Saturday 8:30am | Sunday Shuttle | | |
| ben.bur.301109 | Ben | Burnside-Wright | Men U15 | Saturday 11:30am | Sunday Shuttle | | |
| ale.wri.090579 | Alex | Wright | Men 40 - 49 (Masters) | Saturday 11:30am | Sunday Shuttle | | |
| mad.pai.290599 | Madison | Paige | Women 19 - 39 (Warriors) | | Sunday Shuttle | | |
| tim.ben.030376 | Tim | Bennett | Men 40 - 49 (Masters) | Saturday 8:30am | Sunday Shuttle | | |
| dan.kel.301092 | Daniel | Kelly | Men 30 - 39 (Warriors) | Saturday 8:30am | Sunday Shuttle | | |
| oli.ben.020610 | Oliver | Bennett | Men U13 (Whippets) | Saturday 8:30am | Sunday Shuttle | Keen to send | Let's Race! |
| nic.hen.170208 | Nicholas | Henry | Men U15 | Saturday 8:30am | Sunday Shuttle | Keen to send | |
| gle.bat.050775 | Glenn | Bathgate | Men eBike 40+ | | Sunday Shuttle | | |
| tho.ben.020610 | Thomas | Bennett | Men U13 (Whippets) | Saturday 8:30am | Sunday Shuttle | | |
| bea.kuc.260108 | Beau | Kuckelkorn | Men U15 | | Sunday Shuttle | Keen to send | Let's Race! |
| bra.gar.120270 | Brandon | Garrod | Men 50 - 59 (Super Masters) | Saturday 8:30am | Sunday Shuttle | | |
| jul.war.080497 | Julie | Ward | Women 19 - 39 (Warriors) | | | | |
| ari.goo.241108 | Arian | Goodenough | Men U15 | Saturday 8:30am | Sunday Shuttle | Keen to send | Let's Race! |
| col.vin.050704 | Cole | Viney | Men U19 | Saturday 8:30am | Sunday Shuttle | Keen to send | |
| jen.hon.010779 | Jenna | Honey-Smith | Women 40 - 49 (Masters) | Saturday 8:30am | Sunday Shuttle | | |
| car.rya.151265 | Carolyn | Ryan | Women 50+ (Super Masters) | Saturday 8:30am | Sunday Shuttle | | |
| cle.rya.030458 | Clem | Ryan | Men 60+ (Grand Masters) | Saturday 8:30am | Sunday Shuttle | | |
| cam.ric.180405 | Campbell | Rich | Men U19 | Saturday 8:30am | Sunday Shuttle | Keen to send | Let's Race! |
| xav.hol.280312 | Xavier | Hollingbery | Men U11 (Whippets) | Saturday 8:30am | Sunday Shuttle | | |
| cra.hol.260578 | Craig | Hollingbery | Men 40 - 49 (Masters) | Saturday 8:30am | Sunday Shuttle | | |
| har.rog.140609 | Harley | Rogers | Men U15 | Saturday 8:30am | Sunday Shuttle | Keen to send | |
| luc.spi.290396 | Lucinda | Spittle | Women 19 - 39 (Warriors) | Saturday 8:30am | Sunday Shuttle | | |
| bea.nea.130207 | Beau | Neale | Men U17 | Saturday 11:30am | Sunday Shuttle | Keen to send | |
| ant.rad.310108 | Anton | Radice | Men U15 | Saturday 11:30am | Sunday Shuttle | Keen to send | |
| ani.ald.230394 | Ani | Aldridge | Women 19 - 39 (Warriors) | Saturday 8:30am | Sunday Shuttle | | |
| ben.van.290507 | Ben | Van Vuuren | Men U17 | Saturday 8:30am | Sunday Shuttle | | |
| deb.lot.150381 | Debbie | Lotz | Women 40 - 49 (Masters) | Saturday 8:30am | Sunday Shuttle | | |
| ror.bai.230507 | Rory | Baird | Men U17 | Saturday 11:30am | Sunday Shuttle | Keen to send | |
| col.mai.180881 | Colin | Main | Men 40 - 49 (Masters) | Saturday 8:30am | Sunday Shuttle | Keen to send | |
| emm.mai.100807 | Emma - Lee | Main | Women U17 | Saturday 8:30am | Sunday Shuttle | Keen to send | |
| jes.wal.220403 | Jess | Waldron | Women (Full Enduro 19+) | Saturday 8:30am | Sunday Shuttle | Keen to send | Let's Race! |
| sim.bea.050282 | Simon | Beaman | Men 40 - 49 (Masters) | Saturday 8:30am | Sunday Shuttle | Keen to send | |
| wya.mur.140509 | Wyatt | Murphy | Men U15 | Saturday 8:30am | Sunday Shuttle | Keen to send | Let's Race! |
| sha.rei.270392 | Sharnee | Reid | Women 19 - 39 (Warriors) | Saturday 8:30am | Sunday Shuttle | | |
| bre.wal.110188 | Brett | Walker | Men 30 - 39 (Warriors) | Saturday 8:30am | Sunday Shuttle | | |
| nig.rei.030174 | Nigel | Reid | Men eBike 40+ | Saturday 8:30am | Sunday Shuttle | | |
| hun.rei.100706 | Hunta | Reid | Men U17 | Saturday 8:30am | Sunday Shuttle | | |
| kyl.von.080706 | Kyle | Von Paleske | Men U17 | Saturday 11:30am | Sunday Shuttle | Keen to send | Let's Race! |
| ben.von.281208 | Ben | Von Paleske | Men U15 | Saturday 11:30am | Sunday Shuttle | Keen to send | Let's Race! |
| lia.gro.030806 | Liam | Grondal | Men U17 | Saturday 8:30am | Sunday Shuttle | | |
| reu.gro.280308 | Reuben | Grondal | Men U15 | Saturday 8:30am | Sunday Shuttle | | |
| kar.wil.230822 | Karn | Williamson | Men Welcome | Saturday 11:30am | Sunday Shuttle | | |
| tim.sea.021179 | Timothy | Seager | Men 40 - 49 (Masters) | Saturday 8:30am | Sunday Shuttle | | |
| roc.leg.240713 | Rocky | Legg | Men U11 (Whippets) | Saturday 8:30am | Sunday Shuttle | Keen to send | |
| mal.leg.060411 | Malee | Legg | Women U13 (Whippets) | Saturday 8:30am | Sunday Shuttle | | |
| pai.wil.250706 | Paige | Williamson | Women U17 | Saturday 8:30am | Sunday Shuttle | Keen to send | |
| jac.joy.120307 | Jack | Joyce | Men U17 | Saturday 8:30am | Sunday Shuttle | | |
| cod.vis.040906 | Cody | Visser | Men U17 | Saturday 8:30am | Sunday Shuttle | Keen to send | |
| pau.kly.140386 | Paul | Klynnyk | Men 30 - 39 (Warriors) | Saturday 8:30am | Sunday Shuttle | | |
| dec.mcg.270208 | Declan | Mcghee | Men U15 | Saturday 8:30am | Sunday Shuttle | | Let's Race! |
| bre.cla.150391 | Brett | Clark | Men Welcome | Saturday 11:30am | Sunday Shuttle | | |
| jax.tur.191295 | Jaxson | Turner | Men 19 - 29 (Weapons) | Saturday 8:30am | Sunday Shuttle | | |
| bro.mur.150306 | Brodie | Murray | Men U17 | Saturday 11:30am | Sunday Shuttle | | |
| joe.fis.090280 | Joel | Fisher | Men 40 - 49 (Masters) | | Sunday Shuttle | | |
| jen.pat.241079 | Jennifer | Patriquin | Women 40 - 49 (Masters) | Saturday 8:30am | Sunday Shuttle | | |
| gra.dix.120757 | Graham | Dixon | Men 60+ (Grand Masters) | Saturday 8:30am | Sunday Shuttle | | |
| luk.hor.180106 | Luke | Horsford | Men U17 | Saturday 8:30am | Sunday Shuttle | | |
| tim.wal.100122 | Tim | Wals | Men Welcome | Saturday 11:30am | Sunday Shuttle | Keen to send | |
| pet.nee.250373 | Peter | Neesham | Men 40 - 49 (Masters) | Saturday 8:30am | Sunday Shuttle | | |
| nat.de .290676 | Nathan | De Jong | Men 40 - 49 (Masters) | Saturday 8:30am | Sunday Shuttle | Keen to send | |
| jet.wat.081205 | Jett | Watts | Men U19 | Saturday 8:30am | Sunday Shuttle | Keen to send | |
| dea.gou.020580 | Dean | Gough | Men 40 - 49 (Masters) | Saturday 8:30am | Sunday Shuttle | | |
| hea.fra.240881 | Heather | Fraser | Women 40 - 49 (Masters) | Saturday 8:30am | Sunday Shuttle | | |
| bas.fin.180510 | Bastion | Finkel | Men U13 (Whippets) | Saturday 11:30am | Sunday Shuttle | Keen to send | Let's Race! |
| mat.fat.040472 | Matthew | Fathers | Men 50 - 59 (Super Masters) | | Sunday Shuttle | | |
| mor.sco.070406 | Morgan | Scoffern | Men U17 | Saturday 11:30am | Sunday Shuttle | Keen to send | |
| joh.sna.100382 | John | Snape | Men eBike 40+ | | Sunday Shuttle | | |
| jar.smi.010291 | Jarrod | Smith | Men 30 - 39 (Warriors) | Saturday 8:30am | Sunday Shuttle | | |
| chr.chr.141285 | Christiany | Christiany | Women eBike U40 | Saturday 11:30am | Sunday Shuttle | | |
| hol.bur.081286 | Holly | Burgess | Women 19 - 39 (Warriors) | Saturday 8:30am | Sunday Shuttle | Keen to send | |
| jam.woo.140787 | Jamie | Wood | Men (Full Enduro 19+) | | | | |
| iza.tra.120106 | Izaac | Trainer | Men U17 | Saturday 11:30am | Sunday Shuttle | Keen to send | |
| kay.abb.010808 | Kaylan | Abbott | Men U15 | Saturday 11:30am | Sunday Shuttle | Keen to send | Let's Race! |
| dre.col.070408 | Drew | Coleman | Men U15 | Saturday 11:30am | Sunday Shuttle | Keen to send | Let's Race! |
| sac.dow.010182 | Sacha | Dowell | Women 40 - 49 (Masters) | Saturday 11:30am | Sunday Shuttle | | |
| mir.del.010778 | Mirco | Della Vecchia | Men 40 - 49 (Masters) | | Sunday Shuttle | | |
| jac.del.200505 | Jacob | Della Vecchia | Men U19 | | Sunday Shuttle | | |
| lee.tra.280478 | Lee-Anne | Trainer | Women 40 - 49 (Masters) | Saturday 11:30am | Sunday Shuttle | | |
| fra.de .181285 | Francois | De Jager | Men 30 - 39 (Warriors) | Saturday 11:30am | Sunday Shuttle | Keen to send | |
| day.mar.010687 | Dayne | Marchant | Men 30 - 39 (Warriors) | Saturday 11:30am | Sunday Shuttle | | |
| jac.wil.061006 | Jack | Williamson | Men U17 | Saturday 11:30am | Sunday Shuttle | Keen to send | |
| tom.wil.220906 | Tom | Williams | Men U17 | Saturday 11:30am | Sunday Shuttle | | |
| jam.sid.250107 | Jamie | Sidebottom | Men U17 | Saturday 11:30am | Sunday Shuttle | Keen to send | |
| arc.pam.220907 | Archie | Pamment | Men U17 | Saturday 11:30am | Sunday Shuttle | | |
| dor.ade.120175 | Dora | Adeline | Women 40 - 49 (Masters) | Saturday 11:30am | Sunday Shuttle | | |
| ale.chr.021098 | Alex | Christie | Men 19 - 29 (Weapons) | Saturday 11:30am | Sunday Shuttle | | |
| mad.bri.280395 | Maddy | Bright | Women 19 - 39 (Warriors) | Saturday 11:30am | Sunday Shuttle | | |
| fin.wal.110208 | Finlay | Walker | Men U15 | Saturday 11:30am | Sunday Shuttle | | |
| zac.whi.280507 | Zach | Whitaker | Men U17 | | Sunday Shuttle | Keen to send | |
| mar.tob.180122 | Mark | Tobin | Men U17 | Saturday 11:30am | Sunday Shuttle | Keen to send | Let's Race! |
| mil.kop.080912 | Mila | Koppenol | Women U11 (Whippets) | | Sunday Shuttle | | |
| jay.kop.180477 | Jay | Koppenol | Men 40 - 49 (Masters) | | Sunday Shuttle | | |
| ada.pey.080590 | Adam | Peydo | Men 30 - 39 (Warriors) | | | | |
| luc.bro.020307 | Lucas | Brown | Men U17 | Saturday 11:30am | Sunday Shuttle | Keen to send | |
| jam.far.190989 | Jamie | Farac | Men 30 - 39 (Warriors) | Saturday 11:30am | Sunday Shuttle | | |
| jar.wal.260209 | Jarrah | Wallace | Men U15 | Saturday 11:30am | Sunday Shuttle | Keen to send | |
| ton.cur.190882 | Tony | Curtin | Men (Full Enduro 19+) | Saturday 11:30am | Sunday Shuttle | Keen to send | |
| hug.far.111006 | Hugh | Farquhar | Men U17 | Saturday 11:30am | Sunday Shuttle | Keen to send | |
| jam.spi.140510 | James | Spinley | Men U13 (Whippets) | | Sunday Shuttle | | |
| sam.gal.141003 | Sam | Gallacher | Men 19 - 29 (Weapons) | Saturday 11:30am | Sunday Shuttle | | |
| vin.oak.040210 | Vincent | Oakman | Men U13 (Whippets) | Saturday 11:30am | Sunday Shuttle | | |
| tre.lew.250861 | Trevor | Lewis | Men eBike 40+ | | | Keen to send | |
| lou.att.090579 | Louise | Attley | Women 40 - 49 (Masters) | Saturday 11:30am | Sunday Shuttle | | |
| gra.mal.031172 | Graham | Malynn | Men 50 - 59 (Super Masters) | Saturday 11:30am | Sunday Shuttle | | |
| cha.cam.300908 | Chace | Campbell | Men U15 | | Sunday Shuttle | | |
| kob.rat.250407 | Koby | Ratajczak | Men U17 | Saturday 11:30am | Sunday Shuttle | | Let's Race! |
| osc.myh.250208 | Oscar | Myhre | Men U15 | Saturday 11:30am | Sunday Shuttle | Keen to send | |
| lac.bow.250808 | Lachlan | Bowden | Men U15 | Saturday 11:30am | Sunday Shuttle | Keen to send | |
| llo.fit.130108 | Lloyd | Fitzpatrick | Men U15 | Saturday 8:30am | Sunday Shuttle | Keen to send | Let's Race! |
| dav.ber.180681 | Dave | Berry | Men eBike 40+ | | Sunday Shuttle | | |
| ben.gra.171010 | Ben | Graham | Men U13 (Whippets) | Saturday 11:30am | Sunday Shuttle | Keen to send | |
| jod.ber.040980 | Jodie | Berry | Women 40 - 49 (Masters) | Saturday 11:30am | Sunday Shuttle | | |
| dan.kar.060411 | Daniel | Karakashov | Men U13 (Whippets) | Saturday 11:30am | | | |
| tak.ser.160507 | Taki | Sertis | Men U17 | Saturday 11:30am | Sunday Shuttle | Keen to send | Let's Race! |
| bai.pic.240406 | Bailey | Pickford | Men U17 | Saturday 11:30am | Sunday Shuttle | Keen to send | |
| dar.sav.180805 | Darcy | Saville | Men U19 | Saturday 11:30am | Sunday Shuttle | | |
| oli.sui.040306 | Oliver | Suijdendorp | Men U17 | Saturday 11:30am | Sunday Shuttle | Keen to send | |
| lev.yew.300606 | Levi | Yewers | Men U17 | Saturday 11:30am | Sunday Shuttle | Keen to send | |
| and.chi.061005 | Andrew | Chivers | Men U19 | Saturday 11:30am | Sunday Shuttle | Keen to send | |
| jes.zwi.090306 | Jesse | Zwitser | Men U17 | Saturday 11:30am | Sunday Shuttle | | |
| oli.del.090414 | Oliver | Delaney | Men U9 (Whippets) | | Sunday Shuttle | | |
| cha.wil.100707 | Chad | Wilson | Men U17 | Saturday 11:30am | Sunday Shuttle | | |
| mar.spi.150905 | Marcel | Spires | Men U19 | Saturday 11:30am | Sunday Shuttle | | |
| zac.tay.180407 | Zac | Taylor | Men U17 | Saturday 8:30am | Sunday Shuttle | Keen to send | |
| luk.tay.240708 | Luke | Taylor | Men U15 | Saturday 8:30am | Sunday Shuttle | Keen to send | |
| jes.tay.130312 | Jesse | Taylor | Men U11 (Whippets) | | Sunday Shuttle | | |
| ace.how.041212 | Ace | Howard | Men U11 (Whippets) | Saturday 11:30am | Sunday Shuttle | Keen to send | |
| jud.how.151114 | Judd | Howard | Men U9 (Whippets) | Saturday 11:30am | Sunday Shuttle | Keen to send | |
| rya.lit.300584 | Ryan | Litterick | Men (Full Enduro 19+) | Saturday 8:30am | Sunday Shuttle | | |
| ree.lit.180613 | Reed | Litterick | Men U11 (Whippets) | Saturday 11:30am | Sunday Shuttle | | |
| jos.hor.260793 | Josh | Horton-French | Men 19 - 29 (Weapons) | Saturday 11:30am | Sunday Shuttle | | |
| kyr.bue.020286 | Kyron | Buesnel | Men 30 - 39 (Warriors) | Saturday 11:30am | Sunday Shuttle | | |
| kob.coc.290806 | Kobe | Cocivera | Men U17 | Saturday 11:30am | Sunday Shuttle | | Let's Race! |
| ror.kee.290306 | Rory | Keevill | Men U17 | Saturday 11:30am | Sunday Shuttle | | |
| tao.bri.011207 | Tao | Brice | Men U17 | Saturday 11:30am | Sunday Shuttle | Keen to send | |
| noa.bri.210909 | Noah | Brice | Men U15 | Saturday 11:30am | Sunday Shuttle | Keen to send | Let's Race! |
| zak.bat.120705 | Zakiah | Bathgate | Men U19 | Saturday 11:30am | Sunday Shuttle | | |
| chr.for.060989 | Christine | Forde | Women eBike U40 | | Sunday Shuttle | | |
| rom.for.151112 | Roman | Forde | Men U11 (Whippets) | | Sunday Shuttle | | |
| jak.mcd.071288 | Jake | Mcdonald | Men (Full Enduro 19+) | | | | |
| har.mcd.120116 | Harley | Mcdonald | Men U9 (Whippets) | | Sunday Shuttle | | |
| cal.par.160207 | Callan | Parker | Men U17 | Saturday 11:30am | Sunday Shuttle | Keen to send | |
| mit.ali.090903 | Mitchell | Aliprandi | Men (Full Enduro 19+) | Saturday 11:30am | Sunday Shuttle | | |
| jos.tri.181005 | Joshua | Triggs | Men U19 | Saturday 11:30am | Sunday Shuttle | | |
| oli.dee.190512 | Oliver | Deeks | Men U11 (Whippets) | Saturday 11:30am | Sunday Shuttle | | |
| arr.rob.040107 | Arran | Roberts | Men U17 | Saturday 8:30am | Sunday Shuttle | Keen to send | Let's Race! |
| jay.man.280408 | Jay | Mansfield | Men U15 | Saturday 11:30am | Sunday Shuttle | | |
| ant.pri.110607 | Anthony | Princi | Men U17 | Saturday 8:30am | Sunday Shuttle | Keen to send | |
| nic.mat.270783 | Nicky | Mattiucci | Men 30 - 39 (Warriors) | Saturday 11:30am | Sunday Shuttle | | |
| tre.ale.071186 | Trent | Alers | Men 30 - 39 (Warriors) | | Sunday Shuttle | | |
| dar.cle.021286 | Darcy | Cleveland | Men (Full Enduro 19+) | Saturday 11:30am | Sunday Shuttle | | |
| kew.bon.220572 | Kewan | Bond | Men 50 - 59 (Super Masters) | Saturday 11:30am | Sunday Shuttle | | |
| cal.mcp.021007 | Callan | Mcphillie | Men U17 | | Sunday Shuttle | Keen to send | Let's Race! |
| kel.de .130107 | Kellen | De Brito | Men U17 | Saturday 11:30am | Sunday Shuttle | Keen to send | |
| mit.her.261187 | Mitchell | Herbert | Men 30 - 39 (Warriors) | Saturday 11:30am | Sunday Shuttle | | |
| jes.pri.050407 | Jesse | Price | Men U17 | Saturday 11:30am | Sunday Shuttle | | |
| bry.com.141202 | Bryce | Commins | Men (Full Enduro 19+) | Saturday 8:30am | Sunday Shuttle | | |
| jos.mur.101104 | Joshua | Murphy | Men U19 | | Sunday Shuttle | | |
| tom.sum.040707 | Tom | Summers | Men U17 | Saturday 11:30am | Sunday Shuttle | | |
| cod.ric.231206 | Cody | Richardson | Men U17 | | Sunday Shuttle | | |
| oli.how.150507 | Oliver | Howell | Men U17 | Saturday 8:30am | Sunday Shuttle | Keen to send | Let's Race! |
| ree.how.100910 | Reeve | Howell | Men U13 (Whippets) | Saturday 8:30am | Sunday Shuttle | Keen to send | Let's Race! |
| hay.ada.060606 | Hayden | Adams | Men U17 | Saturday 11:30am | Sunday Shuttle | | |
| ril.ada.070904 | Riley | Adams | Men U19 | Saturday 11:30am | Sunday Shuttle | | |
| kie.ada.200508 | Kieran | Adams | Men U15 | Saturday 11:30am | Sunday Shuttle | | |
| tay.bre.201107 | Tayde | Brewer-Shearman | Men U17 | | Sunday Shuttle | | |
| kai.god.121197 | Kaiden | Godden | Men (Full Enduro 19+) | Saturday 11:30am | Sunday Shuttle | | |
| ben.zha.130405 | Benedict | Zhang | Men U19 | Saturday 8:30am | Sunday Shuttle | Keen to send | Let's Race! |
| rus.nea.300981 | Russell | Neal | Men 40 - 49 (Masters) | Saturday 11:30am | Sunday Shuttle | | |
| coo.bon.291004 | Cooper | Bond | Men U19 | Saturday 11:30am | Sunday Shuttle | Keen to send | Let's Race! |
| mil.bon.180107 | Milly | Bond | Women U17 | Saturday 11:30am | Sunday Shuttle | | |
| jas.amo.140408 | Jasper | Amos | Men U15 | Saturday 11:30am | Sunday Shuttle | Keen to send | |
| lia.wat.020886 | Liam | Watts | Men 30 - 39 (Warriors) | Saturday 11:30am | Sunday Shuttle | | |
| ade.ste.010906 | Aden | Steinkrug | Men U17 | Saturday 11:30am | Sunday Shuttle | Keen to send | |
| meg.smi.040306 | Megan | Smith | Women U17 | Saturday 11:30am | Sunday Shuttle | | |
| kob.dic.210711 | Koby | Dickinson | Men U13 (Whippets) | Saturday 11:30am | Sunday Shuttle | | |
| bra.lem.010180 | Brad | Lemmey | Shadow | Shadow | Shadow | | |
| and.lai.271181 | Andrew | Laird | Men 40 - 49 (Masters) | | Sunday Shuttle | | Let's Race! |
| ott.bro.100906 | Otto | Brockhoff | Men U17 | Saturday 11:30am | Sunday Shuttle | | |
| sim.moo.240671 | Simon | Moore | Shadow | Shadow | Shadow | | |
| mik.loc.250507 | Mikaela | Lock | Women U17 | | | | |
| mia.loc.100909 | Mia | Lock | Women U15 | | | | |
| fra.sta.100691 | Francis | Staude | Men eBike U40 | Saturday 11:30am | Sunday Shuttle | Keen to send | Let's Race! |
| cha.how.100101 | Charlie | Howard | Men (Full Enduro 19+) | Saturday 11:30am | Sunday Shuttle | | |
| log.mui.111006 | Logan | Muir | Men U17 | | Sunday Shuttle | | |
| ang.odd.101007 | Angus | Oddy | Men U17 | Saturday 11:30am | Sunday Shuttle | Keen to send | |
| cha.wat.100207 | Charlie | Watson | Men U17 | Saturday 11:30am | Sunday Shuttle | | |
| tho.woo.240906 | Thomas | Woodrow | Men U17 | Saturday 11:30am | Sunday Shuttle | | |
| ang.bri.290108 | Angus | Briginshaw | Men U15 | Saturday 11:30am | Sunday Shuttle | Keen to send | Let's Race! |
| tay.ric.031094 | Taylor | Richards | Men 19 - 29 (Weapons) | Saturday 11:30am | Sunday Shuttle | Keen to send | |
| bra.wal.280569 | Brad | Waldron | Men 50 - 59 (Super Masters) | Saturday 11:30am | Sunday Shuttle | | Let's Race! |
| ste.lan.280770 | Steve | Lane | Men 50 - 59 (Super Masters) | Saturday 11:30am | Sunday Shuttle | | |
| ste.mey.271282 | Stephen | Meyer | Men 40 - 49 (Masters) | Saturday 11:30am | Sunday Shuttle | | |
| lai.ter.211179 | Laine | Terrey | Men eBike 40+ | Saturday 11:30am | Sunday Shuttle | | |
| lar.ver.100487 | Lars | Versluis | Men 30 - 39 (Warriors) | | Sunday Shuttle | | |
| max.jen.200110 | Max | Jenkins | Men U13 (Whippets) | Saturday 11:30am | Sunday Shuttle | Keen to send | Let's Race! |
| jon.hol.251209 | Jonte | Holly | Men U15 | Saturday 8:30am | Sunday Shuttle | Keen to send | Let's Race! |
| aid.von.120406 | Aidan | Von Knoll | Men U17 | Saturday 11:30am | Sunday Shuttle | | |
| oli.lis.151206 | Oliver | Lister | Men U17 | Saturday 11:30am | Sunday Shuttle | | |
| tho.sim.090406 | Thomas | Simmonds | Men U17 | | Sunday Shuttle | Keen to send | |
| rya.lam.250691 | Ryan | Lamberti | Men eBike U40 | | Sunday Shuttle | | |
| tim.che.240387 | Tim | Chester | Men 30 - 39 (Warriors) | | Sunday Shuttle | | |
| pau.wil.190575 | Paul | Wilkinson | Men 40 - 49 (Masters) | Saturday 11:30am | Sunday Shuttle | | |
| mic.pra.050883 | Michael | Pratt | Men 30 - 39 (Warriors) | Saturday 11:30am | Sunday Shuttle | | |
| aar.sto.080479 | Aaron | Storey | Men 40 - 49 (Masters) | | | | |
| osc.bar.080512 | Oscar | Barratt | Men U11 (Whippets) | | Sunday Shuttle | | |
| set.bar.050409 | Seth | Barker | Men U15 | | Sunday Shuttle | | |
| cam.fry.151007 | Cameron | Fry | Men U17 | Saturday 11:30am | Sunday Shuttle | | |
| jam.nob.231110 | James | Noblett | Men U13 (Whippets) | | Sunday Shuttle | Keen to send | |
| tim.led.030892 | Tim | Ledger | Men 30 - 39 (Warriors) | Saturday 11:30am | Sunday Shuttle | | |
| fle.pet.050807 | Fletcher | Petersen | Men U17 | Saturday 11:30am | Sunday Shuttle | | |
| hil.tho.080688 | Hillary-Jane | Thompson | Women 19 - 39 (Warriors) | Saturday 11:30am | Sunday Shuttle | Keen to send | |
| meg.mck.220909 | Meg | Mckenzie | Women U15 | Saturday 11:30am | Sunday Shuttle | Keen to send | |
| pau.mck.170568 | Paul | Mckenzie | Men 50 - 59 (Super Masters) | Saturday 11:30am | Sunday Shuttle | | |
| fin.pol.101008 | Finn | Polich | Men U15 | Saturday 8:30am | Sunday Shuttle | Keen to send | |
| ned.pol.060910 | Ned | Polich | Men U13 (Whippets) | Saturday 8:30am | Sunday Shuttle | Keen to send | Let's Race! |
| bra.dru.030484 | Bradley | Drummond | Men 30 - 39 (Warriors) | Saturday 11:30am | Sunday Shuttle | | |
| jak.dru.090708 | Jake | Drummond | Men U15 | Saturday 11:30am | Sunday Shuttle | | |
| jy.dru.030310 | Jy | Drummond | Men U13 (Whippets) | Saturday 11:30am | Sunday Shuttle | | |
| rob.gly.140404 | Robert | Glynn | Men U19 | Saturday 11:30am | Sunday Shuttle | | |
| jac.dri.250607 | Jack | Driscoll | Men U17 | Saturday 11:30am | Sunday Shuttle | | |
| lia.fos.120608 | Liam | Foster | Men U15 | Saturday 11:30am | Sunday Shuttle | Keen to send | Let's Race! |
| mat.gar.050684 | Matt | Garrett | Men (Full Enduro 19+) | | | | |
| bry.gor.150613 | Bryn | Gordon | Men U11 (Whippets) | Saturday 11:30am | Sunday Shuttle | | |
| wil.kin.240409 | Will | King | Men U15 | Saturday 11:30am | Sunday Shuttle | Keen to send | |
| luc.hil.131102 | Lucy | Hill | Women (Full Enduro 19+) | Saturday 11:30am | Sunday Shuttle | | |
| gab.ste.080607 | Gabriel | Stevens | Men U17 | Saturday 11:30am | Sunday Shuttle | Keen to send | |
| pet.boy.201169 | Peter | Boyce | Men 50 - 59 (Super Masters) | Saturday 11:30am | Sunday Shuttle | | |
| bai.bei.160305 | Baiden | Beijering | Men U19 | | Sunday Shuttle | Keen to send | |
| dyl.you.210105 | Dylan | Young | Men U19 | | Sunday Shuttle | | |
| mit.tho.281008 | Mitchell | Thorley | Men U15 | Saturday 11:30am | Sunday Shuttle | Keen to send | |
| jax.hur.050509 | Jaxon | Hurst | Men U15 | Saturday 8:30am | Sunday Shuttle | Keen to send | |
| bel.mce.260266 | Belinda | Mcentee | Women 50+ (Super Masters) | | Sunday Shuttle | | |
| aly.hol.031006 | Alyssa | Holland | Women U17 | Saturday 11:30am | Sunday Shuttle | Keen to send | Let's Race! |
| coo.hol.290611 | Cooper | Holland | Men U13 (Whippets) | Saturday 11:30am | Sunday Shuttle | | Let's Race! |
| cha.dud.061206 | Charlie | Dudek | Men U17 | Saturday 8:30am | Sunday Shuttle | Keen to send | |
| hei.str.230274 | Heidi | Strickland | Women (Full Enduro 19+) | | Sunday Shuttle | | |
| lia.cow.110109 | Liam | Cowburn | Men U15 | Saturday 8:30am | Sunday Shuttle | Keen to send | Let's Race! |
| pat.tre.211184 | Patrick | Trewenack | Men 30 - 39 (Warriors) | Saturday 8:30am | Sunday Shuttle | | |
| add.mas.131107 | Addison | Maskell | Men U17 | Saturday 8:30am | Sunday Shuttle | | Let's Race! |
| war.tun.020191 | Warrick | Tunmer | Men 30 - 39 (Warriors) | | Sunday Shuttle | | |
| osc.lea.270709 | Oscar | Lear | Men U15 | Saturday 11:30am | Sunday Shuttle | | |
| oll.lea.270709 | Ollie | Lear | Men U15 | Saturday 11:30am | Sunday Shuttle | | |
| jes.mal.180592 | Jesse | Malseed | Men 30 - 39 (Warriors) | | Sunday Shuttle | | |
| sam.ver.050608 | Samuel | Verwijmeren | Men U15 | Saturday 11:30am | Sunday Shuttle | | |
| cob.jon.300109 | Coby | Jones | Men U15 | Saturday 11:30am | Sunday Shuttle | Keen to send | |
| rya.pov.140806 | Ryan | Povah | Men U17 | Saturday 11:30am | Sunday Shuttle | Keen to send | |
| cha.lan.200407 | Charlie | Lane | Men U17 | Saturday 11:30am | Sunday Shuttle | Keen to send | |
| jac.par.021095 | Jacob | Parker | Men eBike U40 | Saturday 8:30am | Sunday Shuttle | | Let's Race! |
| lev.kan.171113 | Levi | Kane | Men U11 (Whippets) | Saturday 11:30am | Sunday Shuttle | Keen to send | Let's Race! |
| bri.kan.290312 | Bria | Kane | Women U11 (Whippets) | Saturday 11:30am | Sunday Shuttle | Keen to send | Let's Race! |
| osc.wil.210306 | Oscar | Williams | Men U17 | Saturday 11:30am | Sunday Shuttle | | |
| jak.gor.230580 | Jake | Gordon | Shadow | Shadow | Shadow | | |
| kad.pou.230397 | Kade | Pound | Men (Full Enduro 19+) | Saturday 11:30am | Sunday Shuttle | Keen to send | |
| jam.jam.171296 | Jamie-Lee | James | Women 19 - 39 (Warriors) | | Sunday Shuttle | | |
| wil.fie.170409 | Wil | Fievez | Men U15 | Saturday 8:30am | Sunday Shuttle | Keen to send | Let's Race! |
| jon.fie.250478 | Jono | Fievez | Men 40 - 49 (Masters) | Saturday 8:30am | Sunday Shuttle | Keen to send | Let's Race! |
| eva.suh.181183 | Evan | Suherman | Men eBike U40 | Saturday 8:30am | Sunday Shuttle | | |
| dea.faw.200672 | Dean | Fawcett | Men eBike 40+ | | Sunday Shuttle | | |
| ada.col.011278 | Adam | Collis | Men 40 - 49 (Masters) | Saturday 8:30am | Sunday Shuttle | | Let's Race! |
| ewa.mil.080407 | Ewan | Miller | Men U17 | Saturday 8:30am | Sunday Shuttle | Keen to send | |
| geo.haw.210806 | George | Hawkins | Men U17 | Saturday 8:30am | Sunday Shuttle | Keen to send | |
| eug.de .181075 | Eugene | De Silva | Men 40 - 49 (Masters) | | Sunday Shuttle | | |
| jas.rab.040808 | Jasper | Rabjohns | Men U15 | Saturday 11:30am | Sunday Shuttle | | |
| sea.pen.040507 | Sean | Penfold | Men U17 | Saturday 11:30am | Sunday Shuttle | Keen to send | Let's Race! |
| jus.pul.220494 | Justin | Pullella | Men 19 - 29 (Weapons) | | Sunday Shuttle | | |
| ale.wal.260309 | Alex | Walker | Men U15 | Saturday 11:30am | | Keen to send | Let's Race! |
| sam.rou.190986 | Sam | Round | Men 30 - 39 (Warriors) | | Sunday Shuttle | Keen to send | |
| lia.che.200807 | Liam | Cheeseman | Men U17 | | Sunday Shuttle | | |
| ale.hoo.011285 | Alex | Hooper | Shadow | Shadow | Shadow | | |
| kai.hoo.240115 | Kai | Hooper | Men U9 (Whippets) | Saturday 11:30am | Sunday Shuttle | Keen to send | |
| son.bal.310508 | Sonny | Baldwin | Men U15 | Saturday 11:30am | Sunday Shuttle | Keen to send | Let's Race! |
| sar.lai.200281 | Sarah | Laird | Women 40 - 49 (Masters) | | Sunday Shuttle | | |
| mic.bun.150885 | Michael | Bunn | Men 30 - 39 (Warriors) | Saturday 11:30am | Sunday Shuttle | | |
| arc.boy.081105 | Archie | Boyle | Men U19 | Saturday 8:30am | Sunday Shuttle | Keen to send | |
| mar.hoc.160781 | Mark | Hocknull | Men 40 - 49 (Masters) | Saturday 11:30am | Sunday Shuttle | | |
| ril.hoc.291007 | Riley | Hocknull | Men U17 | Saturday 11:30am | Sunday Shuttle | | |
| jos.moo.310507 | Joseph | Moore | Men U17 | | Sunday Shuttle | Keen to send | Let's Race! |
| ban.fal.190909 | Banjo | Falconbridge | Men U15 | Saturday 11:30am | Sunday Shuttle | Keen to send | Let's Race! |
| sax.lit.270807 | Saxon | Littlejohn | Men U17 | Saturday 11:30am | Sunday Shuttle | Keen to send | Let's Race! |
| ste.len.151280 | Steve | Lendich | Men 40 - 49 (Masters) | Saturday 8:30am | Sunday Shuttle | Keen to send | |
| max.rod.241206 | Max | Rodwell | Men U17 | Saturday 8:30am | Sunday Shuttle | Keen to send | |
| har.rod.241206 | Harri | Rodwell | Men U17 | Saturday 8:30am | Sunday Shuttle | Keen to send | |
| leo.kuc.130806 | Leon | Kucera | Men U17 | Saturday 8:30am | Sunday Shuttle | Keen to send | |
| fin.man.031104 | Finn | Manning | Men U19 | Saturday 11:30am | Sunday Shuttle | Keen to send | |
| set.bul.230806 | Seth | Bullock | Men U17 | Saturday 11:30am | Sunday Shuttle | | |
| cal.van.180311 | Caleb | Van Der Veen | Men U13 (Whippets) | Saturday 8:30am | Sunday Shuttle | Keen to send | Let's Race! |
| bro.ale.101214 | Bronte | Alers | Women U9 (Whippets) | | Sunday Shuttle | | |
| sim.han.261269 | Simon | Hansen | Men 50 - 59 (Super Masters) | Saturday 11:30am | Sunday Shuttle | | |
| tag.han.160604 | Tag | Hansen | Men U19 | Saturday 11:30am | Sunday Shuttle | | |
| sco.pet.050287 | Scott | Pettersen | Men 30 - 39 (Warriors) | | | | |
| jay.dav.141291 | Jayden | Davis | Men 30 - 39 (Warriors) | | Sunday Shuttle | | |
| xav.che.180805 | Xavier | Chester | Men U19 | Saturday 8:30am | Sunday Shuttle | Keen to send | |
| ted.pel.020707 | Ted | Pellew | Men U17 | | Sunday Shuttle | Keen to send | |
| rya.eve.300806 | Ryan | Everitt | Men U17 | Saturday 8:30am | Sunday Shuttle | | |
| nat.lam.200783 | Nathan | Lamb | Men 30 - 39 (Warriors) | | | | |
| ray.lol.230491 | Raymond | Loly | Men eBike U40 | Saturday 11:30am | Sunday Shuttle | Keen to send | Let's Race! |
| joe.pot.300306 | Joel | Potgieter | Men U17 | Saturday 8:30am | Sunday Shuttle | Keen to send | |
| ann.sor.020609 | Annalise | Sorensen | Women U15 | | Sunday Shuttle | Keen to send | Let's Race! |
| chr.sor.020211 | Christian | Sorensen | Men U13 (Whippets) | | Sunday Shuttle | Keen to send | Let's Race! |
| lan.bei.050807 | Lance | Beijering | Men U17 | Saturday 11:30am | Sunday Shuttle | Keen to send | |
| oli.til.291007 | Oliver | Tilley | Men U17 | Saturday 11:30am | Sunday Shuttle | Keen to send | Let's Race! |
| cia.jef.271006 | Cian | Jeffs | Men U17 | Saturday 8:30am | Sunday Shuttle | | |
| stu.jef.240774 | Stuart | Jeffs | Men 40 - 49 (Masters) | Saturday 8:30am | Sunday Shuttle | | |
| aid.wri.050606 | Aiden | Wright | Men U17 | Saturday 11:30am | Sunday Shuttle | Keen to send | |
| con.wri.080408 | Connor | Wright | Men U15 | Saturday 11:30am | Sunday Shuttle | Keen to send | |
| bre.hol.241173 | Brendan | Holland | Shadow | Saturday 11:30am | | | |
| eth.bra.201204 | Ethan | Branchi | Men U19 | Saturday 11:30am | Sunday Shuttle | | |
| sam.how.120990 | Sam | Howard | Men Welcome | Saturday 8:30am | Sunday Shuttle | Keen to send | |
| ril.alt.310507 | Riley | Altschwager | Men U17 | | Sunday Shuttle | Keen to send | Let's Race! |
| wil.sti.200807 | Will | Still | Men U17 | Saturday 11:30am | Sunday Shuttle | Keen to send | |
| cou.hir.260694 | Courtney | Hirst | Women (Full Enduro 19+) | Saturday 8:30am | Sunday Shuttle | | |
| noa.boa.051211 | Noah | Boase | Men U13 (Whippets) | Saturday 8:30am | Sunday Shuttle | Keen to send | |
| rem.sta.100210 | Remi | Statham | Men U13 (Whippets) | Saturday 11:30am | Sunday Shuttle | Keen to send | |
| cen.kel.250496 | Centaine | Kelly | Women 19 - 39 (Warriors) | | Sunday Shuttle | | |
| ste.hen.101209 | Sterling | Henderson-Hanson | Men U15 | | Sunday Shuttle | Keen to send | |
| lil.hen.300312 | Lily | Henderson-Hanson | Women U11 (Whippets) | | Sunday Shuttle | Keen to send | |
| ari.nor.160306 | Arissyn | Norman | Men U17 | | Sunday Shuttle | Keen to send | |
| tyl.wil.220905 | Tyler | Wiltshire | Men U19 | | Sunday Shuttle | Keen to send | Let's Race! |
| jon.aul.270504 | Jonathon | Ault | Men U19 | Saturday 8:30am | Sunday Shuttle | | |
| dun.led.100599 | Duncan | Ledger | Men (Full Enduro 19+) | Saturday 8:30am | Sunday Shuttle | Keen to send | |
| lac.har.150609 | Lachlan | Hart | Men U15 | Saturday 8:30am | Sunday Shuttle | | Let's Race! |
| bai.ste.180902 | Bailey | Stewart | Men 19 - 29 (Weapons) | Saturday 11:30am | Sunday Shuttle | Keen to send | Let's Race! |
| kei.bak.011257 | Keith | Bakker | Men 60+ (Grand Masters) | | Sunday Shuttle | | |
| tho.gil.190583 | Thomas | Gilbey | Men 30 - 39 (Warriors) | Saturday 11:30am | Sunday Shuttle | | |
| ste.phi.050174 | Stewart | Phillis | Men 40 - 49 (Masters) | Saturday 11:30am | Sunday Shuttle | | |
| kai.hol.160108 | Kaidyn | Holmes | Men U15 | Saturday 11:30am | | Keen to send | |
| sam.fie.160206 | Sam | Fielding | Men U17 | Saturday 11:30am | Sunday Shuttle | | |
| coo.his.171005 | Cooper | Hiscox | Men U19 | Saturday 11:30am | Sunday Shuttle | Keen to send | Let's Race! |
| wil.cur.140809 | William | Currey | Men U15 | Saturday 8:30am | Sunday Shuttle | | Let's Race! |
| jak.del.180707 | Jake | Della-Pollina | Men U17 | Saturday 11:30am | Sunday Shuttle | Keen to send | Let's Race! |
| ale.ter.220909 | Alexander | Terrell | Men U15 | Saturday 8:30am | Sunday Shuttle | Keen to send | |
| sti.wal.071107 | Stirling | Walker | Men U17 | Saturday 11:30am | Sunday Shuttle | Keen to send | Let's Race! |
| sco.wal.280385 | Scott | Walker | Men 30 - 39 (Warriors) | Saturday 8:30am | Sunday Shuttle | | |
| wad.lan.100174 | Wade | Langford | Men 40 - 49 (Masters) | Saturday 8:30am | Sunday Shuttle | | |
| jos.fer.270987 | Joshua | Fernance | Men 30 - 39 (Warriors) | | Sunday Shuttle | | |
| dan.pil.280707 | Daniel | Pilot | Men U17 | Saturday 11:30am | Sunday Shuttle | Keen to send | |
| lok.chi.221177 | Lok | Chin | Men 40 - 49 (Masters) | Saturday 11:30am | Sunday Shuttle | | |
| fra.cla.110308 | Fraser | Clark | Men U15 | | Sunday Shuttle | | |
| eth.cla.060604 | Ethan | Clark | Men U19 | Saturday 11:30am | Sunday Shuttle | | |
| fle.cla.090110 | Fletcher | Clark | Men U13 (Whippets) | | Sunday Shuttle | | |
| hay.flo.160575 | Haydn | Flower | Men 40 - 49 (Masters) | Saturday 8:30am | Sunday Shuttle | | |
| cob.van.130509 | Coby | Vandevelde | Men U15 | Saturday 8:30am | Sunday Shuttle | Keen to send | Let's Race! |
| ste.fen.220788 | Steven | Fenwick | Men 30 - 39 (Warriors) | Saturday 8:30am | Sunday Shuttle | | |
| mas.cor.240608 | Mason | Cornick | Men U15 | Saturday 8:30am | Sunday Shuttle | | |
| hug.tap.110300 | Hugh | Taplin | Men (Full Enduro 19+) | Saturday 8:30am | Sunday Shuttle | | |
| kim.bir.280285 | Kim | Birmingham | Men 30 - 39 (Warriors) | | Sunday Shuttle | | |
| mit.del.291107 | Mitchell | Delfos | Men U15 | Saturday 8:30am | Sunday Shuttle | | |
| luc.bir.080409 | Luca | Birmingham | Men U15 | | Sunday Shuttle | | |
| arc.rob.210508 | Archie | Roberts | Men U15 | Saturday 8:30am | Sunday Shuttle | | |
| ele.lit.070193 | Eleanor | Litterick | Women 19 - 39 (Warriors) | Saturday 8:30am | Sunday Shuttle | | |
| jac.kok.241208 | Jack | Kokalis | Men U15 | Saturday 8:30am | Sunday Shuttle | Keen to send | Let's Race! |
| tob.web.250981 | Toby | Webb | Men eBike 40+ | | | Keen to send | |
| mic.ken.190987 | Michael | Kennedy | Men 30 - 39 (Warriors) | Saturday 8:30am | Sunday Shuttle | | |
| osc.hil.140114 | Oscar | Hill | Men U9 (Whippets) | | Sunday Shuttle | | |
| chr.gro.230387 | Chris | Grooby | Men eBike U40 | Saturday 8:30am | | | |
| ada.mil.160587 | Adam | Miles | Men 30 - 39 (Warriors) | | Sunday Shuttle | | |
| dan.mil.260991 | Daniel | Millband | Men 30 - 39 (Warriors) | Saturday 8:30am | Sunday Shuttle | | |
| jac.tur.210213 | Jack | Turner | Men U11 (Whippets) | | Sunday Shuttle | | |
| mat.tur.131080 | Matt | Turner | Men 40 - 49 (Masters) | | Sunday Shuttle | | |
| sha.dob.040169 | Shane | Dobson | Men 50 - 59 (Super Masters) | Saturday 8:30am | Sunday Shuttle | | |
| tre.wal.090185 | Trent | Walker | Men 30 - 39 (Warriors) | | Sunday Shuttle | Keen to send | |
| dan.str.060177 | Daniel | Strapps | Men 40 - 49 (Masters) | | Sunday Shuttle | | |
| dan.ell.290710 | Daniel | Elliott | Men U13 (Whippets) | | Sunday Shuttle | Keen to send | |
| han.ell.010107 | Hannah | Elliott | Women U17 | | Sunday Shuttle | Keen to send | |
| rya.dil.270578 | Ryan | Dillon | Men 40 - 49 (Masters) | | | Keen to send | |
| bry.cra.210122 | Bryn | Crawford | Men Welcome | | Sunday Shuttle | | |
| eli.hae.080800 | Elijah | Haensel | Men 19 - 29 (Weapons) | | | Keen to send | Let's Race! |
| aar.spe.290607 | Aaron | Speck | Men U17 | | Sunday Shuttle | | |
| zep.fri.110413 | Zephyr | Frith | Men U11 (Whippets) | Saturday 8:30am | Sunday Shuttle | | |
| cas.smi.170113 | Cash | Smith | Men U11 (Whippets) | | Sunday Shuttle | | |
| wes.smi.061015 | Weston | Smith | Men U9 (Whippets) | | Sunday Shuttle | | |
| tho.lit.190895 | Thomas | Litterick | Men 19 - 29 (Weapons) | | Sunday Shuttle | | |
| jer.dri.270284 | Jeremy | Driscoll | Men eBike U40 | | | | |
| gus.kym.010404 | Gus | Kyme | Men U19 | Saturday 8:30am | Sunday Shuttle | | |
| dre.hoa.280778 | Drew | Hoar | Men Welcome | | Sunday Shuttle | | |
| pau.o'd.130874 | Paul | O'Donnell | Shadow | Shadow | Shadow | | |
| tyd.mon.260805 | Tyden | Monkley | Men U19 | Saturday 8:30am | Sunday Shuttle | Keen to send | |
| ada.mon.020280 | Adam | Monkley | Men 40 - 49 (Masters) | Saturday 8:30am | Sunday Shuttle | | |
| sam.mum.170808 | Samson | Mummery | Men U15 | Saturday 8:30am | Sunday Shuttle | Keen to send | Let's Race! |
| kyl.rea.220992 | Kyle | Read | Men 30 - 39 (Warriors) | Saturday 8:30am | Sunday Shuttle | | |
| jos.cas.181004 | Josh | Casey | Men U19 | Saturday 8:30am | Sunday Shuttle | | |
| jak.poa.190410 | Jake | Poat | Men U13 (Whippets) | Saturday 8:30am | Sunday Shuttle | | |
| cam.lee.280508 | Campbell | Leeson | Men U15 | | Sunday Shuttle | | |
| cam.smi.271186 | Cameron | Smith | Men 30 - 39 (Warriors) | | | | |
| dar.ste.090391 | Darren | Steele | Men 30 - 39 (Warriors) | | Sunday Shuttle | | |
| kia.mer.260699 | Kian | Merritt | Men 19 - 29 (Weapons) | | Sunday Shuttle | | |
| rya.leg.060383 | Ryan | Legg | Shadow | Shadow | Shadow | | |
| ala.for.250686 | Alan | Forde | Shadow | Shadow | Shadow | | |
| tra.war.200809 | Travis | Wardle | Men U15 | Saturday 8:30am | Sunday Shuttle | Keen to send | Let's Race! |
| par.lou.290909 | Parker | Louvel-Finn | Men U15 | | | | Let's Race! |
| har.fle.240600 | Harley | Fletcher | Men 19 - 29 (Weapons) | Saturday 8:30am | Sunday Shuttle | Keen to send | Let's Race! |
| fin.tur.100716 | Finn | Turner | Men U9 (Whippets) | | Sunday Shuttle | | |
| jac.bai.180604 | Jacob | Bailey | Men U19 | | | Keen to send | Let's Race! |
| nar.len.090887 | Narayan | Lenehan | Men 30 - 39 (Warriors) | | Sunday Shuttle | | |
| ree.kan.180681 | Reegan | Kane | Men Welcome | Saturday 11:30am | Sunday Shuttle | Keen to send | |
| eth.mcl.190908 | Ethan | Mclennan | Men U15 | Saturday 8:30am | Sunday Shuttle | Keen to send | Let's Race! |
| kay.tay.130809 | Kayden | Taylor | Men U15 | Saturday 8:30am | Sunday Shuttle | Keen to send | Let's Race! |
| ril.hos.301208 | Riley | Hossack | Men U15 | Saturday 8:30am | Sunday Shuttle | | |
| nig.hos.070672 | Nigel | Hossack | Men 50 - 59 (Super Masters) | Saturday 8:30am | Sunday Shuttle | | |
| dal.mit.080109 | Dallas | Mitchell | Men U15 | Saturday 11:30am | Sunday Shuttle | Keen to send | Let's Race! |
| nig.yan.110286 | Nigel | Yann | Men eBike U40 | | | | |
| eth.pil.010607 | Ethan | Pilot | Men U17 | Saturday 11:30am | Sunday Shuttle | Keen to send | Let's Race! |
| mic.ker.090872 | Michael | Kerklaan | Men 50 - 59 (Super Masters) | | Sunday Shuttle | | |
| wil.hen.090267 | Will | Henwood | Men 50 - 59 (Super Masters) | Saturday 11:30am | Sunday Shuttle | | |
| fin.wat.020807 | Finn | Watson | | Saturday 11:30am | | | |
| eth.boy.300693 | Ethan | Boyes | Men Welcome | Saturday 11:30am | Sunday Shuttle | | |
| ada.pey.080590 | Adam | Peydo | | | Sunday Shuttle | | |
| WAGE ID | FIRST NAME | SURNAME | CATEGORY | SATURDAY SHUTTLE | SUNDAY SHUTTLE | GRAVITY AIRBAG | PUMP TRACK SHOOTOUT |

Thankyou to our Major Event Supporters:
The event will showcase the lifestyle, culture and talent that makes Enduro racing so unique and exciting. The WA MTB Community will be on show with coaching, competitions, demonstrations, presentations, children's entertainment, food and drink stalls and a huge Race Village showcasing the WA MTB Industry
PLUS, Enduro Racing!
This event is Round One of the WA Gravity Enduro Series 2022 and will also be an Enduro World Series Qualifier.
If you love Mountain Biking and Adventure with mates, this is the event for you!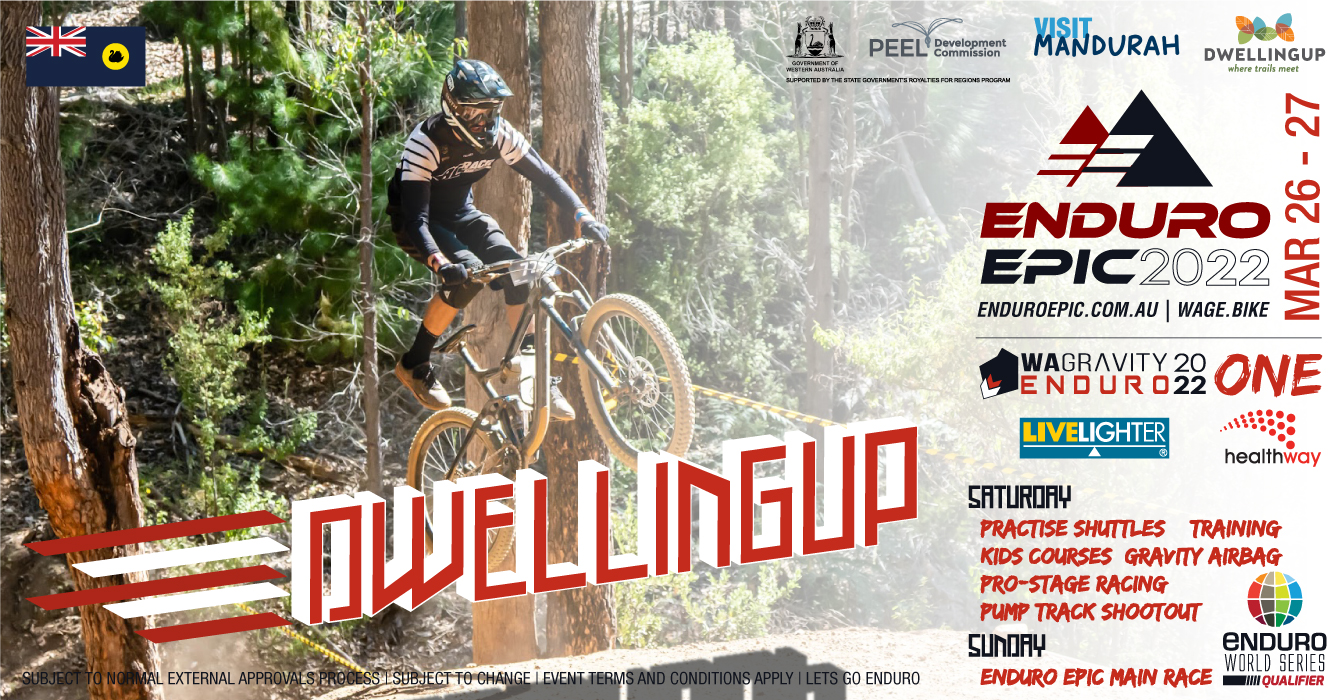 Important changes from 2021
1) There are two capped shuttle departure times of 8:30am at 11:30am. First in, best dressed - make your selection through the Event Entry
2) MASKS ARE MANDATORY on Shuttle Buses at all times.
3) Please maintain a 1.5m physical distance within Race Village. Sanitise your hands upon entry and spectators please check-in with the COVID Safe App on arrival.
4) We expect more than 500 attendees and less than 2,500 at this event and will follow the necessary WA Health Department advice and COVID Plan. This event is exempt from Proof of Vaccination due to being a Sporting Event. However, we advocate strongly that all attendees should be fully vaccinated for their safety and the protection of our Community.
5) A Liquor License area will not be implemented due to the challenges of requiring and managing Proof of Vaccination.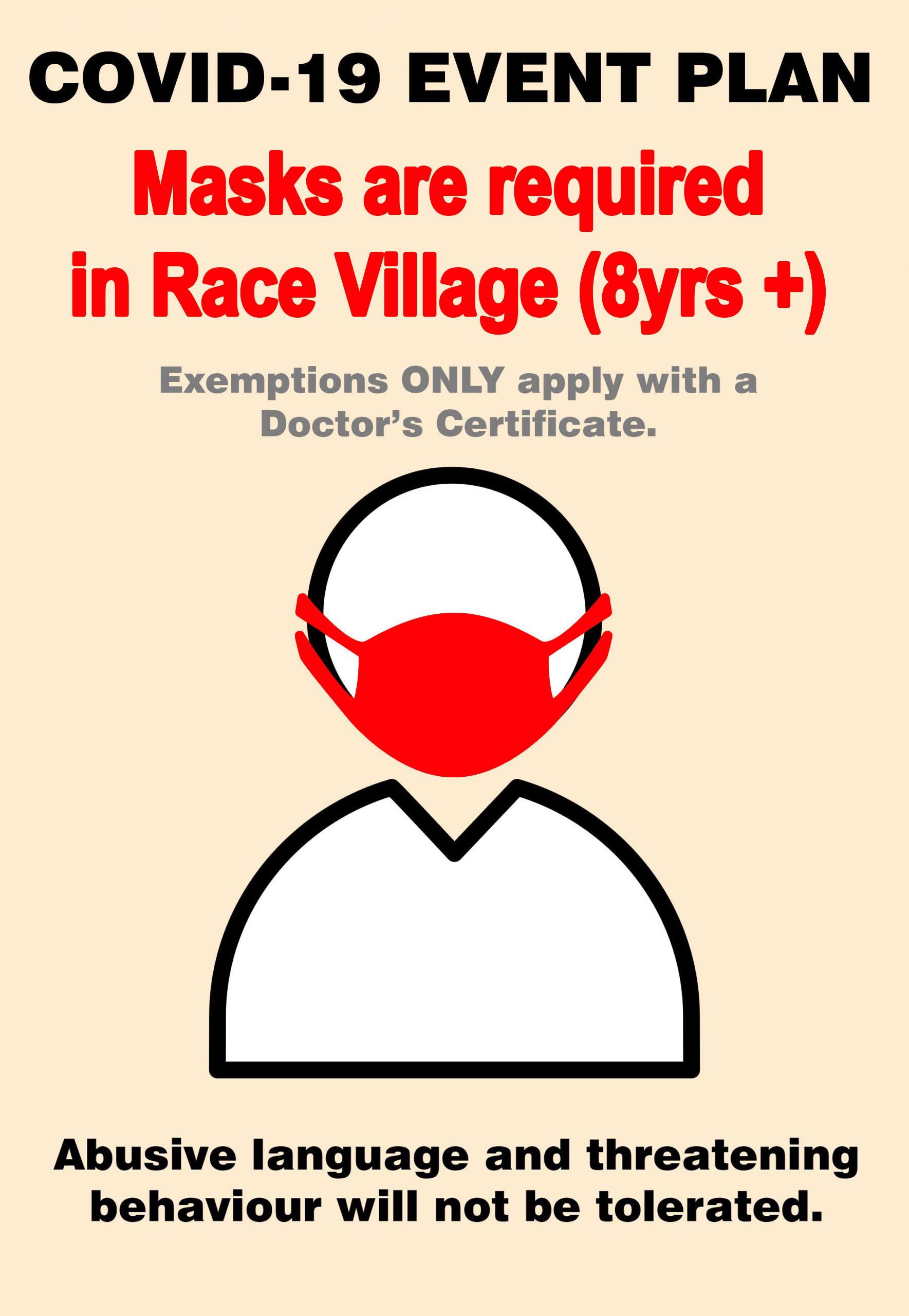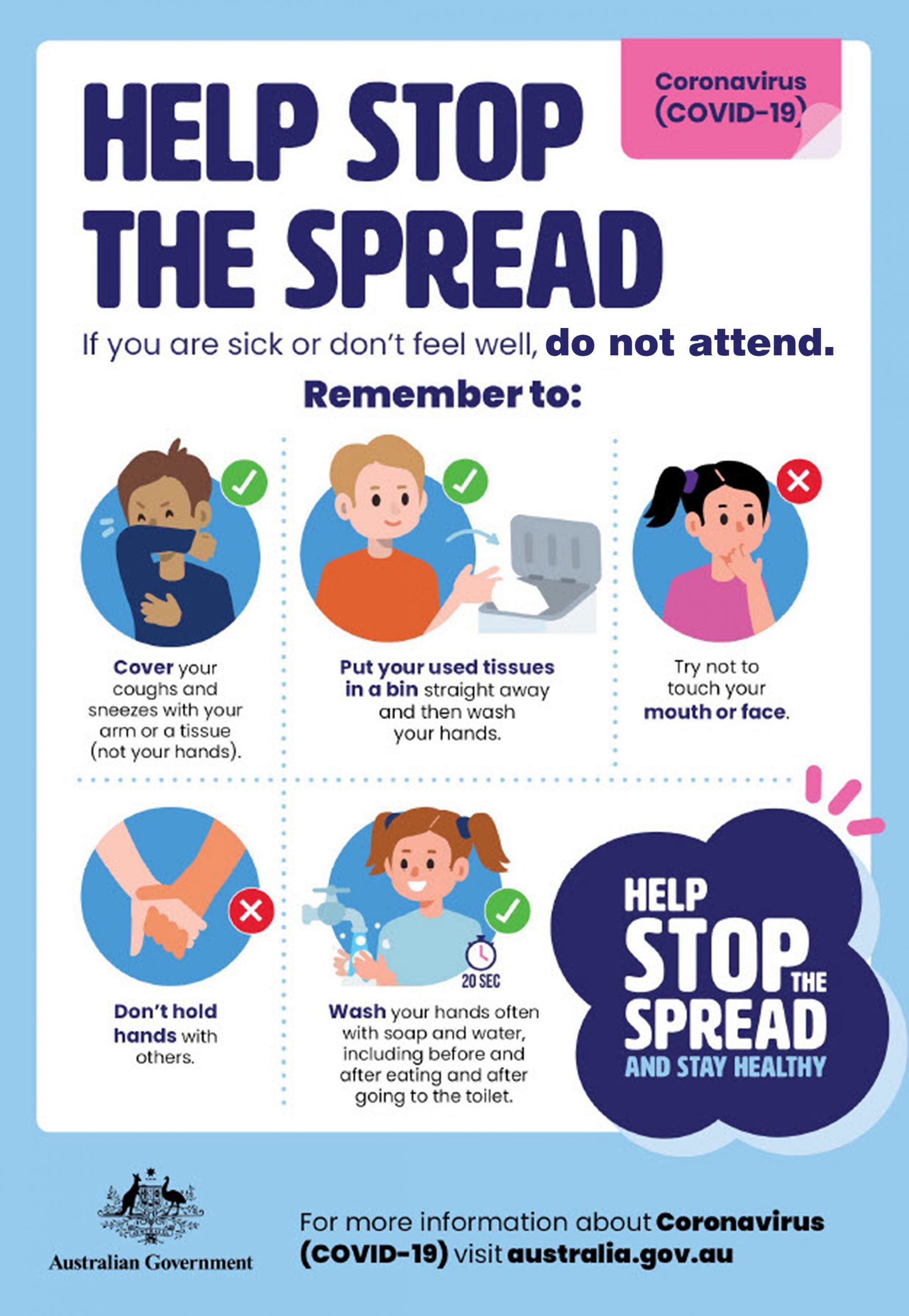 Venue
The event takes in the best riding opportunities of Dwellingup. With the heart of the weekend at Race Village in Dwellingup, a hive of activity happen on and around the amazing Pump track facility. However, competitors and spectators are spoilt with dedicated shuttle transport to the amazing mountain bike trails of Murray Valley, about 15mins away. 
Course
Intermediate to Advanced riders will appreciate the challenges of the trails, but competitors with at least one year of mountain biking experience will be able to descend the trails. All technical trail features and gap jumps have 'B' lines (slower, easier line). Race Courses are designed for the Team Category selected. For example, the Full Enduro (elite) competitors are required to complete 7 challenging trails plus a Saturday Pro Stage, whereas the Whippets U13 are only required to complete 3 of the easier stages available. 
The Murray Valley Trails are a very popular destination and if you wish to avoid the crowds of race weekend, be sure to take a visit earlier before the event, particularly if you are not very familiar with the trails.
The Murray Valley Trail Network boasts many machine-shaped features and berms but also sport some rocky features and technical challenges. The excellent elevation of the trails offer nice long runs. Trees and natural bush get right up alongside the edge of the trail so when your speed increases, be sure to watch out for those immovable Jarrah Trees!

Course Grading
Technical Ability – Expert
Physical Rating – 2 out of 4
This is the approximate Course Grade for the most difficult category.
More information about Course Grading.
Accommodation
Thanks to Visit Mandurah, there are heaps of accommodation options and things to do while in town.
Feel free to checkout the Mandurah Destination Guide, and Things-To-Do to make this event a long weekend adventure!
Even more information can be found at Visit Mandurah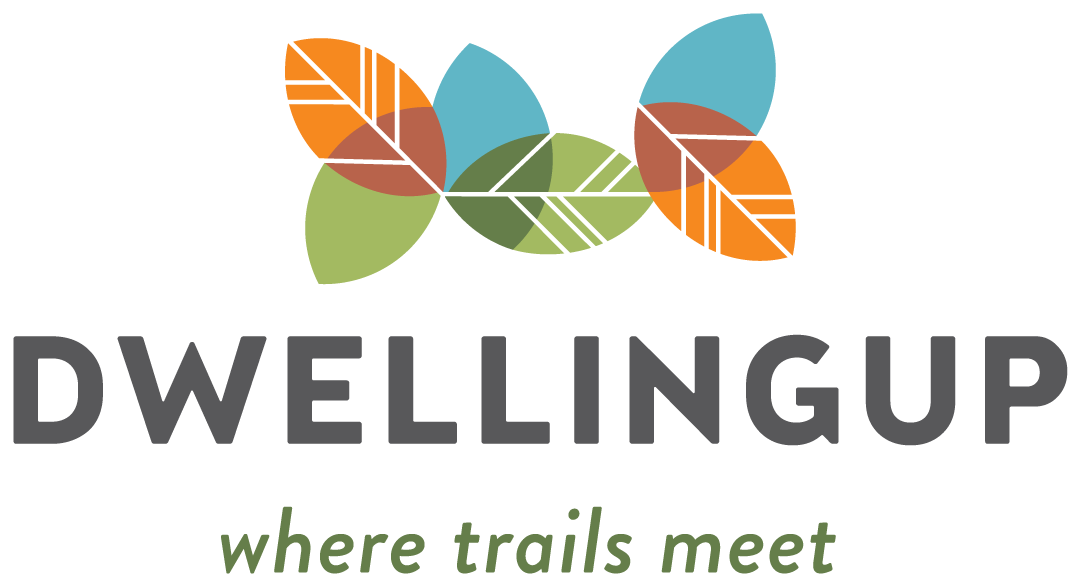 Parking
Free ample parking is available on the eastern side of the Dwellingup Oval. Follow the marshal directions at all times and:
– do not park in a way which can block access
– do not park in a way that could block other vehicles from moving
– do not park on the Dwellingup oval.
Always drive responsibly and carefully, there are many children and families in the area.
Spectators or competitors are welcome to drive to the Murray Valley Trails, however, you will be charged a Park Entry fee at the gate through DBCA. Follow the signs to Murray Valley Trails and park on the verge ensuring adequate manoeuvrability of all other vehicles. The dedicated shuttle road will be closed to all vehicles during the event.
Spectators
Spectators are welcome to jump on the Shuttle Bus with the riders and head to the Murray Valley Trails (when available) for delivery to the top of the hill at The Roost.
You can then descend the trails catching the action as you go, but always give way to riders who will be descending the trail at high speed.
When you see or hear a rider coming, very quickly move off the trail and stay at least 2 metres clear of riders and always stay behind course bunting tape and signage.
Always be aware of snakes, bring adequate hydration, plenty of sun protection and wear good walking shoes – trails can be treacherous in wet and dry conditions. 
Spectators can jump back on the shuttle bus at The Roost or the Shuttle Collection Bays at the bottom of the hill for return back to Dwellingup. 
Shuttles
Riders have the opportunity to practise on Saturday by purchasing a Shuttle Entry. Riders are collected from Race Village in Dwellingup and taken to the top of the Murray Valley Trails Network aka 'The Roost.' From there, they head down their race stages and get collected from the bottom for Shuttle lifts back up the hill!
We have two capped Saturday Shuttle Times to spread the riders across the day ensuring everyone gets plenty of time and reduces the boring queue.
Saturday Practise Shuttle Times leaving Dwellingup are 8:30am and 11:30am which can be booked as part of Event Entry.
Shuttles return to Race Village on demand from the Shuttle Collection queue at the trails.
On Sunday, riders will again lead to Race Village in Dwellingup for their race briefing before jumping on the Shuttle Bus to the trails. Race briefing is mandatory and you will need to collect and return your timing chip.
No private shuttling is permitted or possible on the Murray Valley Shuttle Road as it will be closed to the public for this event.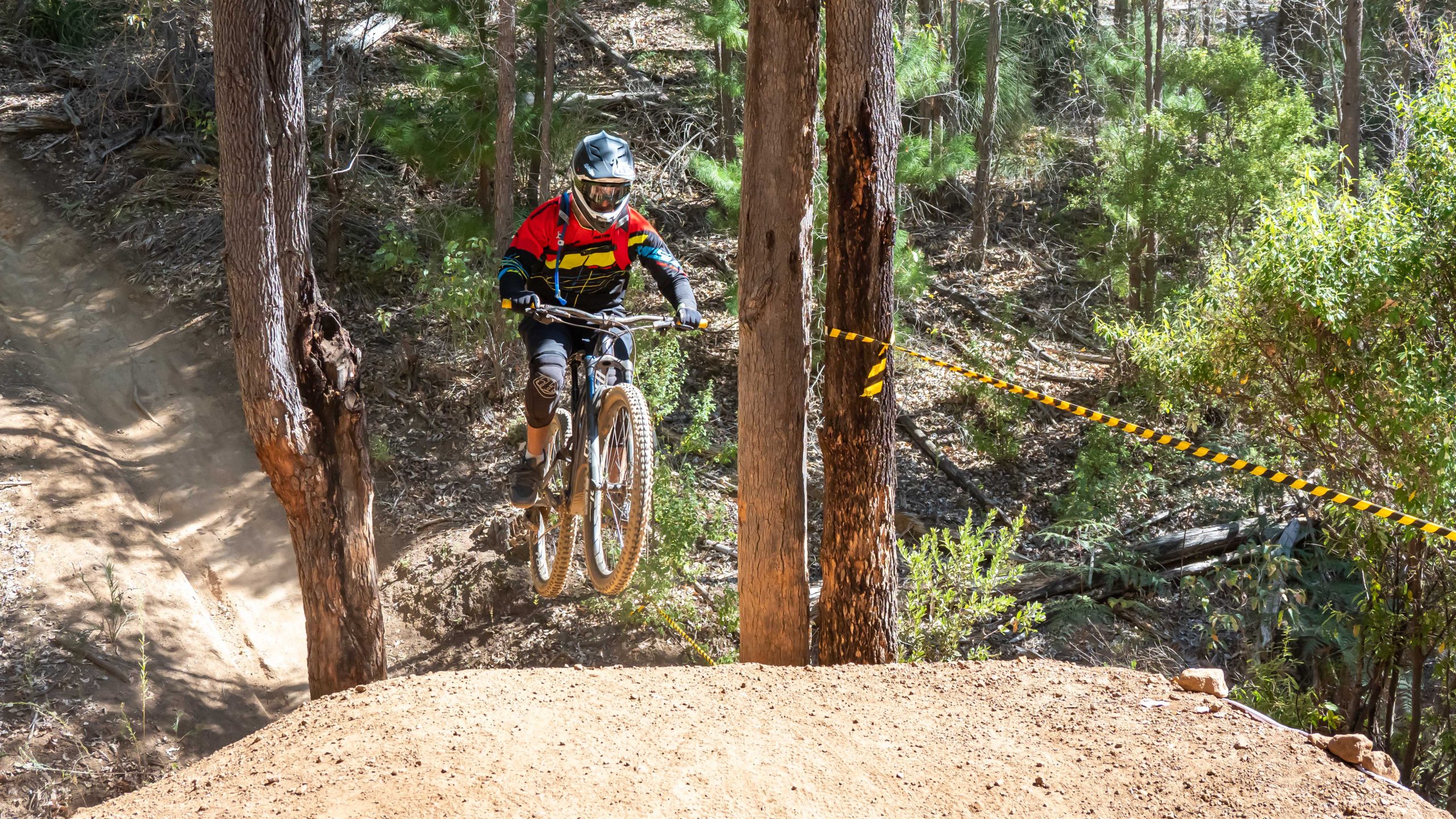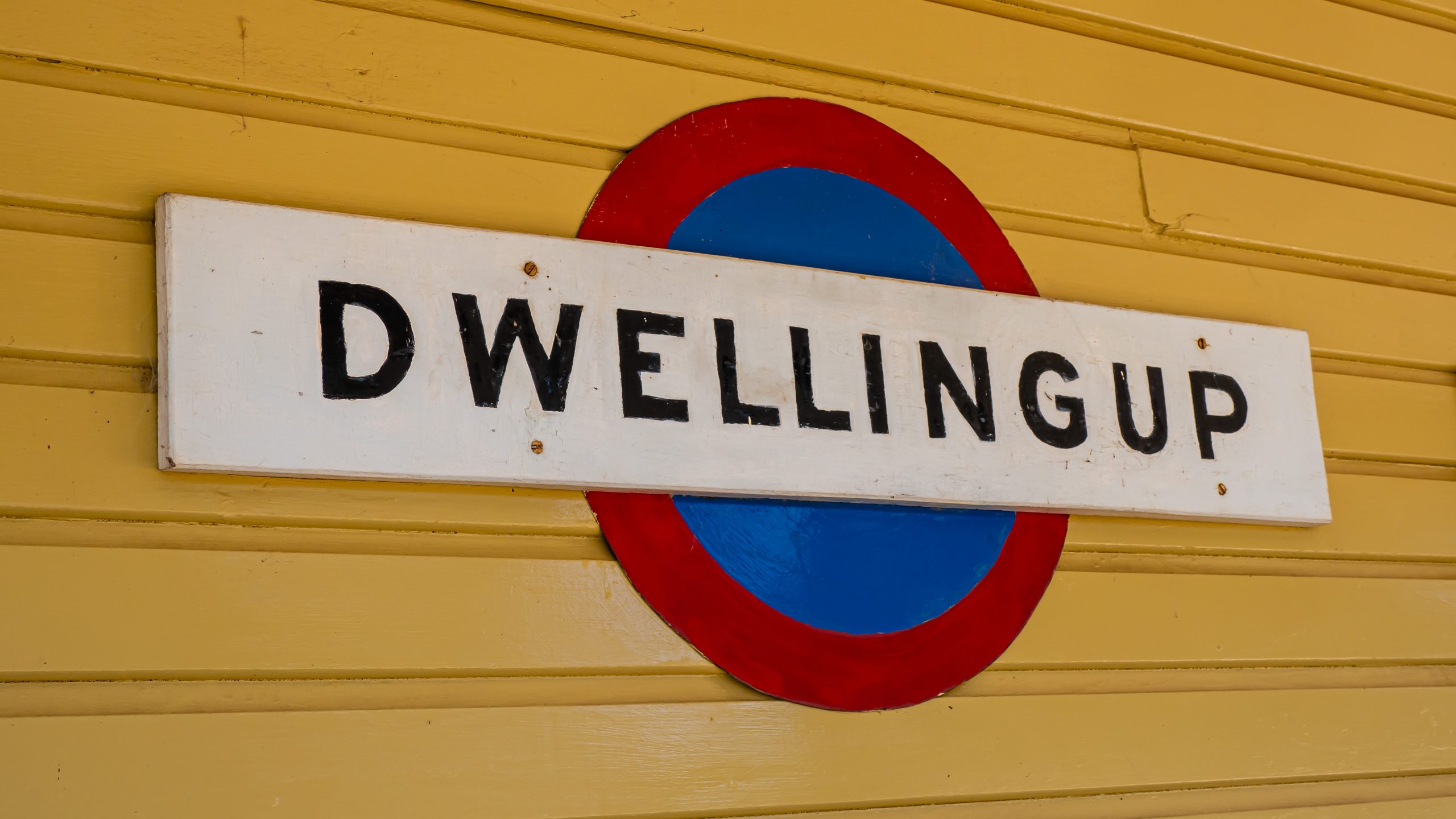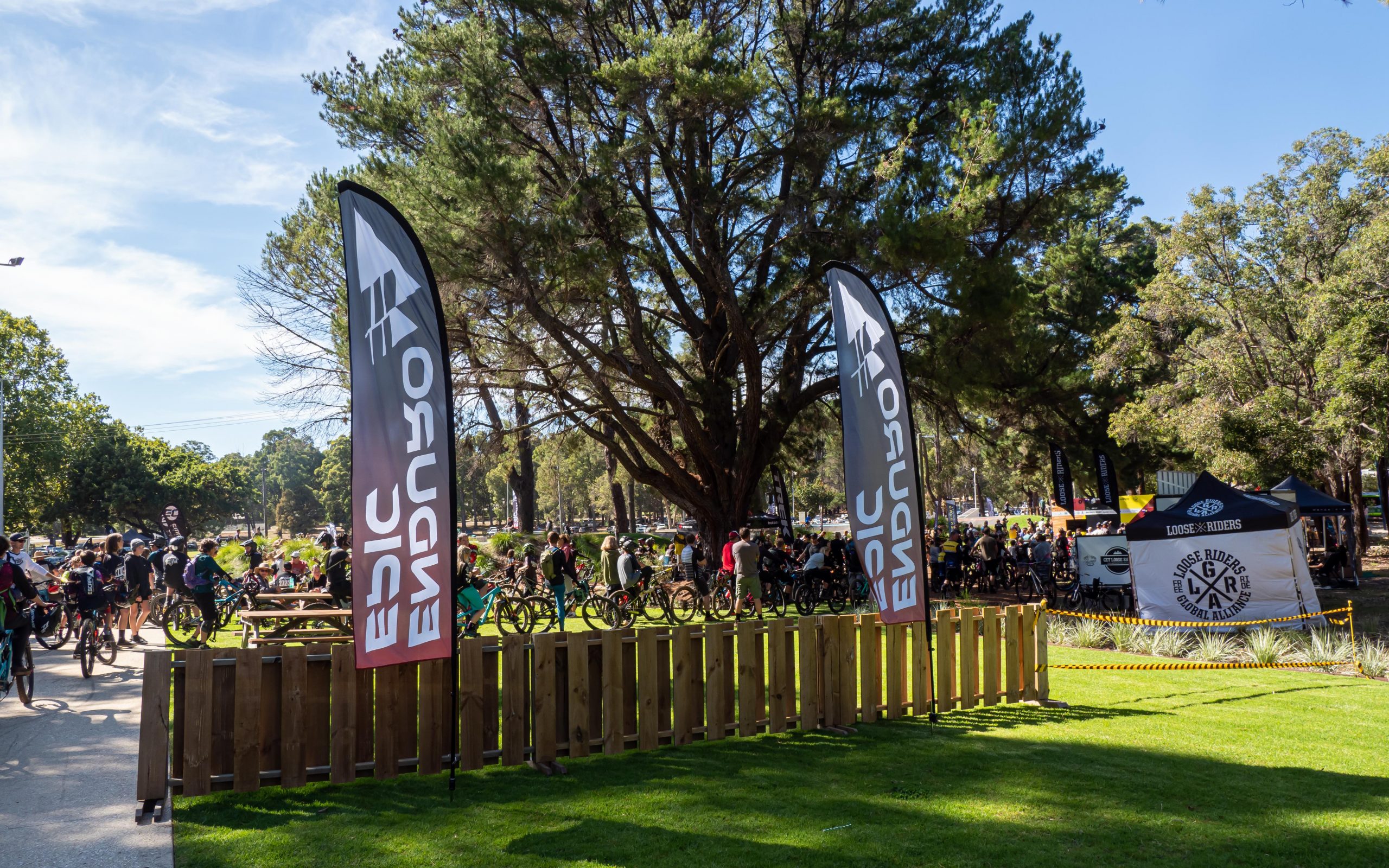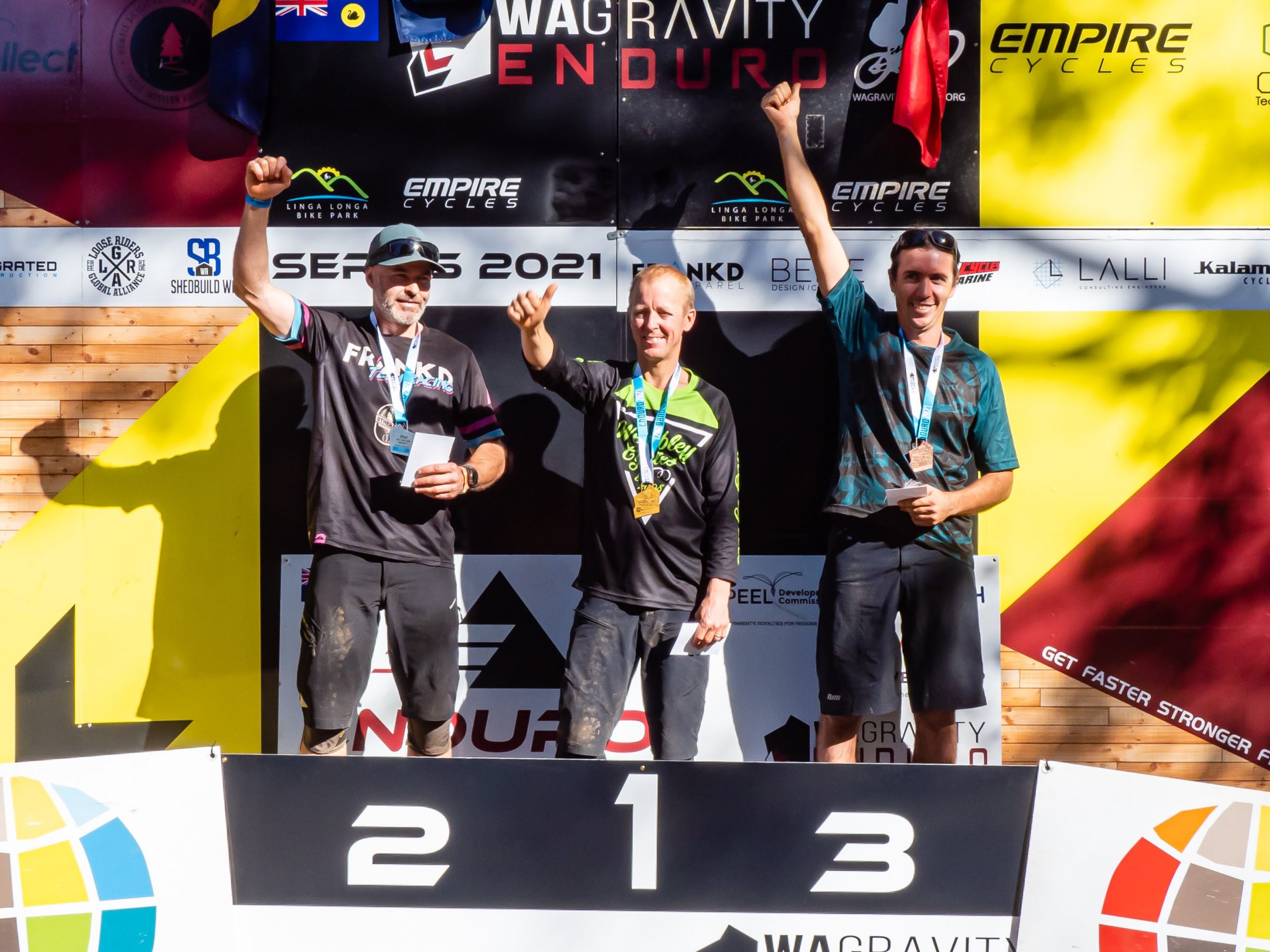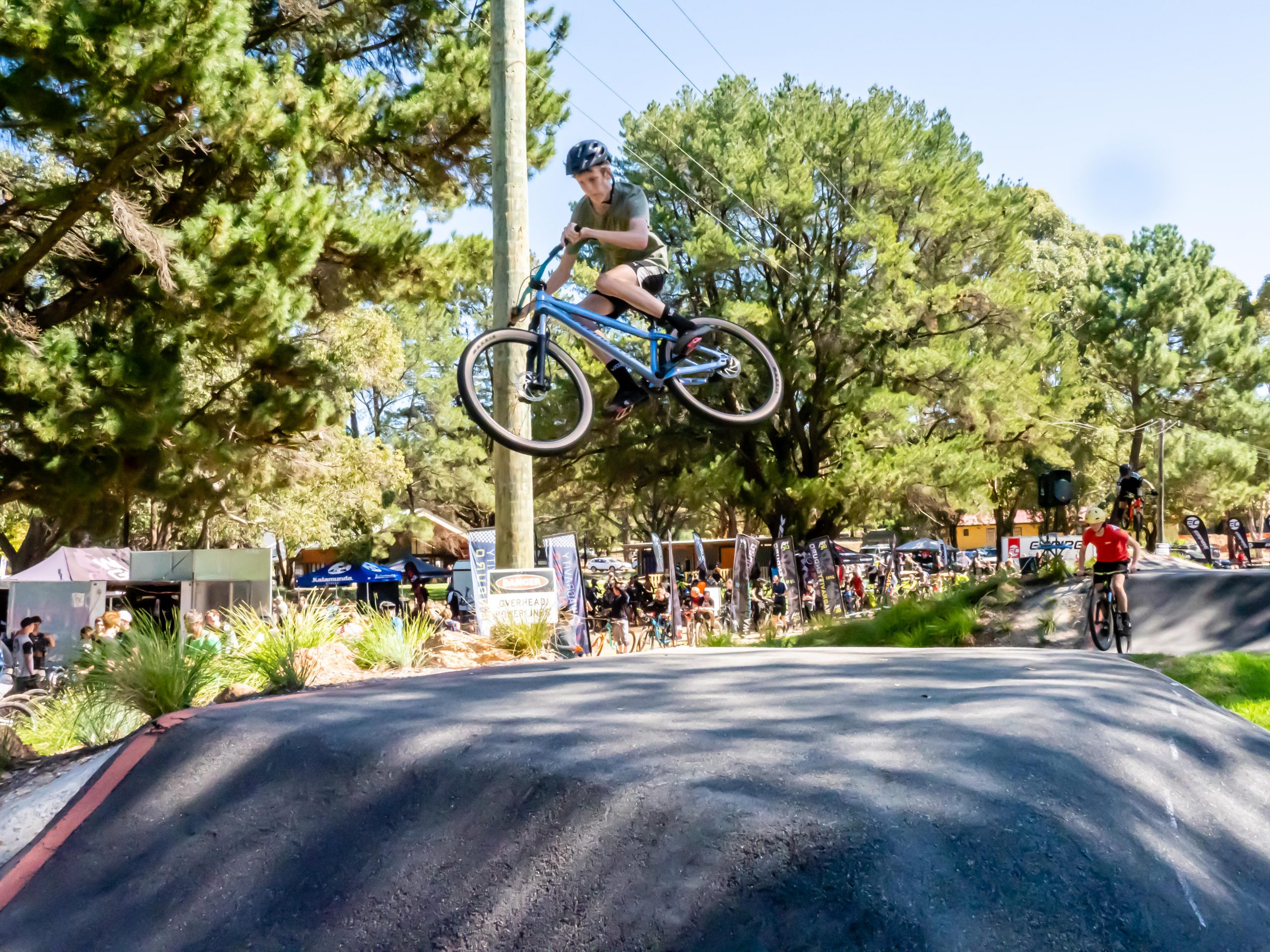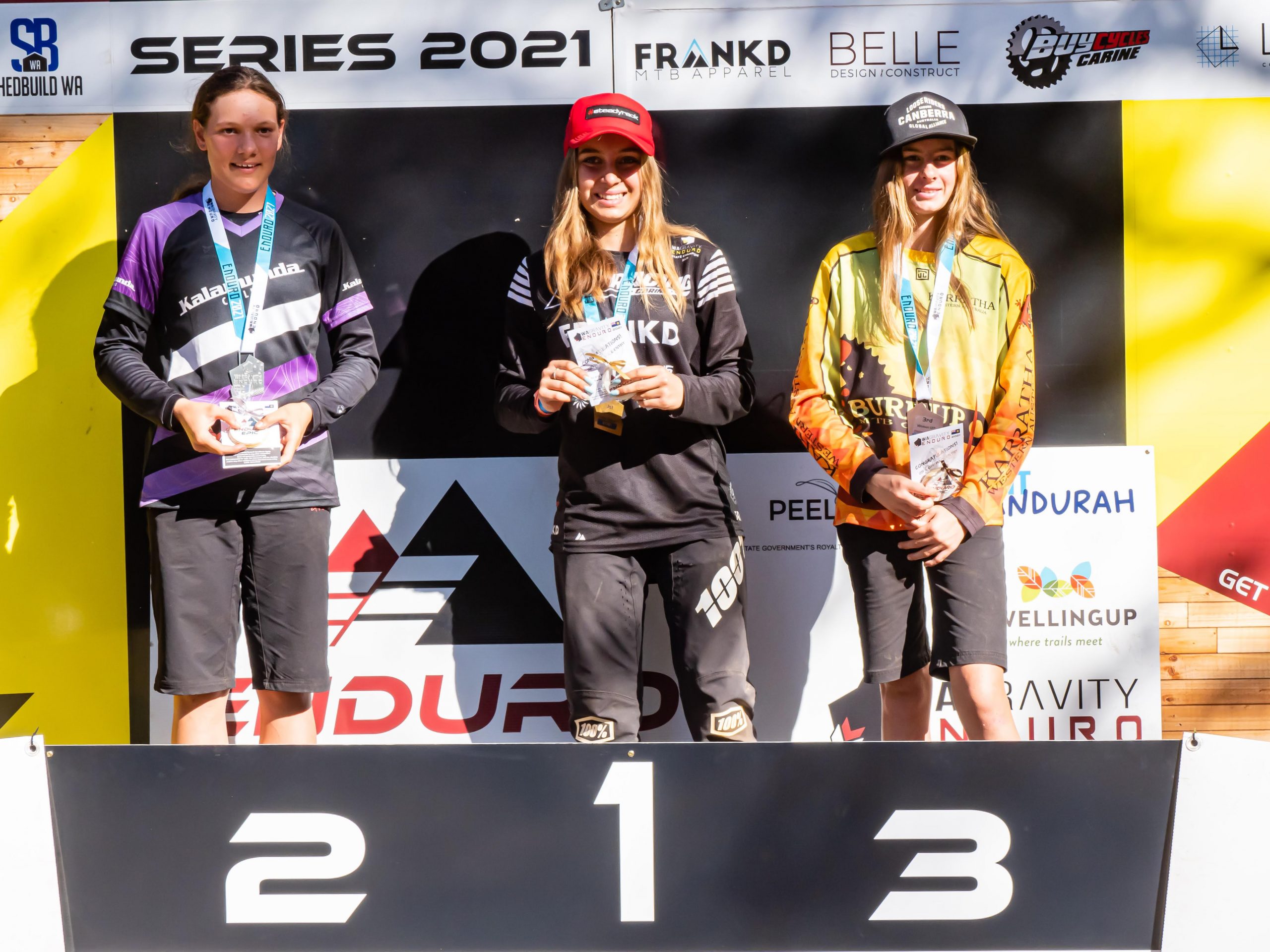 WA Gravity Enduro Racing Rules
Full Face Helmets Mandatory
Mechanical's are a part of racing. Always proceed to finish the stage by taking your SIAC past the finish beacon. A competitor carrying another person's SIAC is instant disqualification.
Competitors stopping to assist an injured rider are permitted a stage re-attempt, but must confirm with a marshal.
A short grace period for returning SIAC's is permitted past the estimated course closure time with final cutoff or time penalties decided by the Chief Commissaire. A 5 min penalty is awarded to any competitor returning SIAC's after presentations begin.
For a full breakdown of the rules, head to www.wagravityenduro.org/rulebook
Men Categories
Men U9 (Whippets)
Men U11 (Whippets)
Men U13 (Whippets)
Men U15
Men U17
Men U19
Men 19 – 29 (Weapons)
Men 30 – 39 (Warriors)
Men 40 – 49 (Masters)
Men 50 – 59 (Super Masters)
Men 60+ (Grand Masters)
Men (Full Enduro 19+)
Men eBike U40
Men eBike 40+
Men Welcome
Women Categories
Women U9 (Whippets)

Women U11 (Whippets)
Women U13 (Whippets)
Women U15
Women U17
Women U19
Women 19 – 39 (Warriors)
Women 40 – 49 (Masters)
Women 50+ (Super Masters)
Women (Full Enduro 19+)
Women eBike U39
Women eBike 40+
Women Welcome
Age / Gender Divisions
Ages are mandatory and based on age at 31st December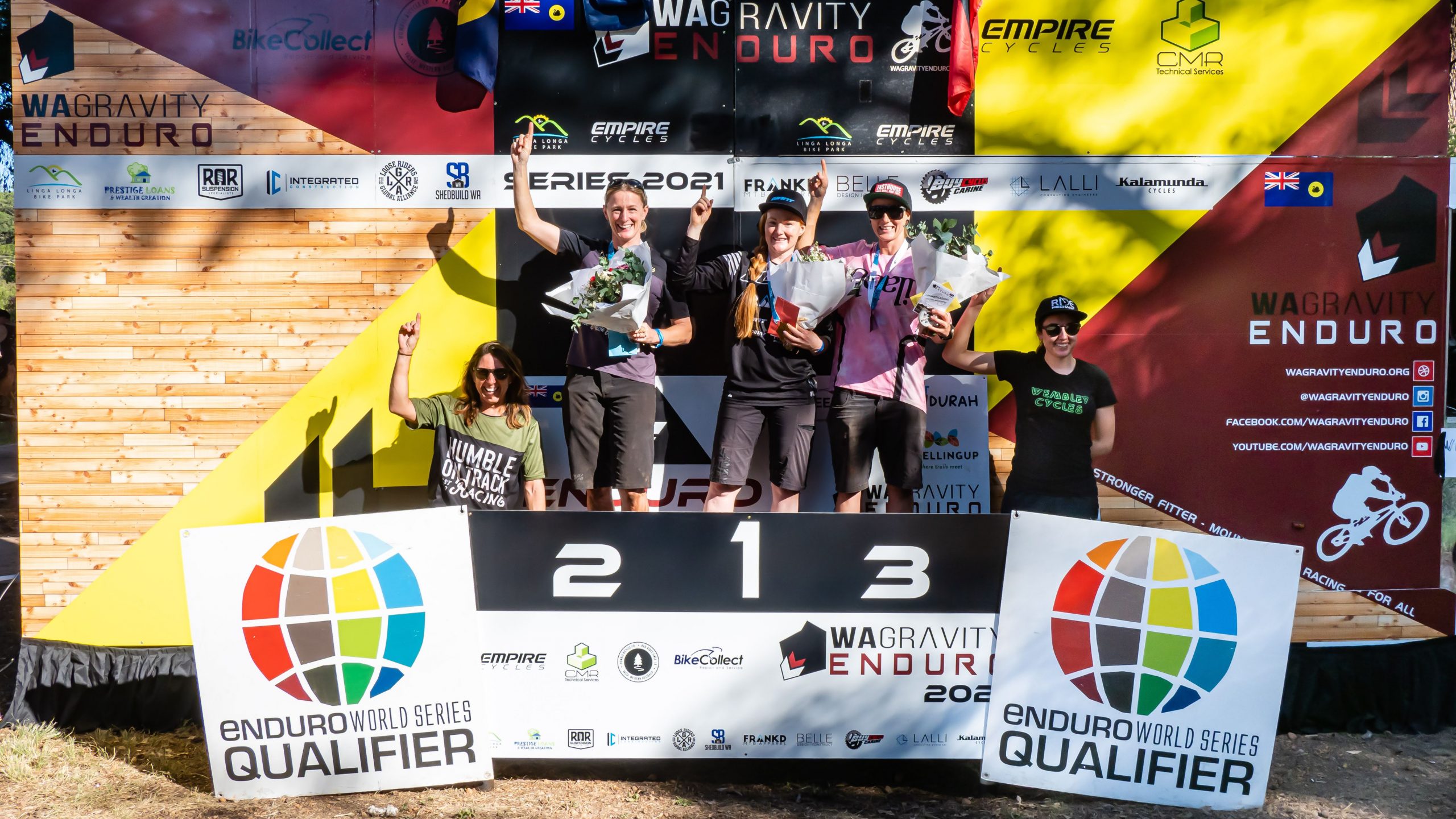 Dwellingup
McLarty Road, Dwellingup, Western Australia
Head to https://trailswa.com.au/trails/networks/murray-valley-dwellingup for a more in-depth guide on the trails
The Murray Valley Trails are managed through the Department of Biodiversity, Conservation and Attractions (DBCA). National Park Entry Fees apply for the public.
WA Gravity Enduro has approval by the Shire of Murray and DBCA to proceed with this event. Please be respectful of people and place at all times.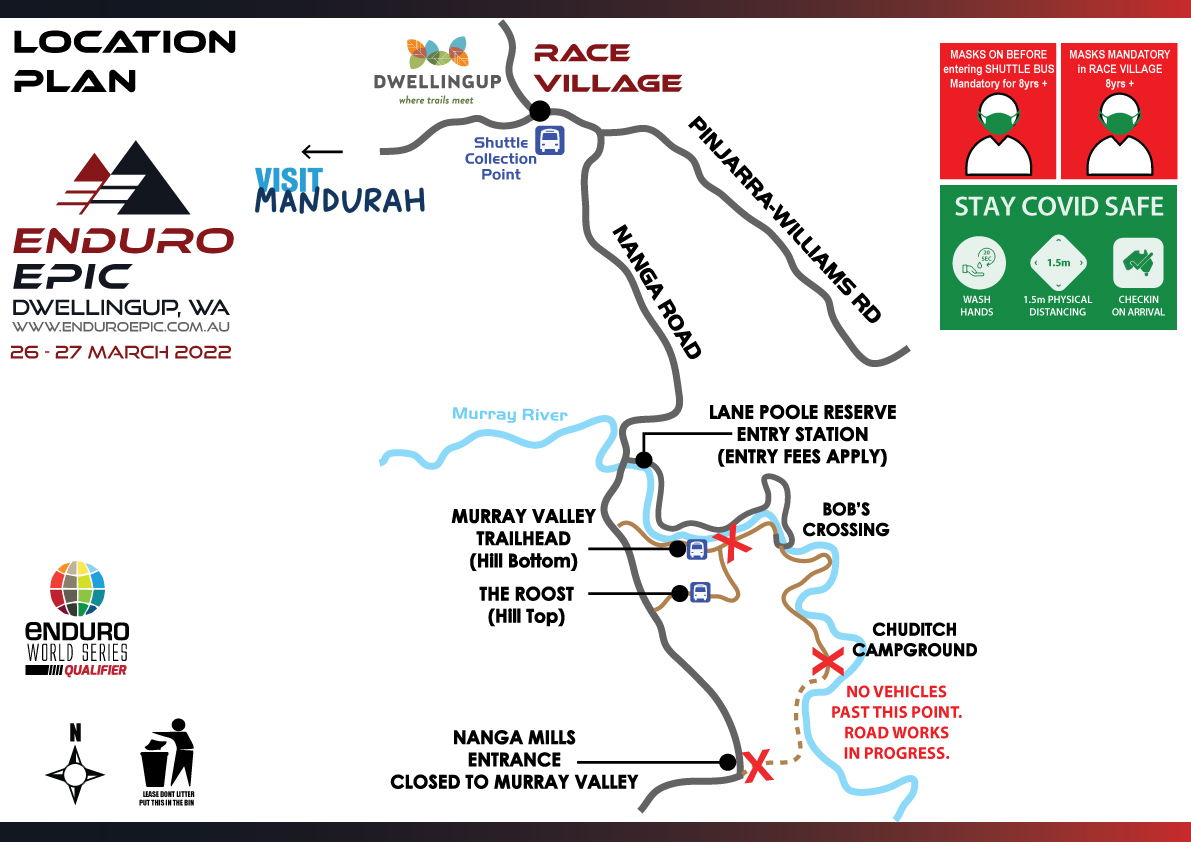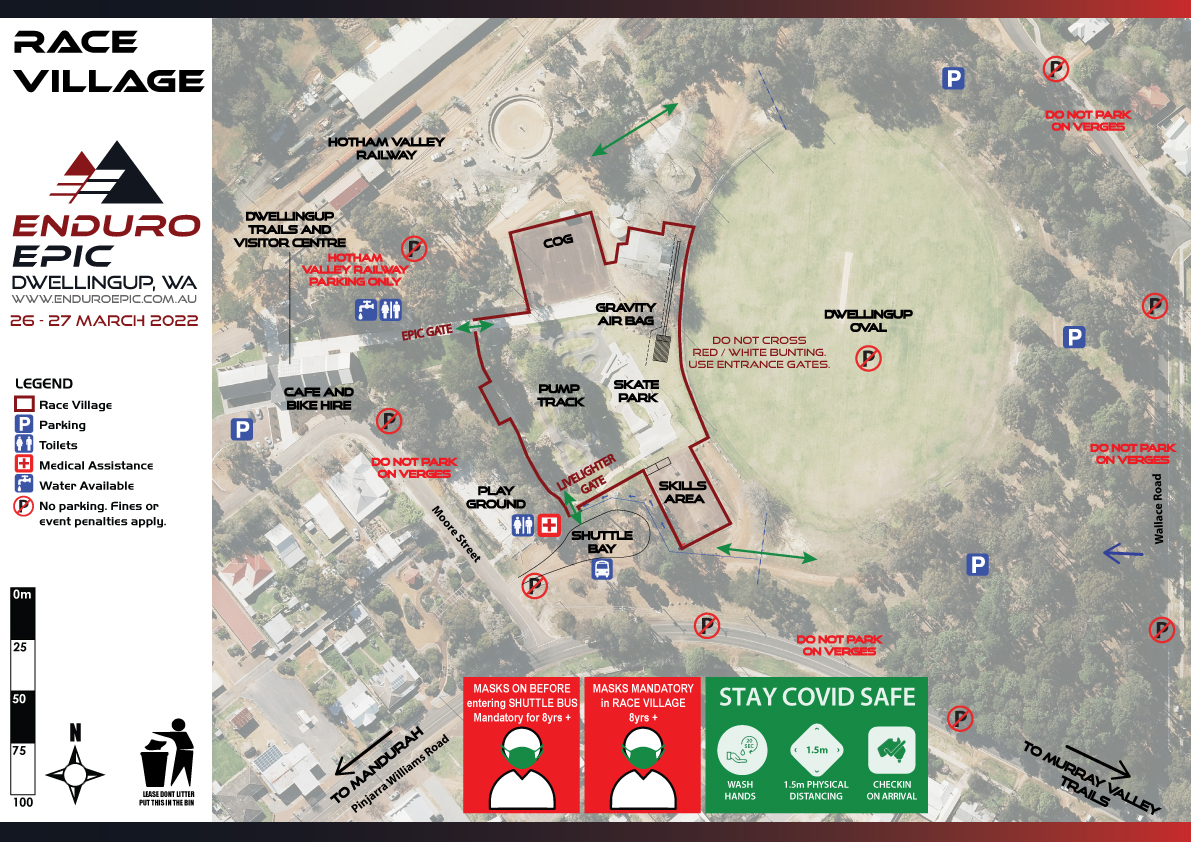 Latest Event Updates
05/Feb/2022 – Event Page Live, Entries Now Open
21/Mar/2022 –  Race Village Map updated, course map added, location plan updated
22/Mar/2022 – Competitor Start List now available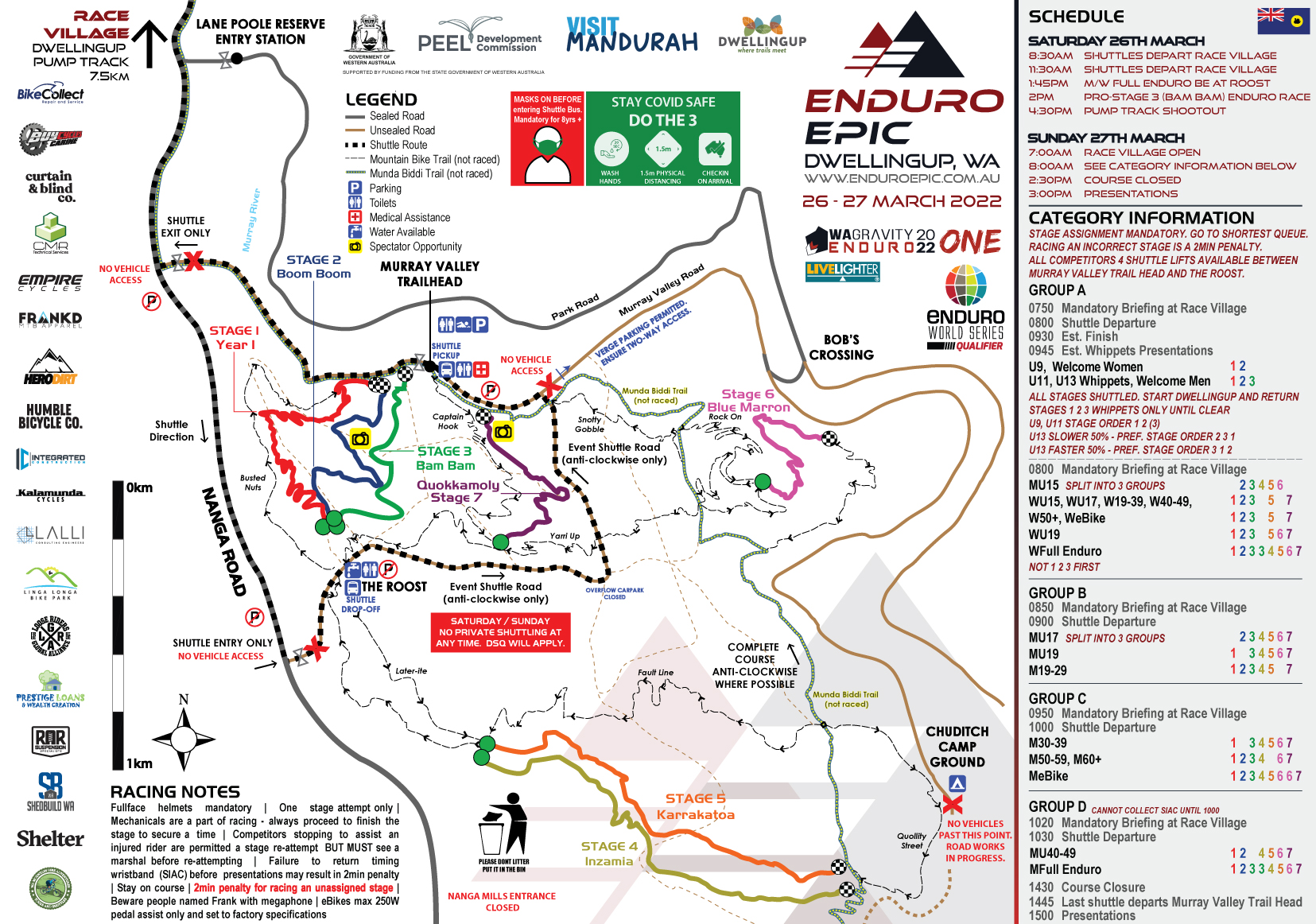 We aim to give you the Best Enduro Experience possible and work hard to provide the Best Value Event for your Money.
Organisation
Time required to bring together all facets of the Event.
Advertising
Facebook advertising, video reels and highlights, maps, website design, signage, Instagram feeds, YouTube clips take time and fees.
Sign-posted and Bunted Course
Arriving early to setup the course. This usually involves multiple people over hours or days ensuring bunting, signage and timing equipment are in place for easy navigation and fair racing.
Event Health Services
Your Entry Fee covers St John Ambulance Services being on-site for both Saturday and Sunday. We typically employ 4 x Technicians and engage with St John months in advance
Toilets
Typically, our Events exceed the venue existing facilities. Regional Services are engaged months in advance to deliver toilets. Hire costs continue to grow as Waste Management Fees continue to increase.
Race Village
It takes time to design the Race Village to enable our awesome Sponsors to arrive and setup in suitable locations to suite their needs. Careful attention to Parking, Pedestrians and Riders is needed for the safe and accessible movement of all attendees and event crew.
Applications and Insurances
Typically, several Stakeholders need to be engaged months in advance of any Event. We liaise with Local Governments, State Departments, Auscycling, Local Residents and Trail Custodians to act in the best interests of all parties while balancing a safe and exciting experience for our Community. Fees are required for Insurance and Event Applications.
Prizes, Gift Vouchers, Subsidies
At every Series round, we move $1 of your Entry Fee into our Enduro Pathway Program, donate $5 of your Entry Fee to Public Trails, offer more than $2,500 in Event Gift Vouchers to podium winners and offer $750 to our Elite Men and Women winners. We offer free entries to our Marshals, pay for professional services including multiple Photographers and Videographers and assist with fuel, food and accommodation costs for our Crew.
World's Best Timing System
Our Timing System is considered the World's Best as used at the Enduro World Series. Yearly licensing, hardware and software upgrades are continuous. Additionally, we send our timing bands back to Germany as required for battery replacements at considerable expense.
Continued Development
Once the essential Event costs are accounted for, we continue to research new ways to improve Results, Live Broadcasts, Mobile Phone Apps, data presentation, website development, manage existing equipment and improve our systems with the aim for a better experience for Competitors, Spectators and our Crew.