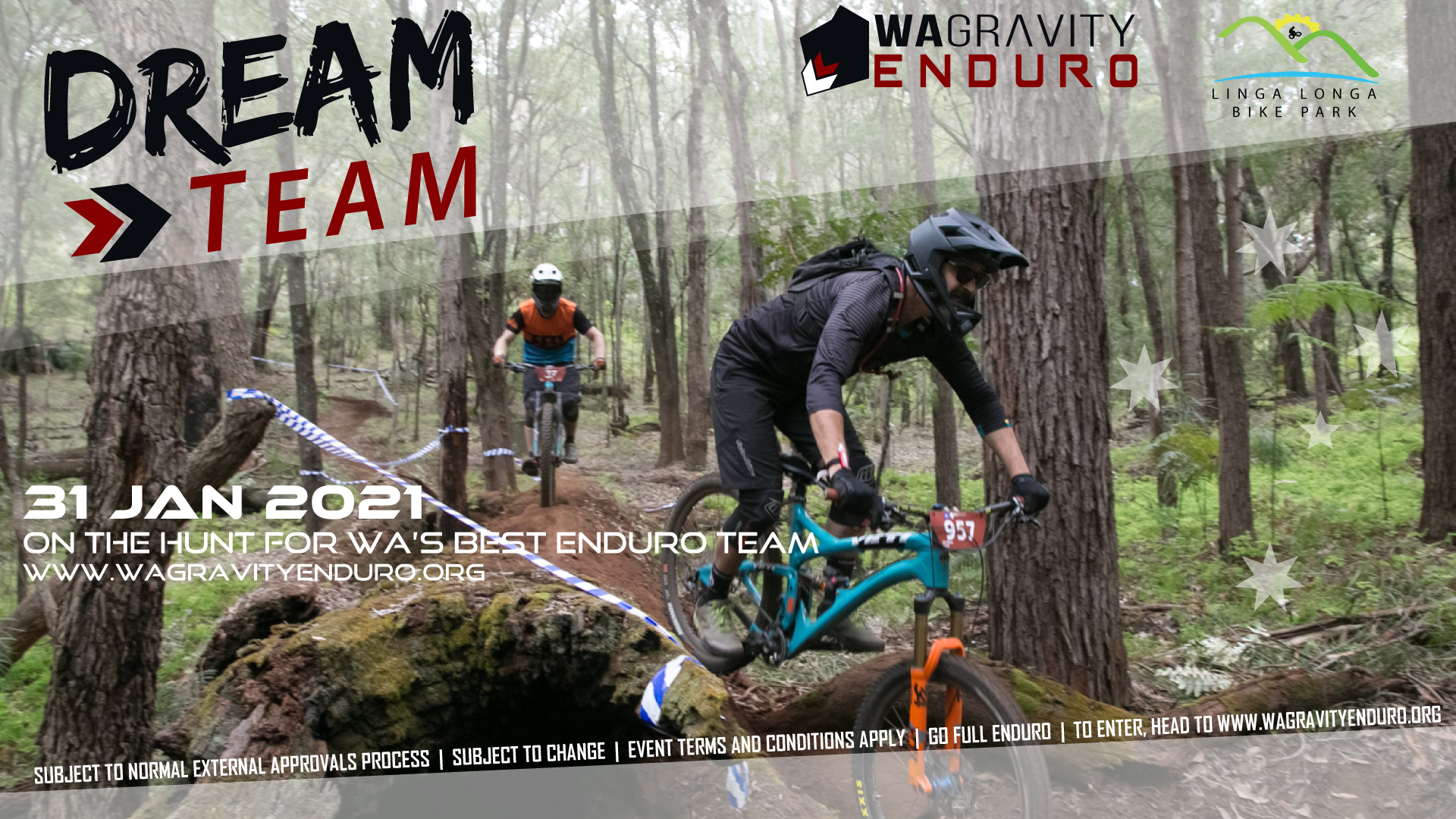 Dream Team 2021
WA Gravity Enduro Team Racing! Work with your mates and strategise your racing to beat other teams on the hill. We have adapted the racing for Linga Longa Mountain Bike Park to ensure you can race as many stages as possible with shuttles. With multiple Team Categories across age and gender, including Industry, Family, Easy and Ebike options, we aim to cater for fun, exciting and inclusive Team Racing.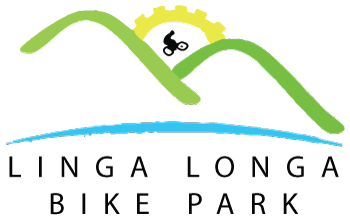 One of the biggest Enduro Event Nation-wide in 2020, Linga Longa is one of the best Enduro Venues in Western Australia. With a huge diversity of trails on offer, shuttle lifts, huge swimming dam, camping options and on-site cafe, it's easy to see why we love returning to Linga Longa Bike Park. 
Brief Schedule
Official Practice Saturday, 30th January 2021 9am – 4pm
Race Date Sunday, 31st January 2021
Race Briefings staggered from 8am
Race Starts following briefing
Race Finish approx 90min for Whippets to 4 hours for all stages
Presentations following return of all short course competitors (approx 10am) and following return of all long course competitors (approx 2pm).
Racing Information
Main Rules
Full Face Helmets Mandatory

Stage teams must consist of 3 to 6 competitors

Overall stage time is the average time of all riders

Overall category winner is based on the sum of all averaged stage times (lowest cumulative time is the winner).

Competitors must begin each stage within 30 seconds of each other teammate. Failure to comply is a 30 second penalty.

One competitor is permitted to enter a team in a more challenging category. eg. one U15 can enter the 15 – 29 category or one 30+ can join 15 – 29.
Team Category Selection (prices below are shuttle prices only. Normal WAGE Entry fee also applies).
Industry Team
An Industry Team represents a brand or organisation with their approval.
Please limit 2 Industry Teams per organisation where possible.
7 stages
Industry Team [Open]
Age / Gender Divisions
Ages are mandatory and based on age at 31st December.
Mixed Gender can be any number of men or women in the team, but must have at least 1 man and 1 woman.
Categories 15  – 29 can overlap other categories and can comprise of an Under 15 or a 30+ competitor.
Dream Team U13 [Mixed]|3 stages
Dream Team U13 [Men Only]|3 stages
Dream Team U13 [Women Only]|3 stages
Dream Team U15 [Mixed]|5 stages
Dream Team U15 [Men Only]|5 stages
Dream Team U15 [Women Only]|5 stages
Dream Team 15 – 29 [Mixed]|7 stages
Dream Team 15 – 29 [Men Only]|7 stages
Dream Team 15 – 29 [Women Only]|7 stages
Dream Team 30+ [Mixed]|7 stages
Dream Team 30+ [Men Only]|7 stages
Dream Team 30+ [Women Only]|7 stages
Family Team
Family Team must be legally bound (eg husband and wife and child of legal custody or siblings or step-siblings).

Family Team [Open]|5 stages
E Team (electric bike)
Competitors are required to ride up twice.
E Team [Open]|7 stages
Easy Enduro Team
Easy Enduro is a team racing the 3 easiest stages and non-competitive (no prizes)

Age and gender are open

Easy Enduro Team [Open]|3 Stages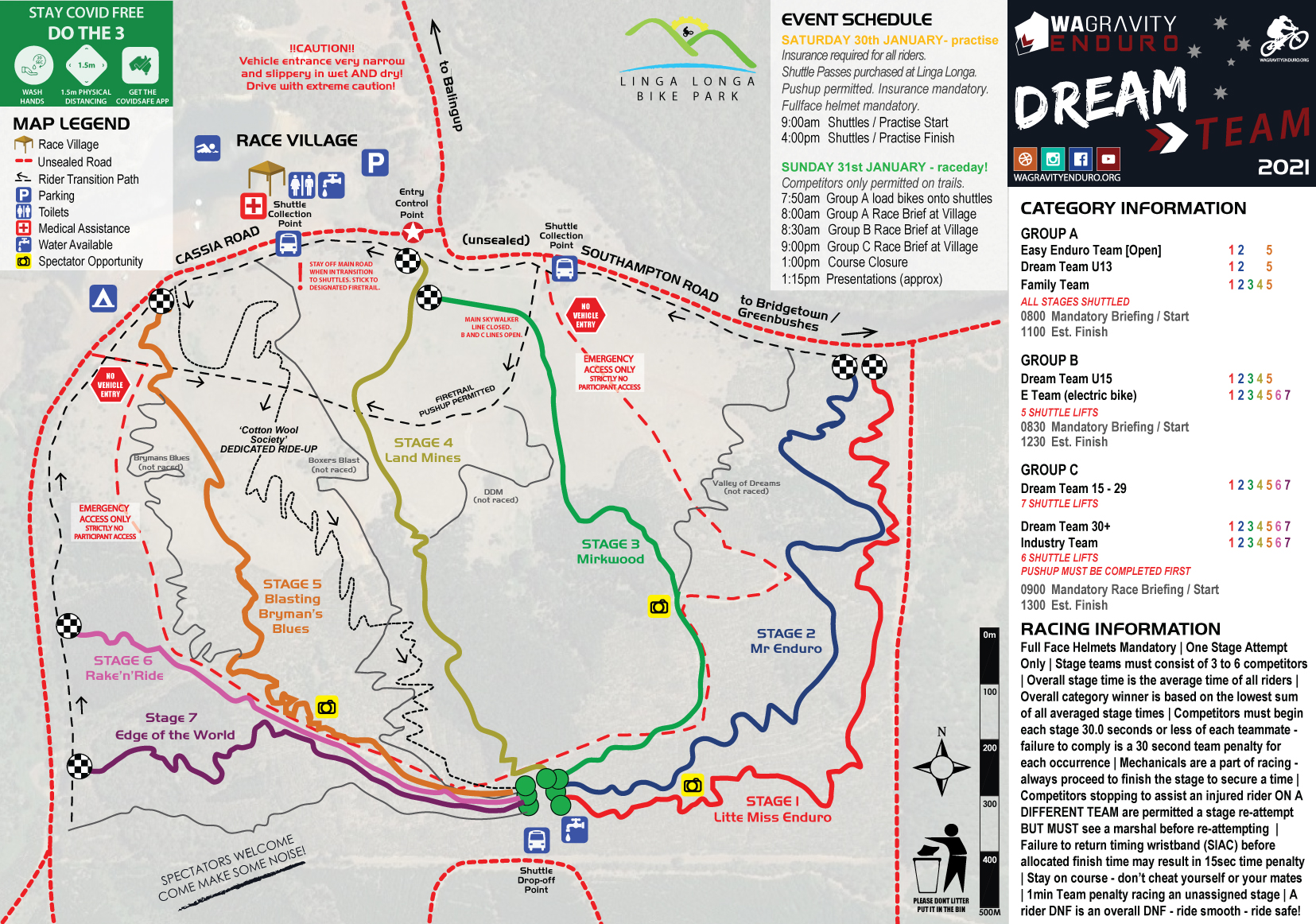 21/01/2021 Competitor Start List available here
13/01/2021 Updated rule: 
One competitor is permitted to enter a team in a more challenging category. eg. one U15 can enter the 15 – 29 category or one 30+ can join 15 – 29.
04/01/2021 Event added. Registrations open!
Premium Entries close Tuesday at midnight before race weekend. This gives us time to print custom raceplates and gives caterers time to organise food options.
Late Entries close Friday at 9pm before race weekend and attract a $10 late fee. Competitors cannot expect a custom raceplate and cannot expect food options to be accommodated for, but we'll try out best!
Ensure you have the same Team Name and Team Category when organising a Team with your mates.
There are two ways to enter:
Just enter yourself as an Individual and create a New Team or Join a Team.
Sign up 3 or more of your team mates and receive a 25% discount on your event entry (excludes shuttles). 
Gravity Enduro Mountain Bike Race
Multi-stage race. Timed descents and untimed climbs
Sign-posted and bunted course
Don't cheat yourself or your mates – stay on track
St John Ambulance on-site
Professional Medical Assistance available
Toilets
Portable or connected nearby
Race Village
Great atmosphere, questions answered and supplies
Volunteers and Fund Raising
Perks for vollies and funds donated to the trails
Gift Vouchers and Prizes
Heaps of prizes ready to be won for all
Elite Prize Money
Cold hard cash for the cream-of-the-crop
Professional Race Timing
We use the best Enduro World Series system
Hydration and Sustenance
Free water and free light meal with Prem. Registration
Frequently Asked Questions
How do I enter? Easy. Just click on the 'ENTER NOW' button located throughout the website. This will take you to your registration portal. If you are new to the registration portal, a one-time profile will need to be filled out. Returning competitors simply enter their email address, select their event and arrive at the Race Village on race-day to collect your timing chip and raceplate.
How much does it cost? We strive to keep our entry fees as affordable as possible. Entry fees vary based on your category and start from only $29 for the Under 13's. Insurance selection and location can slightly vary the price, but we try to stay as consistent and affordable as possible.
Where is the course map? Gravity Enduro is about the excitement of racing a course with little to no knowledge of the course. This helps create a more level playing field and better tests your mountain biking skills. We usually release the course map on the Monday before the weekend's race.
Do I have to go to race briefing? Yes. Race briefing is mandatory and occurs at the race village 15 minutes before race start. It is essential that you get a full report on the course (and any potential changes), safety requirements and to ensure everyone starts the race from the same location.
I missed registration! We can accept late registration online and on the day plus a $10 surcharge. Places are limited and may not be possible if the event is sold out.
Can I get a refund? From the Monday at 9am before the race weekend, refunds, transfers to other competitors or credits are not possible. Before Monday 9am, yes, we can offer a full refund minus 10% administration fees.