Round 4
Linga Longa Bike Park, Balingup
Race Village at Linga Longa
Sun, 11th Jun 2017
Race Date
Sat 4:30pm, Sun 7:45am + 9:30am
Mandatory Race Briefing
Elite 8:15am, the rest - you chose!
Race Start
3:00pm
Estimated Presentations
WA Gravity Enduro is privileged to host this event as:
ALL Event Registrations close 11:59pm AWST – Wednesday 7th June, 2017. No Event Entries can take place after this time.
Linga Longa Mountain Bike Park is a private farm located in Southampton – approximately a 3hr drive south of Perth, Western Australia. Custom built trails by Three Chillies Design and Construction and a training playground for Sam Hill, Linga Longa boasts diversity from the rocky and raw 'point it down' type trails of Huggies and Rake 'n' Ride, to fun and flowy trails namely Valley of Dreams and Boxers Blast, to the trail aptly named Mr Enduro which pretty much sums up all of the elements of Gravity Enduro in one trail. With the Race Village and campsites sitting on the edge of a magnificent freshwater dam, its makes a fantastic backdrop to the trails as well as a magic location when the campfires and burning at night.
There are now two simple entry options
Option 1) Enter as a WAGE Competitor for the Chain Reaction Cycles WA Gravity Enduro Series ONLY. You must be registered on this website, logged in and you will see the standard entry form below. Normal WAGE Categories will be in effect.WAGE Competitors are not eligible for MTBA National GE podium placings or prizes. OPEN
Pricing structure is indicated below:
U13 (Wippets)| $25
U15 and U17 $39
U19 $45
Elite, Expert, Sport, Masters and Super Masters $65
Option 2) Enter as an MTBA National GE Competitor. You must register through the MTBA available here. OPEN
Perks include:
the ability to earn points for the MTBA National GE Series
queue priority – MTBA National GE Competitors are permitted to move to the front of any queue.
automatically being a part of the WA Gravity Enduro Series meaning possible additional podium placings and prizes.
Saturday Dinner and Sunday Lunch to the value of $20 ($10 per meal)
Notes:
In both WAGE and MTBA options for this round, U15 and U17 require MANDATORY additional equipment:

a. Full-finger gloves must be worn

b. Elbow pads must be worn

c. Knee pads must be worn.

Neck braces are highly recommended.

WA Gravity Enduro operates MTBA 'Standard A,' meaning helmets with detachable mouthpieces are permitted and the mouthpiece must be engaged at all times during racing the Special Stage/Timed Section. Further information here.
Practice Shuttles and Camping options are available Sunday 28th May, Friday 9th June and Saturday 10th June and managed through Kalamunda Mountain Bike Collective. Purchase tickets here.
Shuttles will not be operating on the event day – Sunday, 11th June 2017
Enduro World Series Points will be accumulated for all participants
Number of stages will vary for particular WAGE and MTBA Categories (to be determined).
Questions? Camping and Shuttling: kalamundacollective@gmail.com

Questions? Linga Longa Bike Park Facilities: admin@lingalongabikepark.com

Questions? Racing: steve@wagravityenduro.org steve@wagravityenduro.org
[hide for="logged"]You must be signed up and logged in to enter this event.[/hide][hide for="!logged"][/hide]

The 2017 Gravity Enduro National Series will be made up of five individual rounds:
Round 1 – April 22-23 | Falls Creek, VIC
Round 2 – May 20-21 | Stromlo Forest Park, ACT
Round 3 – June 10-11 | Balingup, WA (EWS Qualifying Series)
Round 4 – July 8-9 | Rockhampton, QLD (EWS Qualifying Series)
Round 5 – August 12-13 | Woodford Island, NSW
MTBA GE National Series Categories

Elite Men and Women (19yrs+)
Expert Men and Women (19-29yrs)
Junior Men and Women (17-18yrs)
Under 17 Men and Women (15-16yrs)
Under 15 Men and Women (13-14yrs)
Masters 1&2 Men and Women (30-39yrs)
Masters 3&4 Men and Women (40-49yrs)
Masters 5&6 Men and Women (50-59yrs)
Masters 7&8 Men and Women (60-69yrs)
Age for all categories will be calculated based on age at 31st December 2017
WA Gravity Enduro present the final event results to MTBA for their overall Series points allocations

Ever dreamed of racing on the World Stage? Well here is a huge opportunity! Enduro World Series have created a 'Reserve List' giving competitors an opportunity to gain points from racing in official EWS Qualifier Events from around the world. It is not an official entry to an EWS Event, but it is a huge leap forward for dedicated enduro compeittors. With these events in huge demand and often over-subscribed, it gives competitors in the 'Reserve List' an advantage when entering an Enduro World Series event.
Top ranked EMBA members competing in the 2017 Series will be added to the EWS Reserved List and will be eligible for priority registration for all the 2018 EWS Rounds. (100 Men, 40 Women, 20 Master 40+, 20 U21).
The winner in each official EWS category at every Qualifier Series will also be automatically added to the Reserved List (providing winner is an EMBA member).
There is no minimum number of races which must be completed in order to be included in the overall rankings.  But only a rider's best 3 results will be counted in the final overall ranking.
Riders must be EMBA members (pro memberships) in order to be eligible to collect EWS Qualifier Series ranking points / be added to the EWS Reserved List.  Riders MUST have [EMBA] membership before the race – points will not be assigned retroactively.  The 2017 memberships will be available at the end of January once we open entries for the 2017 season.
WA Gravity Enduro present the final event results to EWS for their Reserve List points allocations.
Additional Resources

07/06/2017
Course information now available! High resolution version here.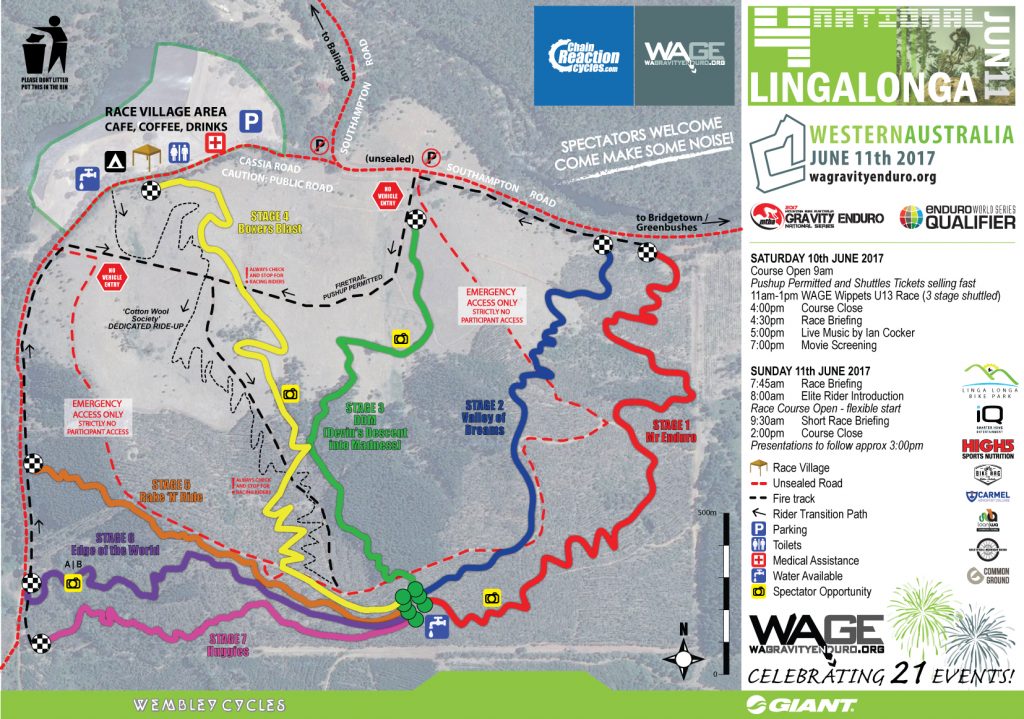 Please note minor revisions to the up-climb and minor modifications to the 'Racing Stages' schedule.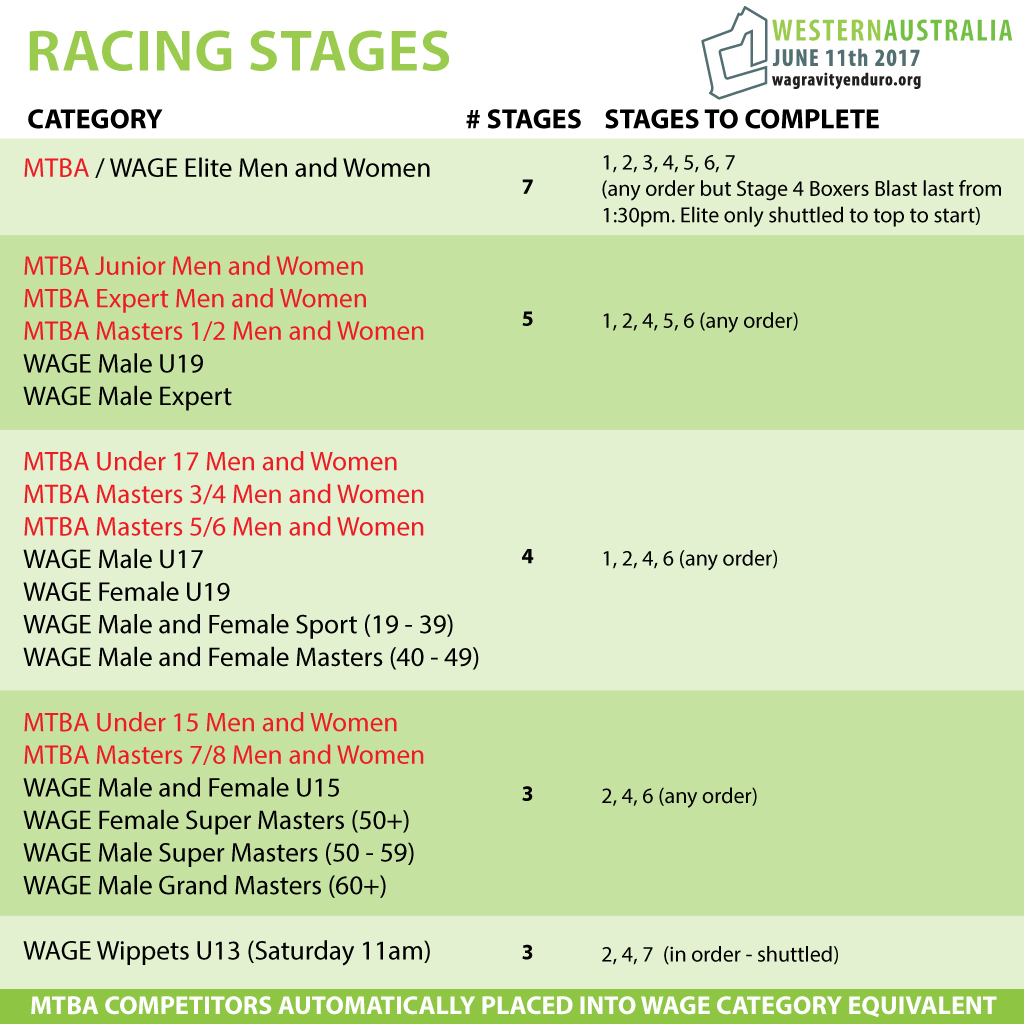 20/05/2017
WA Gravity Enduro competitors option now available and open
03/05/2017
Registrations are open. Please register through the Mountain Bike Australia Portal here
Gravity Enduro Mountain Bike Race
Descents are timed – climbs are untimed
Sign-posted and bunted
Don't cheat yourself or your mates – stay on track
St John Ambulance on-site
Please thank these amazing volunteers
Toilets
Either on-site or portable delivered
Pumping race village atmosphere
Meet here to sign in, for race briefing, food, drink and presentations
Volunteers!
Here to keep you safe and ensure a fair race. Give 'em a high5!
Gift Vouchers and Prizes
For 1st, 2nd and 3rd place winners plus spot prizes
Cold hard cash for Elite
WA Gravity Enduro giving back to our Elite competitors
Food for competitors
Usually some un-hearty sustenance!
Free hydration at the race village
Thanks to High 5 Sports Nutrition
Frequently Asked Questions
Where is the course map?
Gravity Enduro is all about riding the course with little to no knowledge of the course. This helps create a more level playing field and better tests your mountain biking skills. We usually release the course map on the Monday before the weekend's race.
Do I have to go to race briefing?
Yes. Race briefing is mandatory and occurs at the race village 15 minutes before race start. It is essential that you get a full report on the course (and any potential changes), safety requirements and to ensure everyone starts the race from the same location.
Are shuttles permitted?
Unless explicitly written and communicated, shuttles are not permitted at any time during the race. Failure to comply will result in disqualification.
How does the timing system work?
You are given a wrist band that you must wear on your right wrist. You will see a 'timing box' at the start gate and finish gate of each stage. 'Tag-on' and 'tag-off' at these timing boxes using your wrist band – similar to the Transperth Train service tagging system. Your tag records and stores the time on each timing box. We collect these up at the conclusion of the race and run it through our custom software to generate your race times. To ensure no additional fees, return your wristband after the race. Lost wristbands will incur a $15 fee.
Can I get a refund or transfer an entry?
Less than 7 days from event – no. Refunds or transfers to other competitors or other races are not possible. Injury with a doctors note will be considered. We have booked in all necessary equipment based on your race entry at this stage. More than 7 days from event – yes. We will refund your entry (minus 10% administration fees and charges).
Missing registration cut-off!
Due to additional administration duties, a $15 surcharge is applicable for competitors who register in the Late Registration time period. Depending on the event, race day registrations may be possible but are limited and will incur a $25 late fee. Contact steve@wagravityenduro.org as soon as possible.