DREAM TEAM RACING
Full face helmets mandatory

Stage teams must consist of 3 to 6 competitors

Team stage time is the average time of all riders

Team category winners are based on the lowest sum of all averaged stage times

Teammates must start each stage within 30seconds on each other. 

Every Team competitor must complete the course. If one Team competitor DNF's, the Team DNF's.

Mechanical's are a part of racing. Always proceed to finish the stage by taking your SIAC past the finish beacon. A competitor carrying another person's SIAC is instant disqualification.

Competitors stopping to assist an injured rider are permitted a stage re-attempt, but must confirm with a marshal.

A short grace period for returning SIAC's is permitted past the estimated course closure time with final cutoff or time penalties decided by the Chief Commissaire. A 5 min penalty is awarded to any competitor returning SIAC's after presentations begin.
Start List will be updated 5pm each day
The 3rd Annual Dream Team!
Champagne showers are on offer for the top 3 teams of each category. Something for everyone, we have a huge range of Team options available to ensure inclusiveness and competition for any Team in any stage of their mountain biking lifestyle.
Highlights include dusty trails, blistering sunshine, a cold swimming dam, shuttle-lifts and great times racing with mates against mates! Year-on-year, this is a fun way to kick off the year, blow off the racing cobwebs and have a rad time with you friends, family and mates.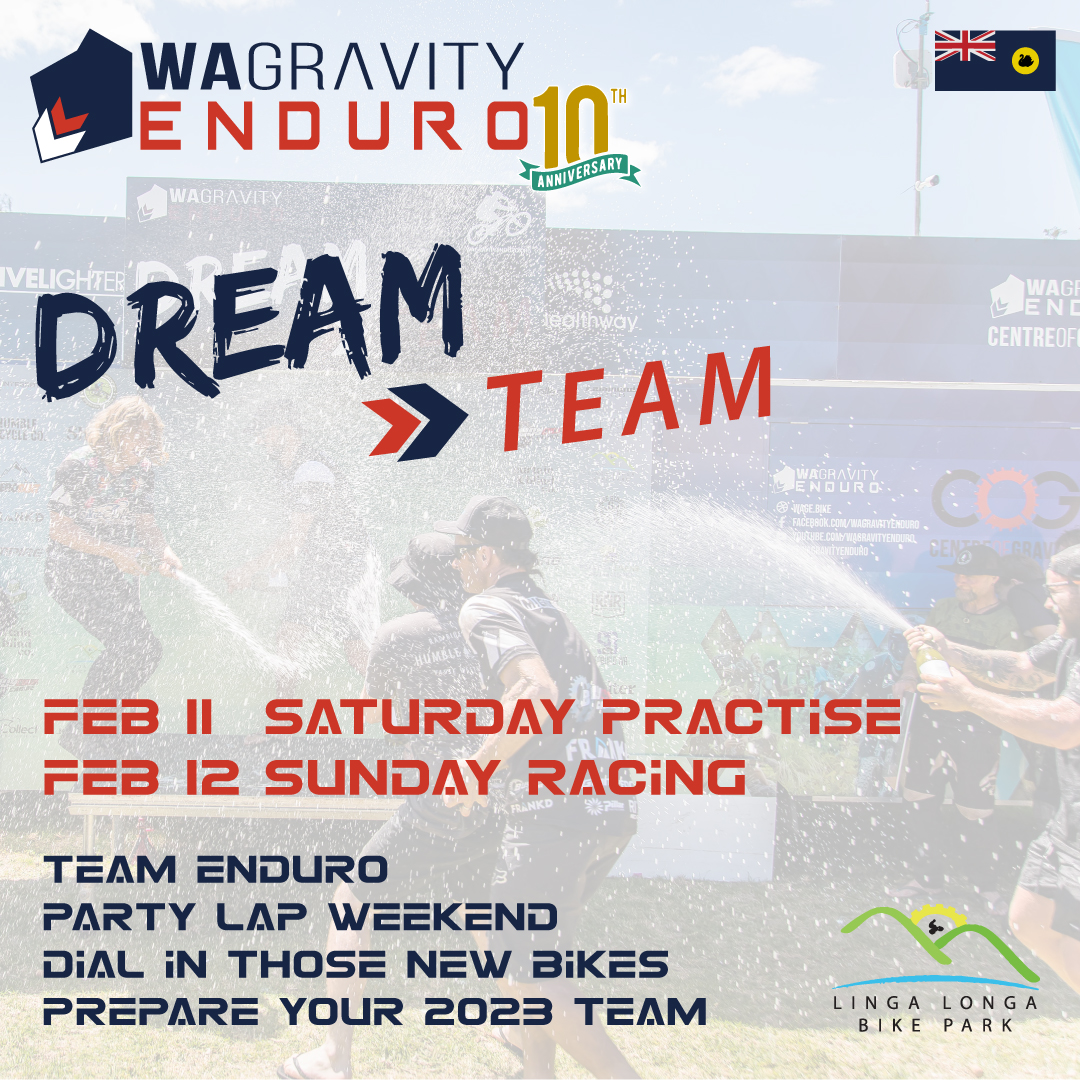 Venue
Linga Longa Bike Park is one of the ultimate gravity-style mountain bike venues in Western Australia and is highly regarded as one of the best Mountain Bike Parks Australia-wide.
Paradise awaits with ample caravan parking and camping spots surrounding a beautiful swimming lake with a backdrop of stunning West Australian native bushland.
Feel free to setup the stove or head to the fully-stoked cafe and purchase a delicious, hearty meal. For more information, head to www.lingalongabikepark.com
For the safety and comfort of all attendees, dogs are not permitted. Mobile phone reception is 'hit'n'miss' at Race Village but can be improved higher up the main hill. Please direct questions regarding the Park to admin@lingalongabikepark.com
Every person (non-competitor, competitor, event crew) must sign the waiver prior to entry which can be found here.
Course
Intermediate to Advanced riders will appreciate the challenges of the trails, but competitors with at least one year of mountain biking experience will be able to descend the trails. All technical trail features and gap jumps have 'B' lines (slower, easier line). Race Courses are designed for the Team Category selected. For example, the Industry Team is required to complete 7 challenging trails, whereas the Easy Enduro Team is only required to complete 3 of the easiest stages available. Team Category information is available below.

Course Grading
Technical Ability – Expert
Physical Rating – 2
This is the approximate Course Grade for the most difficult category.
More information about Course Grading.
Accommodation
Linga Longa Bike Park is a private venue with excellent caravan and camping areas. Payment is payable upon entry. Please follow the direction of the very helpful team on-site who will direct you to the best available area. Ample toilets, shower facilities and fresh water are available. Glamping tents available through Linga Longa www.lingalongabikepark.com
You can pay at the Linga Longa gate upon entry for camping, or to pre-book for peace-of-mind and ease at the gate, head to https://lingalonga.checkfront.com/reserve
Parking
Ample parking is available for day arrivals. Linga Longa Bike Park request a very modest $5 non-competitor entry fee (not applicable for overnight camping guests or competitors) to assist with costs associated with Parking Management, toilet and shower use and non-competitor shuttle lifts.
Spectators
Spectators are welcome to walk up the side of trails but please ensure you are behind course bunting at all times and at least 2m off the trail when riders are descending. Look for Spectator points indicated on the Course Map for viewing opportunities. Always be aware of snakes, bring adequate hydration and wear good walking shoes. Where available, catch a Linga Longa Shuttle Bus to the top of the Trailhead and walk down.
Shuttles
No private shuttles are permitted. Linga Longa Bike Park or WA Gravity Enduro cannot be held responsible for any damage or theft of equipment. Please always check your bike is  secured to the shuttle trailer before entering the shuttle bus. This is a Private event and Saturday shuttles are reserved for WA Gravity Enduro competitors racing on Sunday.
Saturday shuttles can be purchased here.
Saturday Shuttle confirmation list here (updated 5pm each day).
Team Categories
Industry Team
An Industry Team represents a brand or organisation with their approval.
Please limit 2 Industry Teams per organisation where possible.
7 stages with 6 shuttle lifts (pushup to be completed first)
Industry Team [Open]
Age / Gender Divisions
Ages are mandatory and based on age at 31st December 2023.
Mixed Gender can be any number of men or women in the team, but must have at least 1 man and 1 woman.
Categories below are permitted to have 1 rider whose are is just outside of the age category to form a team, as long all other riders are within the age category. eg Permission is granted to an U13 team comprising of 4 x U13 and 1 x 13yr old or an U15 team comprising of 5 x U15 and 1 x 16yr old
All stages shuttled
Dream Team U13 [Mixed]|3 stages
Dream Team U13 [Men Only]|3 stages
Dream Team U13 [Women Only]|3 stages
Dream Team U15 [Mixed]|5 stages
Dream Team U15 [Men Only]|5 stages
Dream Team U15 [Women Only]|5 stages
Dream Team 15 – 29 [Mixed]|7 stages
Dream Team 15 – 29 [Men Only]|7 stages
Dream Team 15 – 29 [Women Only]|7 stages
Dream Team 30+ [Mixed]|7 stages
Dream Team 30+ [Men Only]|7 stages
Dream Team 30+ [Women Only]|7 stages
Family Team
Family Team must be legally bound (eg husband and wife and child of legal custody or siblings or step-siblings).

Family Team [Open]
5 stages all shuttled
E Team (electric bike)
Competitors are required to ride up once.
E Team [Open]
7 stages with 6 shuttle lifts (ride-ups to be completed first)
Easy Enduro Team
Easy Enduro is a team racing the 3 easiest stages and non-competitive (no prizes)

Age and gender are open

Easy Enduro Team [Open]
3 Stages all shuttled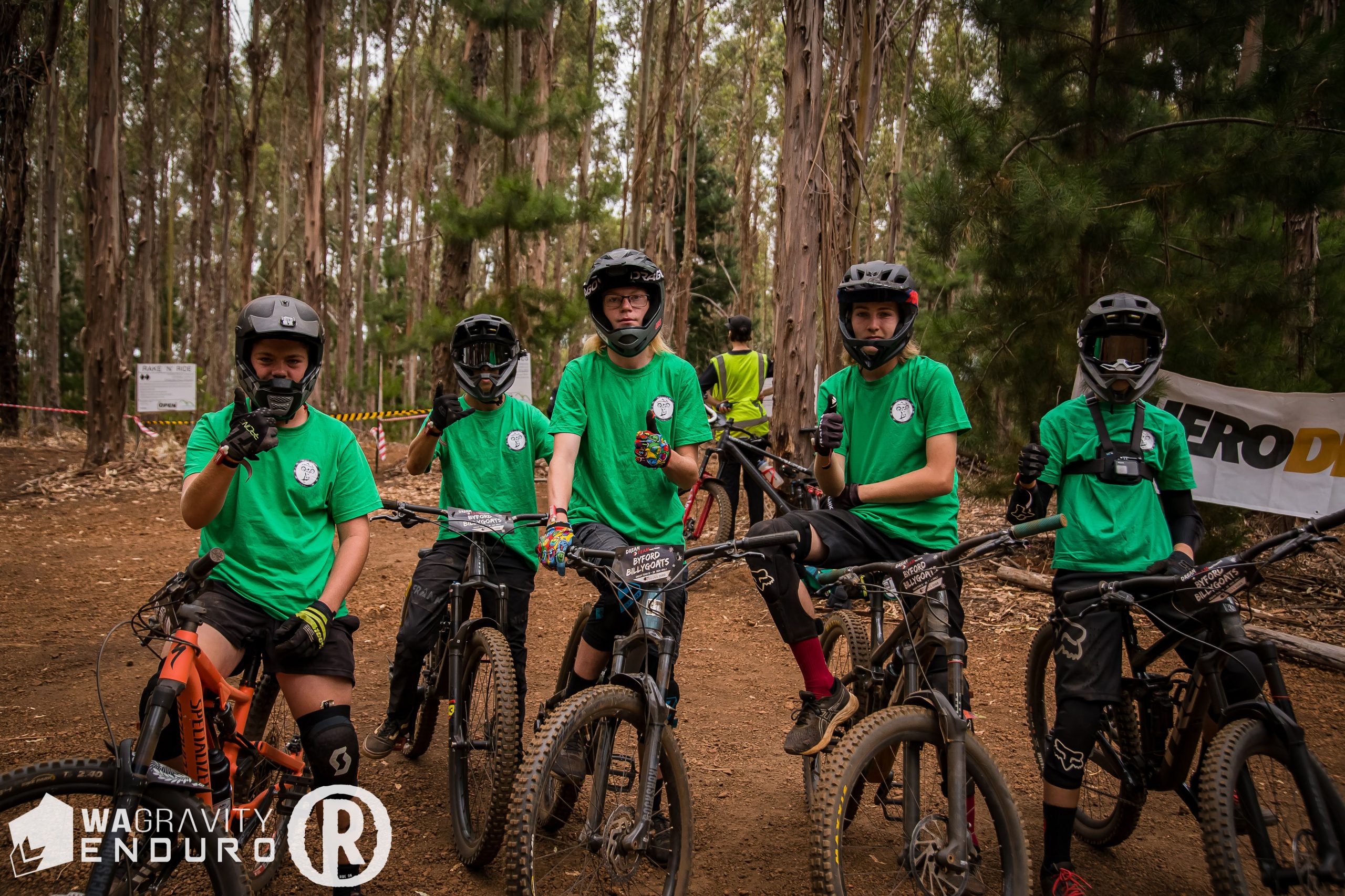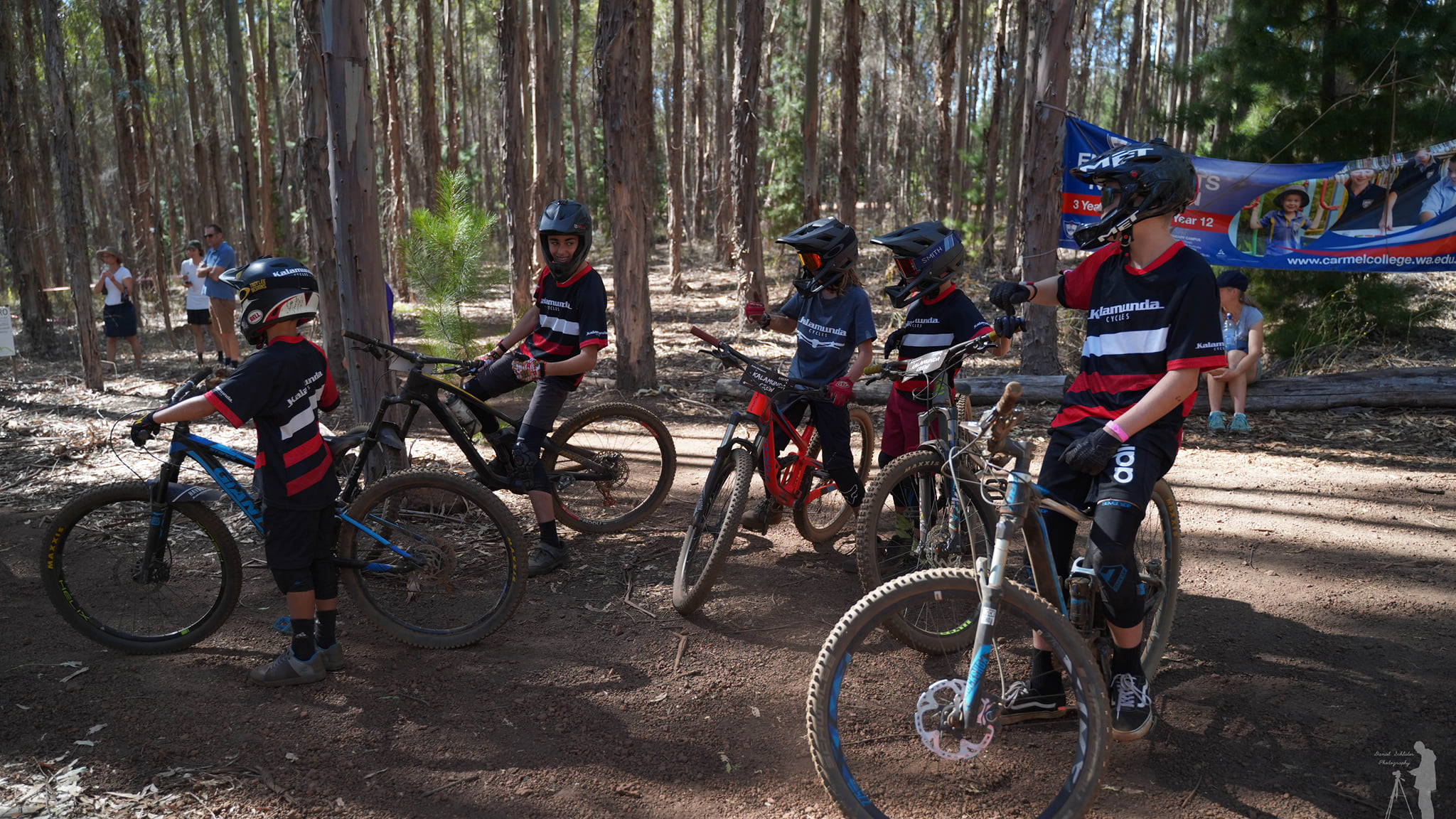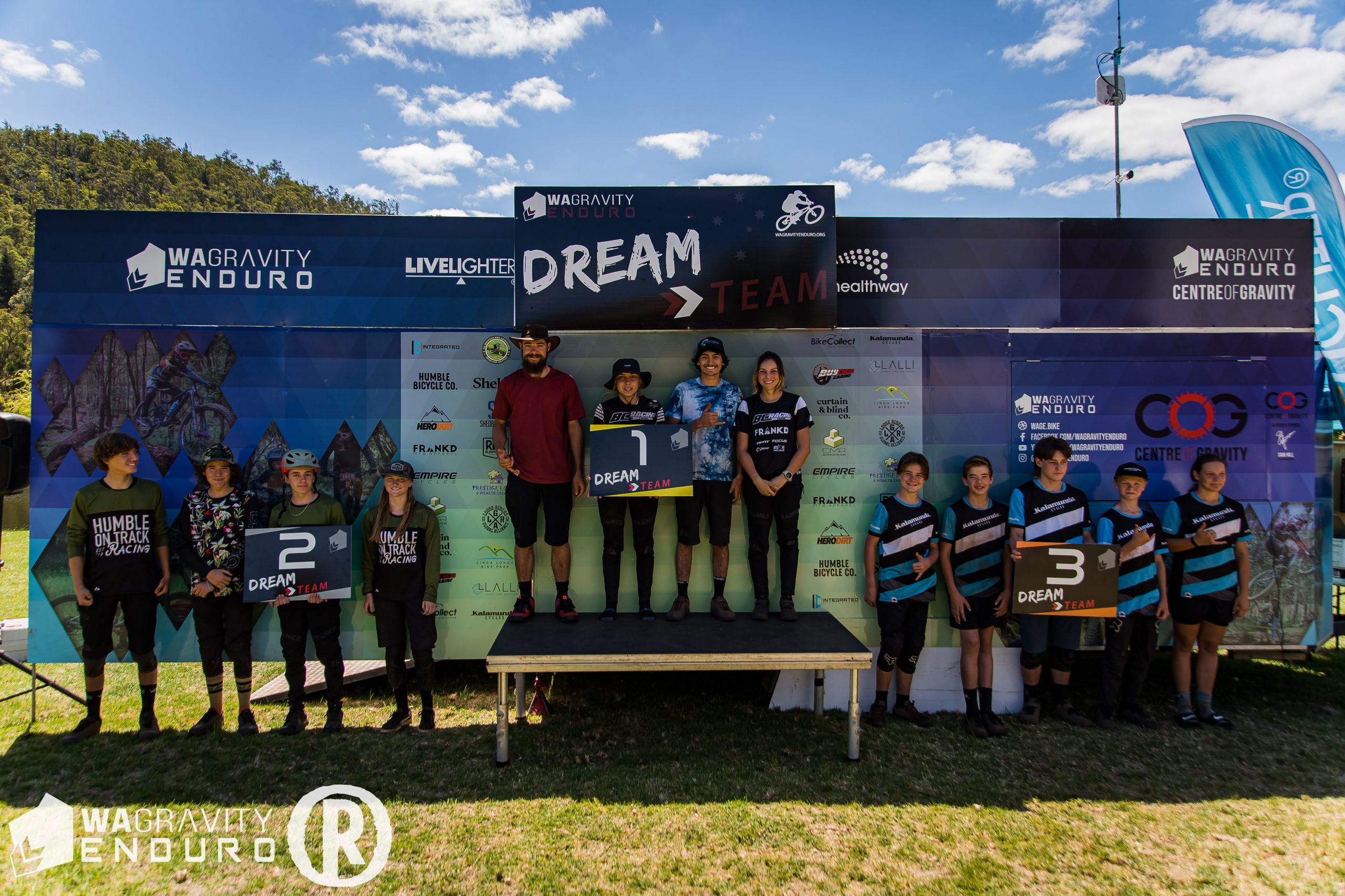 Linga Longa Bike Park
Cnr Cassia Road and Southampton Road, Southampton
Western Australia, 6253
Linga Longa Bike Park is a Private Venue located in the Shire of Donnybrook-Balingup.
WA Gravity Enduro has been heading to the Park every year since the trails were opened in 2016. The trail network is extensive and continues to grow. Shuttles are a highlight at this venue and are extremely well organised during practise and racing with two pickup points available and one trailhead dropoff point. A new trailhead dropoff point is available during practise only on the 'Western Front.'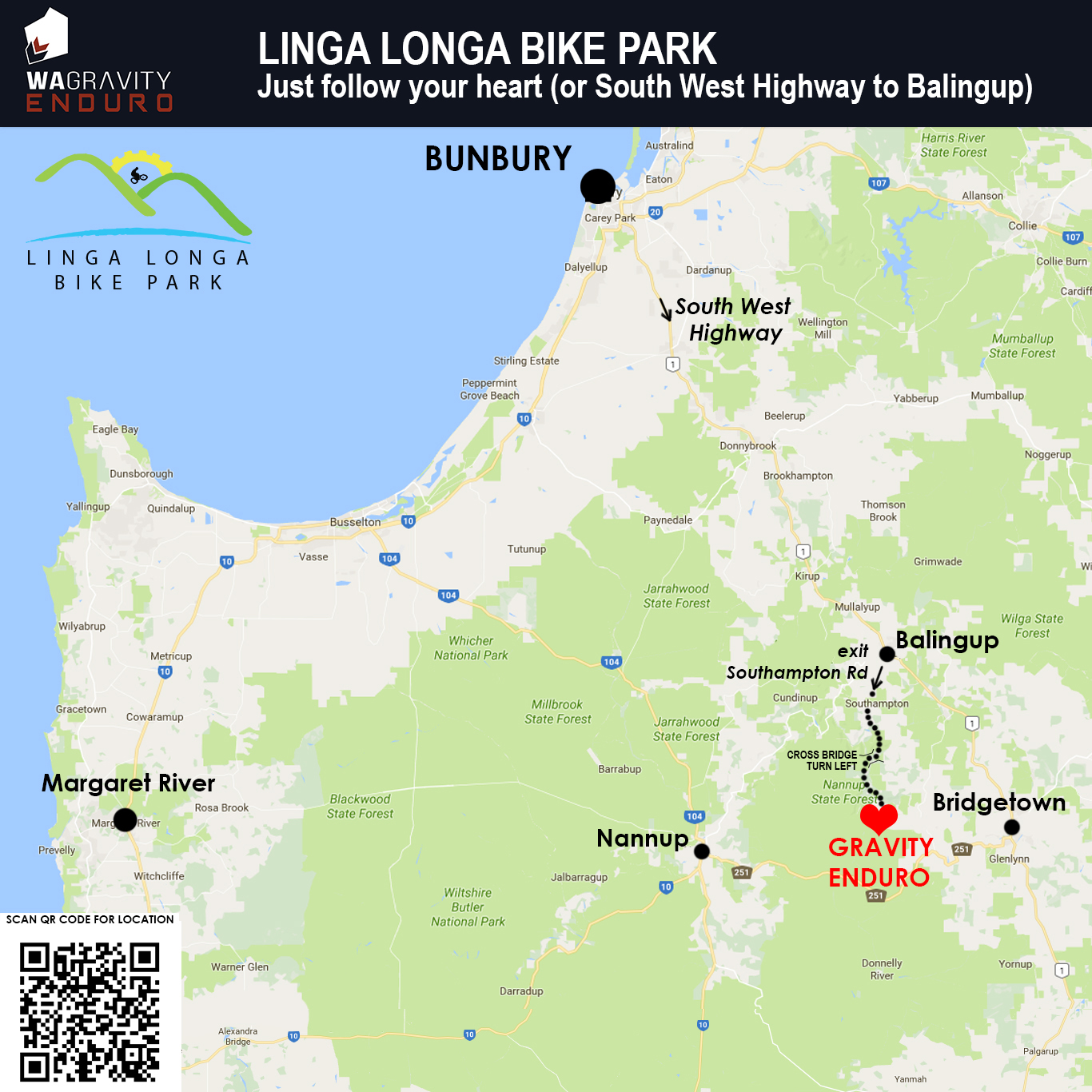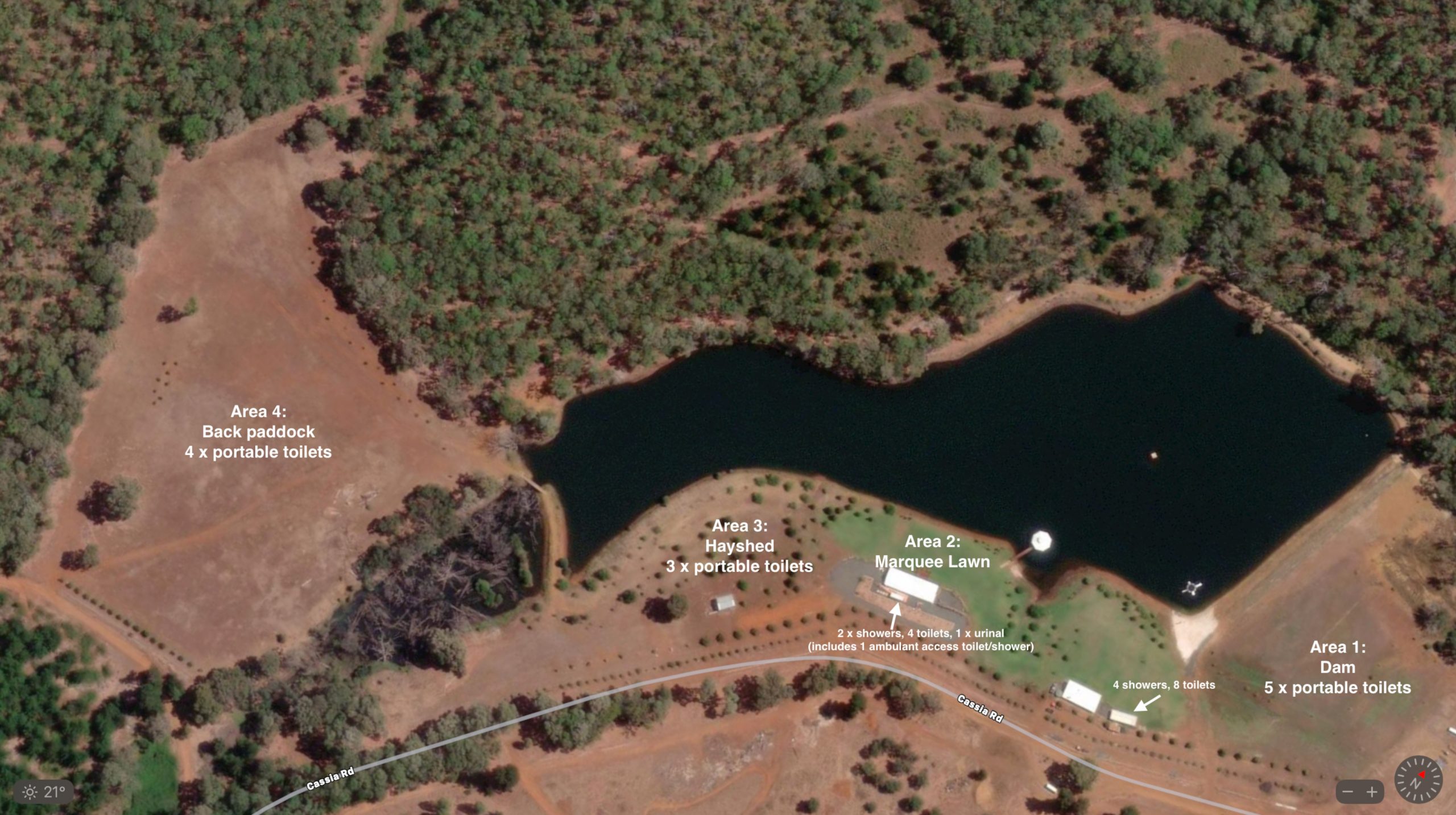 Course Map
On the Monday before an Event Weekend, the course map will be available here for viewing. The Course Map will contain your Category Start Times and Stages required to complete.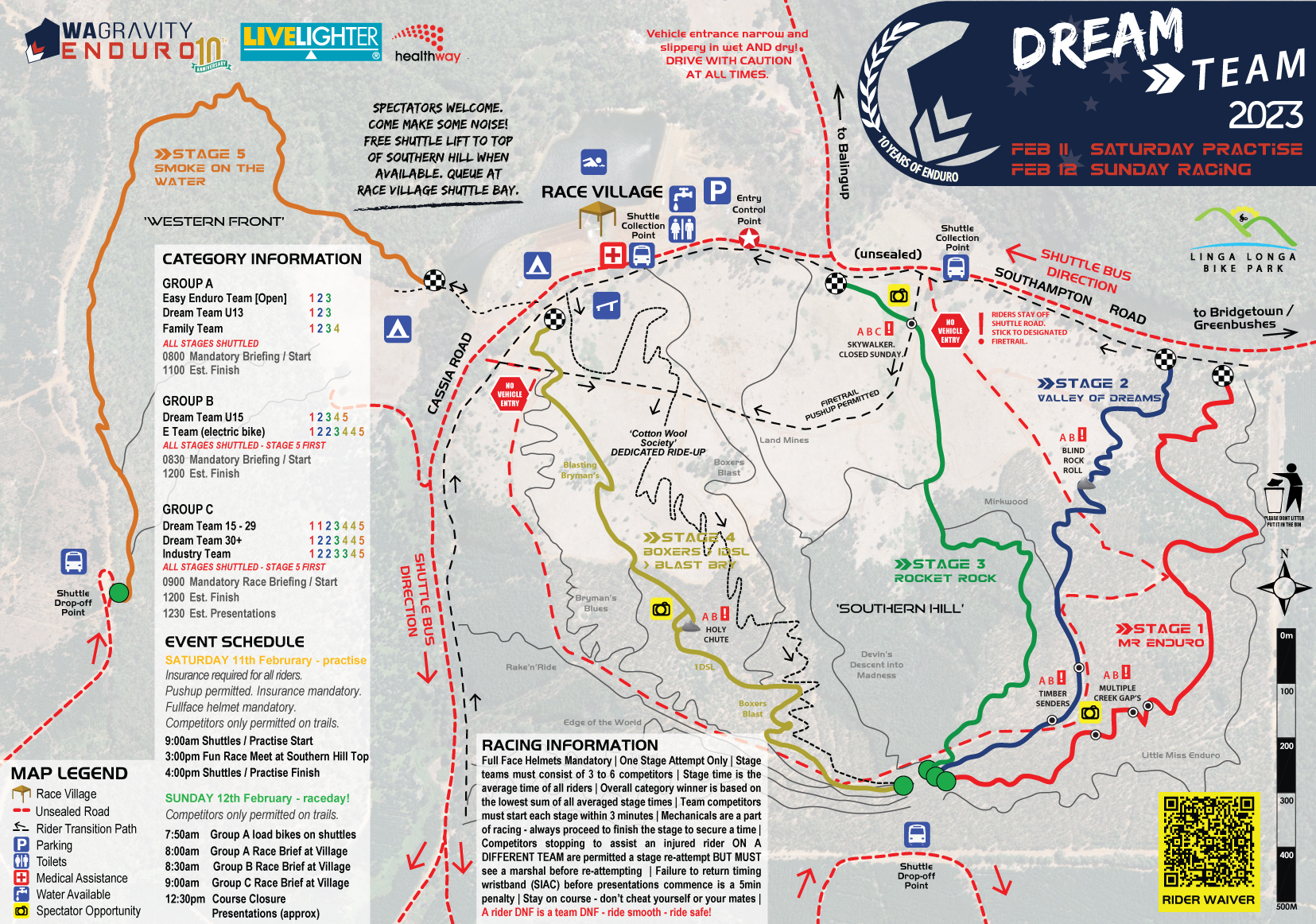 We aim to give you the Best Enduro Experience possible and work hard to provide the Best Value Event for your Money.
Organisation
Time required to bring together all facets of the Event.
Advertising
Facebook advertising, video reels and highlights, maps, website design, signage, Instagram feeds, YouTube clips take time and fees.
Sign-posted and Bunted Course
Arriving early to setup the course. This usually involves multiple people over hours or days ensuring bunting, signage and timing equipment are in place for easy navigation and fair racing.
Event Health Services
Your Entry Fee covers St John Ambulance Services being on-site for both Saturday and Sunday. We typically employ 4 x Technicians and engage with St John months in advance
Toilets
Typically, our Events exceed the venue existing facilities. Regional Services are engaged months in advance to deliver toilets. Hire costs continue to grow as Waste Management Fees continue to increase.
Race Village
It takes time to design the Race Village to enable our awesome Sponsors to arrive and setup in suitable locations to suite their needs. Careful attention to Parking, Pedestrians and Riders is needed for the safe and accessible movement of all attendees and event crew.
Applications and Insurances
Typically, several Stakeholders need to be engaged months in advance of any Event. We liaise with Local Governments, State Departments, Auscycling, Local Residents and Trail Custodians to act in the best interests of all parties while balancing a safe and exciting experience for our Community. Fees are required for Insurance and Event Applications.
Prizes, Gift Vouchers, Subsidies
At every Series round, we move $1 of your Entry Fee into our Enduro Pathway Program, donate $5 of your Entry Fee to Public Trails, offer more than $2,500 in Event Gift Vouchers to podium winners and offer $750 to our Elite Men and Women winners. We offer free entries to our Marshals, pay for professional services including multiple Photographers and Videographers and assist with fuel, food and accommodation costs for our Crew.
World's Best Timing System
Our Timing System is considered the World's Best as used at the Enduro World Series. Yearly licensing, hardware and software upgrades are continuous. Additionally, we send our timing bands back to Germany as required for battery replacements at considerable expense.
Continued Development
Once the essential Event costs are accounted for, we continue to research new ways to improve Results, Live Broadcasts, Mobile Phone Apps, data presentation, website development, manage existing equipment and improve our systems with the aim for a better experience for Competitors, Spectators and our Crew.