WA Gravity Enduro
Pushing your limits since 2014.
Welcome to 2020 Version 2!
Well! Who would have thought a World Pandemic would hit in 2020 causing a health crisis not seen in 100 years?! Perhaps Bill Gates did…
As we pt our health first, Government restrictions have forced the closure or postponement of events across Australia and WA Gravity Enduro is no exception. As of April 2020, we have revised the calendar to push all events to the later half of the year in anticipation of a relaxation of restrictions – particularly intrastate travel bans.
We are (once again) excited to bring you the seventh (7th) year of Enduro Racing in Western Australia Version 2!
We love putting riders first – pushing their limits to help them become confident trail riders, and maybe stay ahead of their mates. Our diverse riding Community is thriving and we couldn't be more proud of everyone, from the weekend warriors pushing their capabilities to our Elite who are making huge impacts on the World scene. Working with local trail custodians, local and State Government and various stakeholders, we aim to provide the best Enduro Experiences Australia-wide, make donations, raise funds and cater for fundraisers and we feel responsible for the ongoing growth and support of the riding Community. Let's ride together! 
2020 | 8 x Rounds | 2 x EWS Qualifiers |  1 x State Championships | 1000+ riders | New categories
New points multiplier | New graded courses
8 rounds throughout 2020
You do not have to attend all rounds
Your best 5 rounds count towards overall series points table
Tied points are ranked by a riders best last result
Rounds 1, 2, 3 and 7 are 1.0x points multipliers
Rounds 4, 5, 6 and 8 are 1.5x points multipliers
Points allocation table available here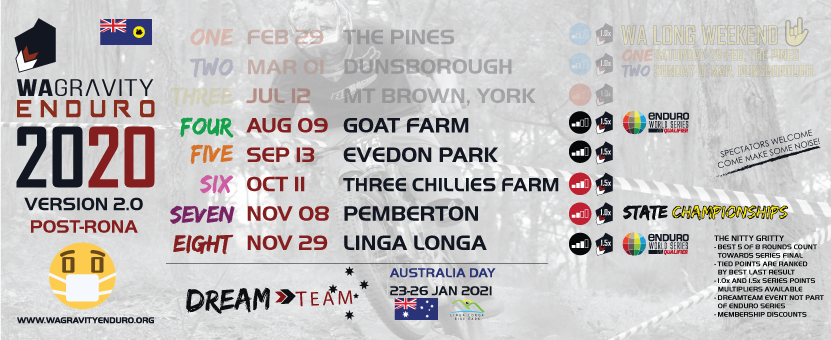 Rounds 1 and 2
ON SATURDAY 29th Feb 2020, we kick off the 2020 WA Gravity Enduro Series in Margaret River taking refuge from the summer sun under towering trees, shralping beautifully sculptured berms and jumps and brushing off the cobwebs and opening the lungs from a summer-break.
ON SUNDAY 1st March 2020, we head to the Dunsborough and Districts Country Club and ride some fun (and pedally) trails to really dial things in for the year ahead. Although relatively flat, the Cape Mountain Bikers and supporters have done an amazing job squeezing in as many jumps and berms as possible, plus a little bit of gnarly action out back.
These rounds can be purchased separately or can be purchased as a 'One-Two Race Weekend Entry' package with a MASSIVE 25% discount applied in the Checkout!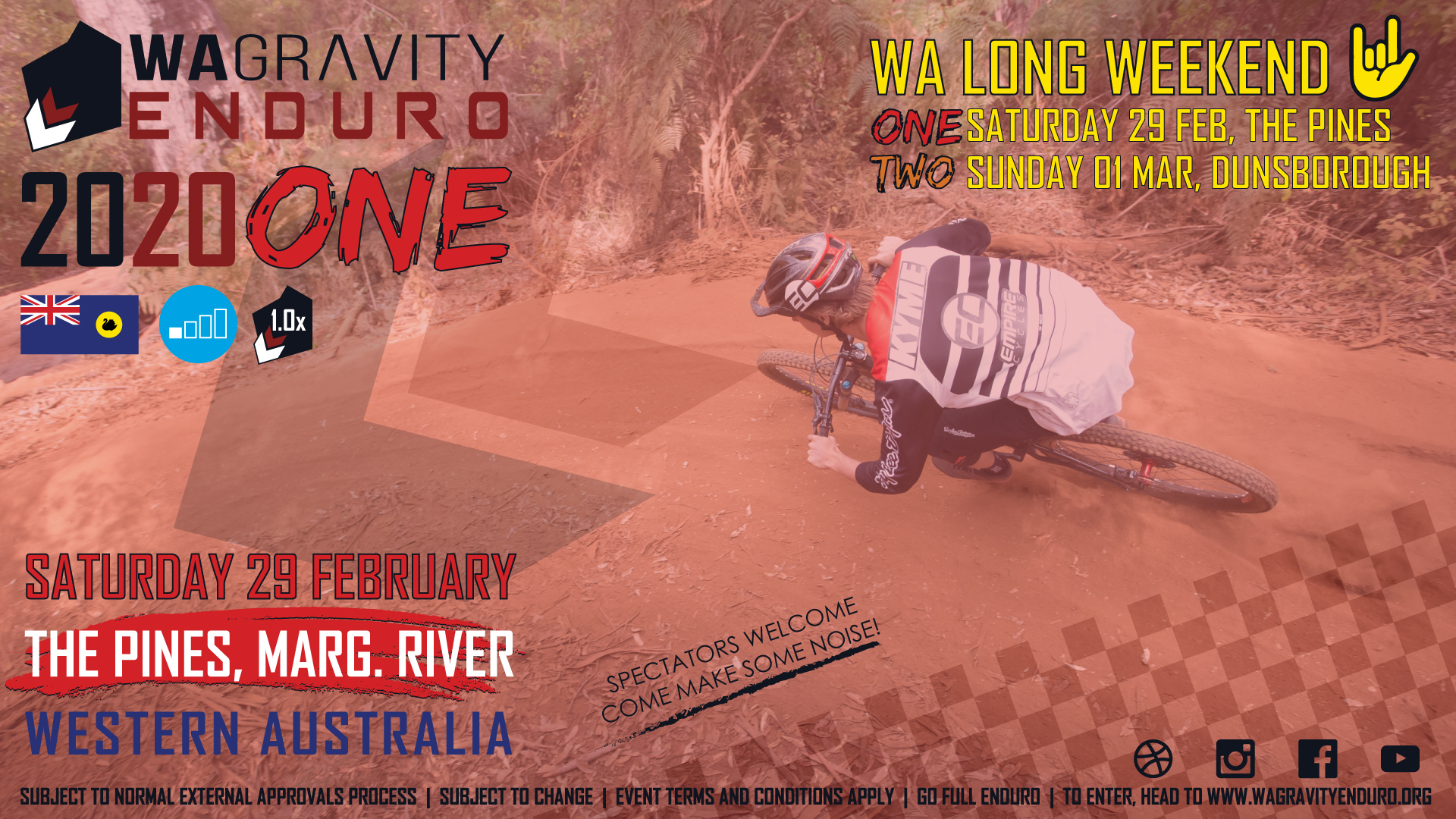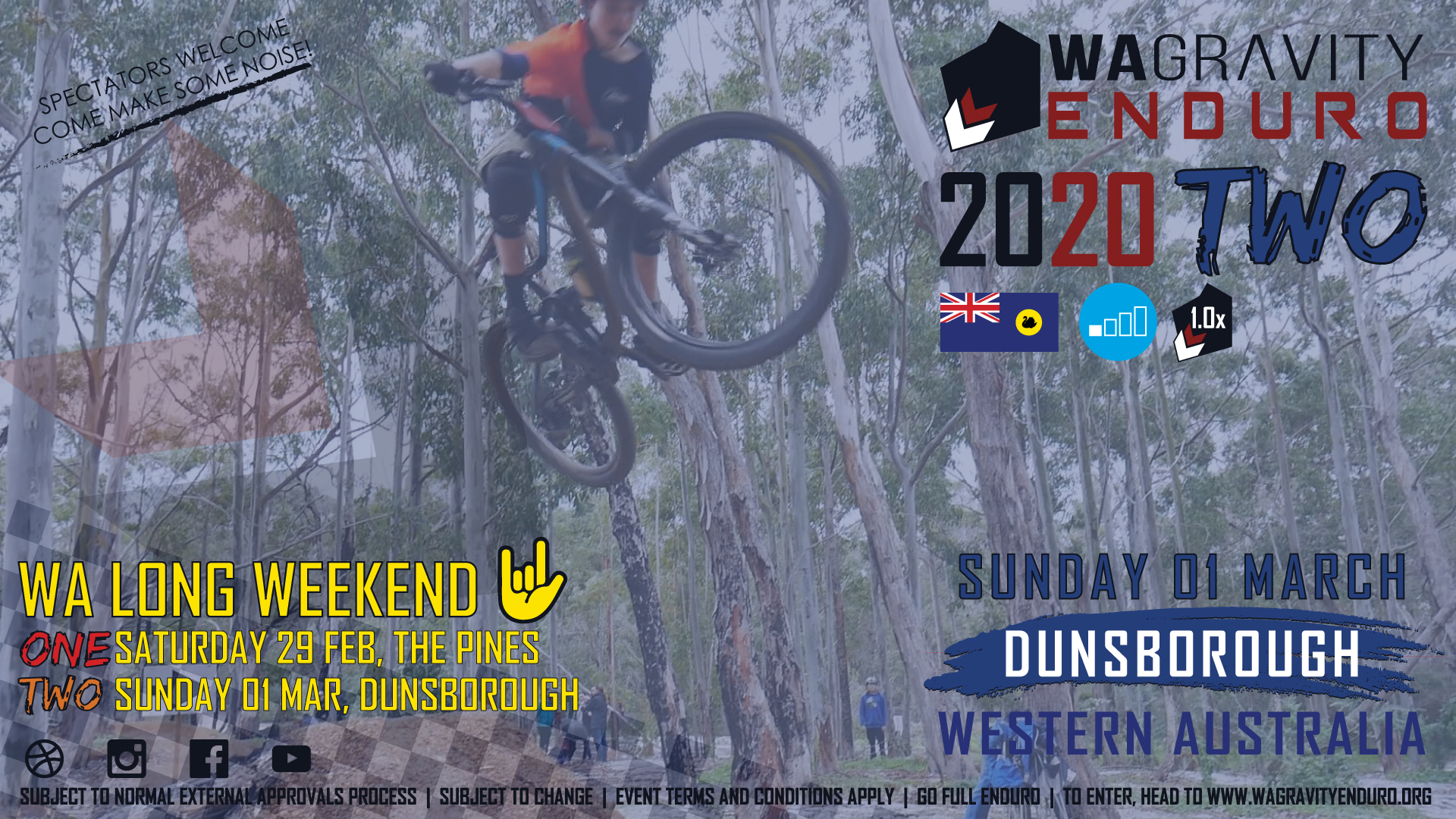 Round 3
Mt Brown, York
Sunday 12th July 2020
"Get some York on ya Fork" hit the Enduro scene in 2018 with a bang, being a part of the MTBA National Gravity Enduro Series. Mt Brown offers a plenty of raw trails and an attractive main feature being a 'quarry-gap' which draws the crowd. The main trail head offers riders (and spectators) panoramic views of the York townsite and neighbouring farmlands which is always a spectacle. Riders can enjoy an easy road climb, short pushup and well connected firetracks leading to the top carpark.
Round 4
Goat Farm, Greenmount (Perth)
Sunday 9th August 2020
The first event of WA Gravity Enduro kicked off at the Goat Farm in 2014 and we love returning to this very unforgiving venue. Although relatively short, the trails are 'tough as nails' and ensure competitors are focussed on the job at hand, with little room for error. From compact machine-berms to wild and rocky sections, the Goat Farm is a popular event for competitors and spectators being so close to Perth.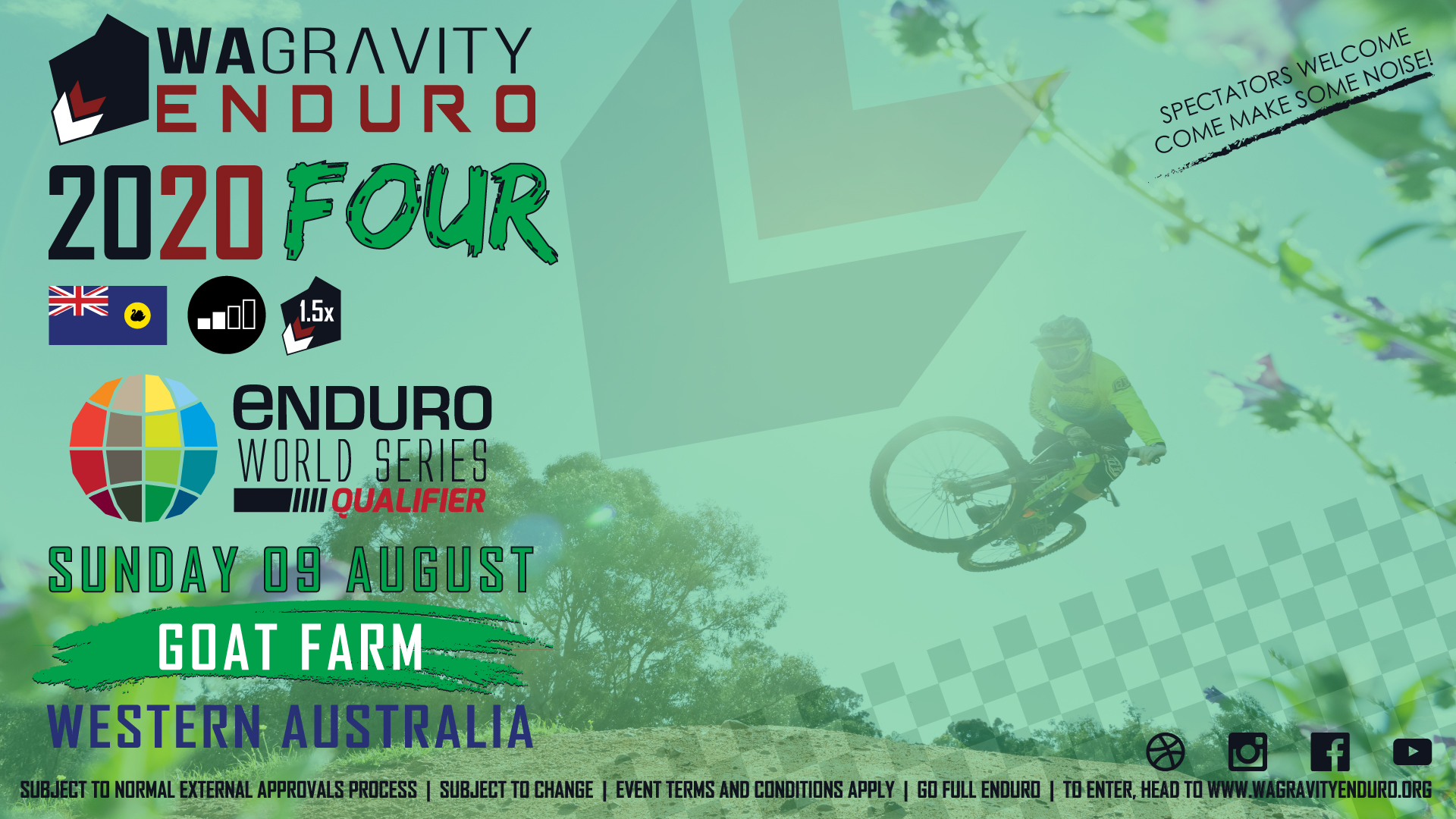 Round 5
Evedon Lakeside Retreat, Burekup
Sunday 13th September 2020
In 2019, you voted this as one of the best Enduro venues on the calendar and we are thrilled to be able to return to this gem nestled in the Dardanup hills, just 30min east of Bunbury.
With parking, chalets and camping available on-site, it was easy to feel at home as competitors cooled off in a large swimming dam, hit the restaurant or bar and just relaxed in the manicured gardens. Looking forward to returning to Evedon Park.
Round 6
Three Chillies Farm, Chittering
Sunday 11th October 2020
Last raced in 2017 for an Enduro World Series Qualifier, Chittering boasts just about every trail type a rider could ask for: raw and rough, creek crossing, off-camber amber, donwhill bombs, machine-sculptured jumps, timber fence crossings, timber long drops etc and the list goes on! With the trails home to one of the leading WA Trail Builders – Paul Neve of Three Chillies Design, we are sure this event will not disappoint (apart from the long pushups!)
Round 7
Pemberton Mountain Bike Park, Pemberton
Sunday 8th November 2020
A regular on the WA Gravity Enduro circuit, Pemberton Mountain Bike Park is nestled under towering Karri Trees right next door to the Pemberton Town Centre and local amenities. The trails can vary considerably based on the time of year, and with this event taking place in early Spring, expect loamy 'hero-dirt' with grip and more grip – oh, and maybe some rain too! Being the Series Final round and a State Championships, this is crunch-time for the leaders – expect some thrills and spills as we cap off a HUGE 2020.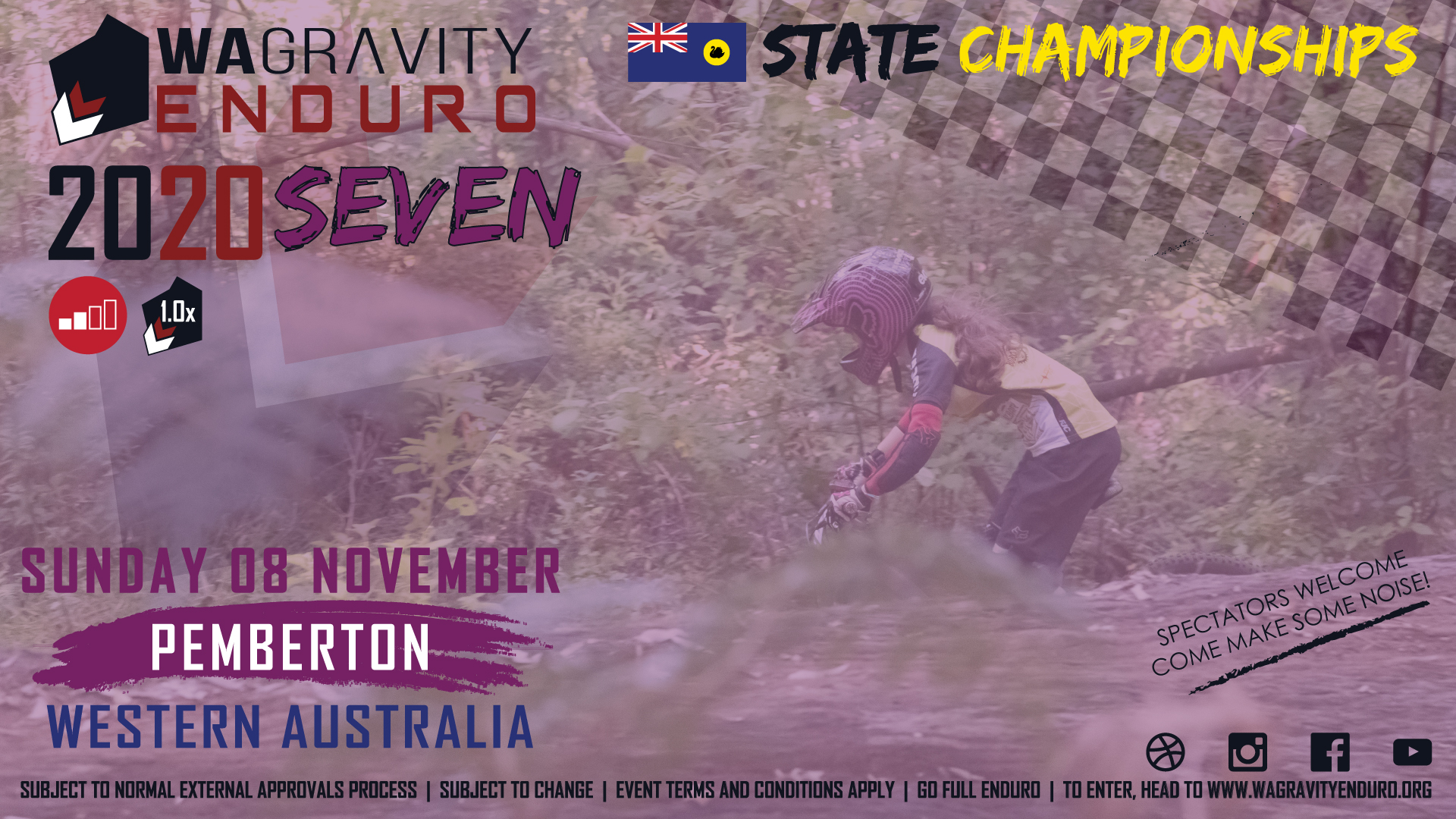 Round 8
Linga Longa Mountain Bike Park, Balingup
Sunday 29th November 2020
We have Following our post-event survey of 2019, you told us this is the best Enduro venue on the calendar, and we agree! Surrounded by rolling hills, the scerenity is shattered as riders cheers and yahoo down some of the longest and rowdiest trails in Western Australia. With a stacked cafe, shuttles, camping sites and large swimming dam, there is plenty of activity happening all weekend. We can't wait to check out a new feature and trail as well! 
Dream Team 2021
Linga Longa Bike Park, Balingup
Australia Day Weekend 2021
We are excited to bring you a new Enduro racing format – Teams! Dream Team promises an exciting and fun-filled weekend where competitors can team-up to post their cumulative timed stages. We have a few tricks an ideas in play to ensure fair and fun racing on some of WA's finest Enduro trails.
This will be an awesome way to cap-off the largest Enduro Series in Australia as we celebrate the weekend away.
More information to come…