Premium Registrations (close Tue midnight before event)
Late Registrations (close Fri 9pm before event)
PLACES ARE LIMITED TO 320.

ENTRIES MAY CLOSE BEFORE THE SCHEDULED CLOSING TIMES WHEN CAPACITY REACHED.

Welcome to Round 6 of the 2018 WA Gravity Enduro Series!
This event is Round 6 and the MTBA National GE Cup!
More information regarding this event will be made available at the end of July. Due to a prescribed bushfire burn in the heart of the Kalamunda Mountain Bike Area, we are awaiting a decision by external authorities. We have a few cards up our sleeves but we can confirm the venue will be located within 1.5hours of Perth.
Race Date
Sunday, 26th August 2018
Official Practice Sat, 25th August 2018

Race Location
To be Confirmed
Within 1.5hrs drive of Perth
Race Briefing
Giant Whippets Sat 11:00am
Main Event Sun 9:15am
Race Start
Giant Whippets Sat 11:15am
Main Event Sun 9:30am
Race Finish
Giant Whippets Sat 12:30pm
Main Event Sun 1:00pm
Presentations
Giant Whippets Sat 12:45pm
Main Event Sun 1:45pm
Latest Event Information
21/06/2018 Due to the continued unknown of external authorities surrounding the prescribed bushfire burn at Kalamunda, we have a couple of contingency plans. We can confirm other race venues within 1.5hrs drive of Perth are currently being finalised for approval to give us greater flexibility of venues. The final decision is expected to made made at the end of July. We apologise for the inconvenience.

09/04/2018 Due to the unknown timeframe of a prescribed bushfire burn on the Mt Gunjin trails, we are forced to switch the location of Kalamunda to the Goat Farm. As these trail networks are close to each other within the Perth Metropolitan area, we felt this was the best approach to switch these locations. However, we apologise for any inconvenience this may cause. We wanted to keep you all guessing in 2018 and this is our very-own curveball!
21/01/2018 No announcements
Giant Whippets U13
In 2018, Giant are sponsoring our littlest competitors at the event. They will be racing on the Saturday for this event.
Due to the nature of also being a National Event, the Giant Whippets will be racing on the Saturday. We envisage a two stage enduro race for the U13. Thanks to Rock n Roll Mountain Biking, our U13's will be well-looked after by professional Mountain Biking leaders. More details to follow on the exact course.
Course Map
When the time is right, the course map will be made available. We release the Course Map at a time to limit sneaky practice before the event to keep everyone on a level playing field.
As usual, the Course Map is the intended race course, but is always subject to changing trail conditions, people flying over-the-bar's, Act's of God, Act's of WAGE and peagravel density (or lack there of).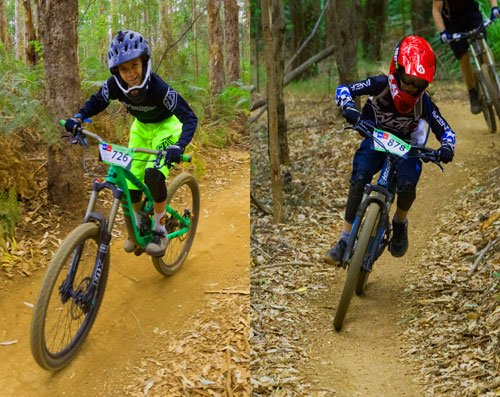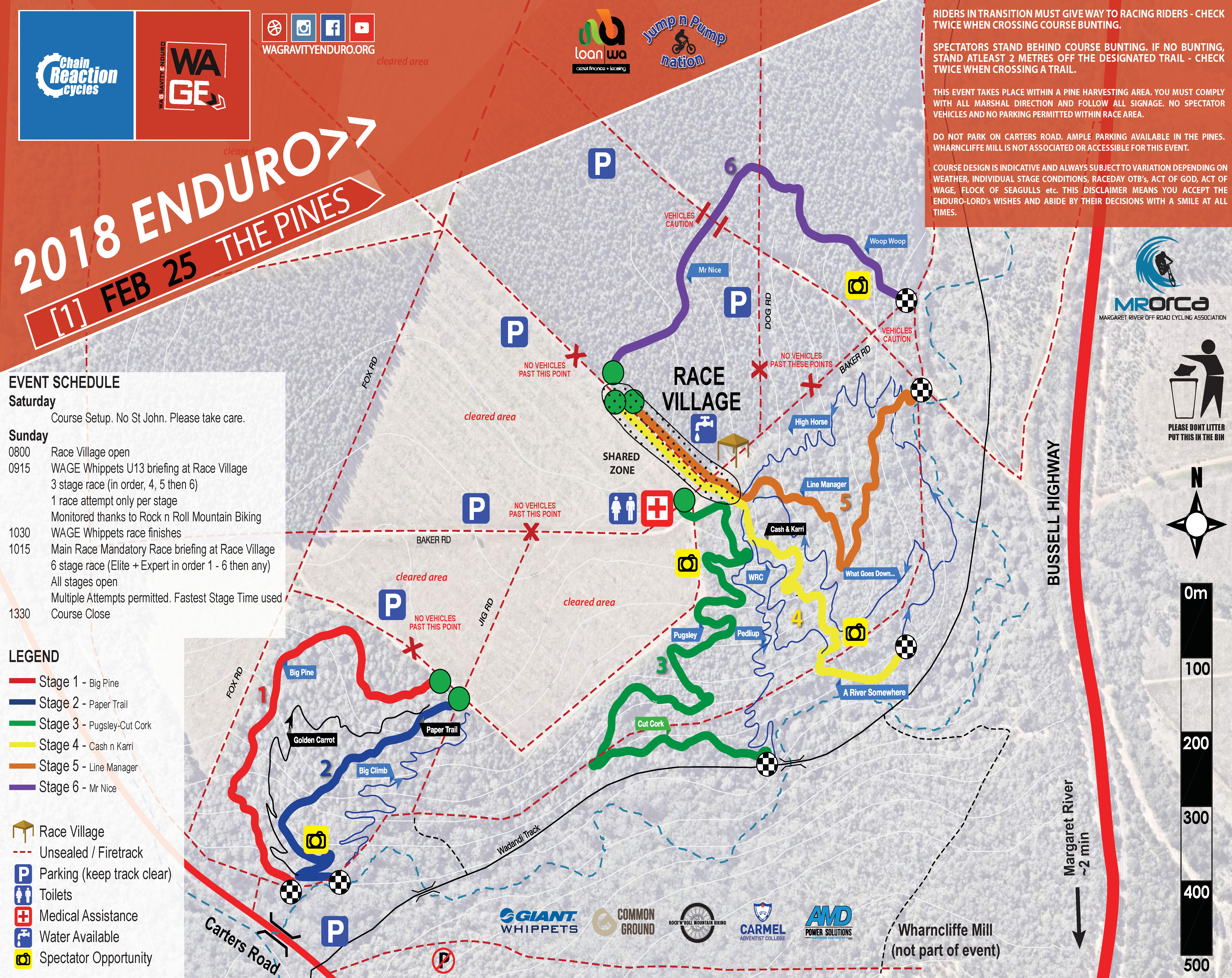 Kalamunda Mountain Bike Park
WA Gravity Enduro roared to life off the hugely successful Gravity Enduro event that officially opened the Mt Gunjin Trails back in 2013.
A lot of enduro racing has occurred since this time with the Australian Gravity Enduro Championships, afternnon/evening Enduro to avoid the summer heat, a crazy night-race, Race Villages located at the Calamunnda Camel Farm, Mt Gunjin, private property and even the Mundaring Weir Hotel.
WAGE shares a lot of history at Kalamunda and we are very excited to host the MTBA Gravity Enduro Cup here in August.
Gravity Enduro Mountain Bike Race
Multi-stage race. Timed descents and untimed climbs
Sign-posted and bunted course
Don't cheat yourself or your mates – stay on track
St John Ambulance on-site
Professional Medical Assistance available
Toilets
Portable or connected nearby
Race Village
Great atmosphere, questions answered and supplies
Volunteers and Fund Raising
Perks for vollies and funds donated to the trails
Gift Vouchers and Prizes
Heaps of prizes ready to be won for all
Elite's and Professionals
Cold hard cash for the cream-of-the-crop
Professional Race Timing
We use the best Enduro World Series system
Hydration and Sustenance
Free water and free light meal with Prem. Registration
Frequently Asked Questions
How do I enter? Easy. Just click on the 'ENTER NOW' button located throughtout the website. This will take you to your registration portal. If you are new to the registration portal, a one-time profile will need to be filled out. Returning competitors simply enter their email address, select their event and arrive at the Race Village on race-day to collect your timing chip and raceplate.
How much does it cost? We keep our entry fees incredibly low. Entry fees vary based on your category but start from only $29 for the Under 13's. Insurance selection and location can slightly cary the price, but we try to stay as consistent as possible.
Where is the course map? Gravity Enduro is all about riding the course with little to no knowledge of the course. This helps create a more level playing field and better tests your mountain biking skills. We usually release the course map on the Monday before the weekend's race.
Do I have to go to race briefing? Yes. Race briefing is mandatory and occurs at the race village 15 minutes before race start. It is essential that you get a full report on the course (and any potential changes), safety requirements and to ensure everyone starts the race from the same location.
Can I shuttle between stages?  No. Anyone caught doing so will be automatically disqualified.
I missed registration! We can accept late registration online and on the day plus a $15 surcharge. Places are limited and may not be possible if the event is sold out.
Can I get a refund? From the Monday at 9am before the race weekend, refunds, transfers to other competitors or credits are not possible. Before Monday 9am, yes, we can offer a full refund minus 10% administration fees. 
PLACES ARE LIMITED TO 320.

ENTRIES MAY CLOSE BEFORE THE SCHEDULED CLOSING TIMES WHEN CAPACITY REACHED.